Whether you spell it matzah or matzo it's one delicious food that only gets the spotlight on grocery shelves a few times a year. As we're just a week away from Passover, I thought it would be a perfect opportunity to make this Rewind Wednesday feature Matzah Brei, a breakfast recipe we make all of the time. These days you can buy matzah in white, wheat, even gluten free. It's one of those foods that transforms in this matzah brei, Matzo Chicken Tenders, Cinnamon Apple Matzah Brei or delicious Nut-Free Nutella Matzo Sandwiches. Now is the time of year to jump on the bandwagon and try out one of these simple, yet delicious recipes! When you use Davidson's Safest Choice eggs in this recipe, you know you're feeding your family something delicious and nutritious!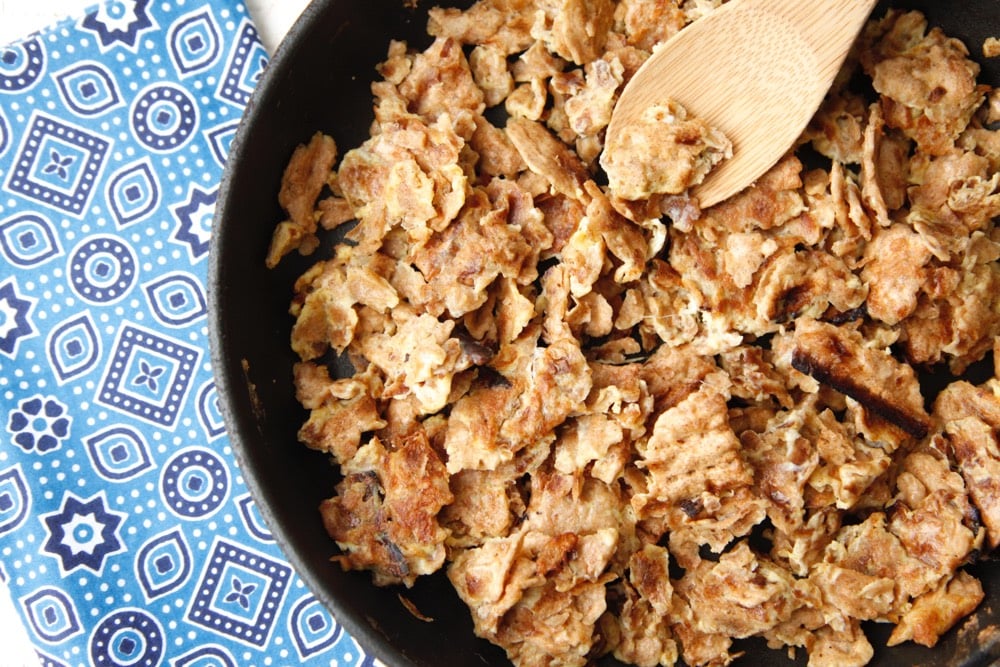 When I was growing up, one of my least favorite memories was having to eat the school's lunch everyday. In the 70's and 80's, school lunches weren't exactly gourmet affairs. Far from it. I was also painfully jealous at Passover, the Jewish holiday that forbids those who observe it from eating any kind of leavened bread, all products with yeast, and pretty much anything beyond that that isn't Kosher for Passover. I remember all my Jewish friends were allowed to bring (at least what I thought were) delicious lunches such as peanut butter/jelly sandwiches made with matzo and matzo balls in chicken soup, while the rest of us sat picking at our goulash and frozen fish sticks.
Well, Passover isn't until the spring, but one of my other favorite Jewish holidays, Hanukkah, is upon us, so I thought it would be fun to make matzo brei for brunch so Kenya can share in his heritage. And just like his daddy, he loves it. Luckily most groceries sell matzo year round so you can easily add this to your breakfast rotation any time of year.
This post contains affiliate links. All views and opinions expressed are my own.