As we head right into fall my head is filled with a bounty of fall produce and ideas of what I'm going to make with it. This week I'm making there cute Apple Butter Turnovers with Chloe's kindergarten class, so I thought they would be perfect for rewind Wednesday. Whether you decide to make these cute little hand-held pies or even Apple Pie Turnovers, everybody will know they're diving into a delicious treat!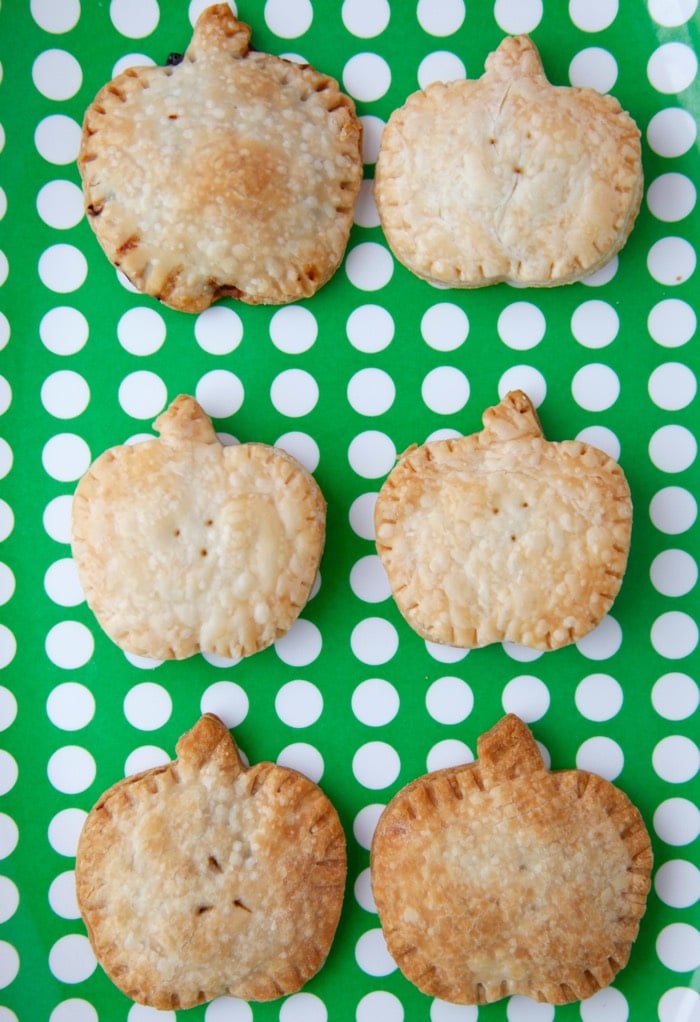 As much as possible on Weelicious, I enjoy coming up with recipes that are super easy, fun and fast. With each one I try and put myself in the shoes of parents that have never entered a kitchen before having kids. I think these Apple Butter Turnovers fit the easy, fun and fast criteria. They are really simple to make, especially if you've made pie crust before. But if you haven't, that's OK. Just buy a box of ready-made pie crust and no one will know the difference. You can make things even easier and buy a jar of apple butter, but I have to say that making your own is incredibly satisfying and requires nothing more than cooking a few apples until they're chunky and tender.
Pin
When I was a kid, I had a major thing for McDonald's apple pies. They were crispy, sweet and I loved getting to hold the little pie in my hand (I'm starting to worry that between yesterday's Crispy Onion Rings recipe and today's post, you guys are going to think I was raised in fast food joints!). These days, I avoid fast food, but when these came out of the oven and I took the first bite, I was elated that I would be able to let Kenya experience the great taste of one of my favorite childhood food memories, without exposing him to a whole host of ingredients I don't want him eating.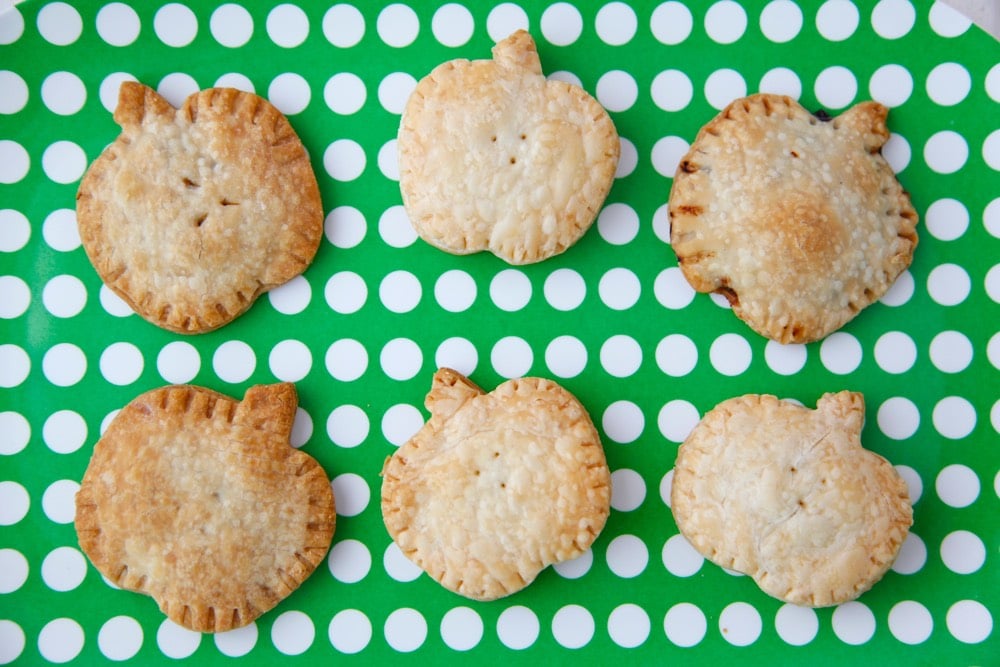 Pin
Well, he loved them. No doubt these will be a huge hit with your kids too, and then you can consider them your own version of "fast" food.
Apple Butter Turnovers
Ingredients
8

Tbsp

Butter, chilled and cubed

8

Tbsp

Vegetable Shortening or Lard, chilled and cubed

2

1/2 Cups

all purpose flour

1

Tsp

kosher salt

5

to 6 tablespoons

ice water

1

Tbsp

honey

1

tbsp

water

1/2

cup

apple butter
Instructions
Place the first 4 ingredients in a food processor and pulse until it resembles coarse cornmeal.

Sprinkle the ice water, 1 tablespoon at a time, in the food processor and pulse until the dough starts to come together.

Form the dough into a disk, wrap in parchment paper or plastic wrap, refrigerate for 30 minutes.

Roll out the dough 1/4 inch thick.

Using cookie cutters, cut out turnovers into desired shapes (If you are making 8 turnovers, you need 16 cut-outs, one for the top and one for the bottom).

Place one cut-out on a parchment or silpat lined baking sheet, top with 2 tsp of apple butter (depending on the size of your shape) leaving a 1/4 inch border around the cut-out.

Combine the honey and water together in a separate bowl.

Brush the 1/4 inch border with the honey water, place matching pastry shape on top of the apple butter and using the tines of a fork, gently press down to seal the dough.

Brush the remaining honey water on top of each turnover.

Using the tip of a knife, cut several slits through the dough (to allow ventilation).

Bake at 400 degrees for 20 minutes.

*If you're using pre-made pie crust, skip ahead to step #5.
Nutrition
Calories:
310
kcal
|
Carbohydrates:
34
g
|
Protein:
3
g
|
Fat:
17
g
|
Cholesterol:
25
mg
|
Sodium:
240
mg
|
Fiber:
1
g
|
Sugar:
8
g