The other day on Instagram I asked the question "do your kids like avocados?" and an overwhelming number people responded. Not only did most parents say that their kids like avocado, they said they love them! Avocados are heavenly — creamy, smooth and delicious — but did you know they're actually a fruit (for years I thought they were a vegetable)?
This guacamole recipe is designed to be an introduction for babies to this tasty dip. Whether you're making Black Bean Cakes, Nachos, Fish Tacos or any other Mexican-inspired weelicious recipe, this guacamole will add an extra dimension of flavor and nutrition and your kids will love it!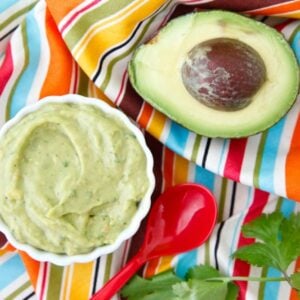 Baby Guacamole
Instructions
Cut the avocado in half. Use a chefs knife to pull the pit out.

Scoop the flesh out and place all the ingredients in a food processor and puree.