Pin
Whenever someone asks me what is the quintessential weelicious dish, I have to sort amongst the many dishes that are super easy to prepare, take little time, are inexpensive AND are perfect for most age groups.
Well, this one totally fits the bill. It's really healthy and low in fat for the adults — packed with protein, veggies — plus it has a naturally sweet zip from the cranberries and orange juice for the kids.
Barley is one of my favorite grains, but you rarely see it used in recipes other then vegetable soup. It's a nutrient dense food rich in fiber, vitamin B and folic acid as well as having a yummy chewy texture. The barley I used cost 33 cents for the entire recipe which also makes it quite affordable.
Chicken, Broccoli, Dried Cranberry Salad (serves 6)
2 1/2 Cups Water
1 t. Kosher or Sea Salt divided
1 Cup Barley
2 Chicken Breast, skinless boneless
2 Cup Broccoli Florets (you could also use frozen)
1/2 Cup Dried Cranberries
2T. Orange Juice
2T. Olive Oil
1. Bring water to a boil and 1/2 tsp salt.
2. Add barley, return to a boil, reduce to simmer, cover and cook for 35 minutes.
3. Place the chicken breasts of top of the barley, without stirring. Cover and cook another 5 minutes.
4. Add the broccoli and cook another 5 minutes until chicken and barley are cooked through, for a total cooking time of 45 minutes.
5. The barley should be tender but still chewy.
6. Remove the chicken and broccoli and chop into bite size pieces.
7. Combine the chicken, barley, broccoli, dried cranberries, orange juice, oil, and 1/2 tsp of the remaining salt in a bowl.
8. Serve warm or chilled.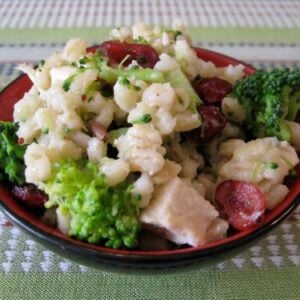 Barley, Chicken & Broccoli Salad
Ingredients
2

1/2 Cups

water

1

tsp

kosher or sea salt, divided

1

Cup

Barley

2

Chicken

Breast, skinless boneless

2

Cup

Broccoli Florets (you could also use frozen)

1/2

Cup

dried cranberries

2

tablespoons

orange juice

2

tablespoons

olive oil
Nutrition
Calories:
280
kcal
|
Carbohydrates:
33
g
|
Protein:
21
g
|
Fat:
7
g
|
Cholesterol:
50
mg
|
Sodium:
500
mg
|
Fiber:
6
g
|
Sugar:
7
g