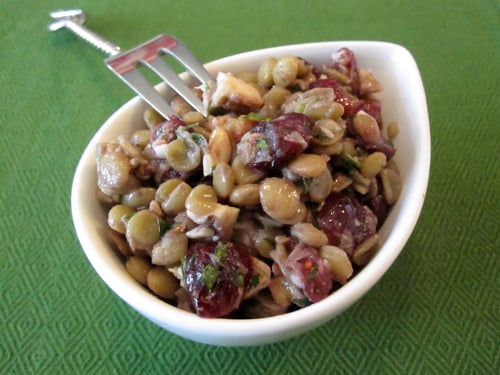 Pin
I'm reading more and more lately about the importance of a vegetarian diet for our bodies and the planet. I know that the healthier we eat the better our bodies run, which is especially true when it comes to children. I get a lot of emails from people with misconceptions about vegetarian diets. Chief among them are concerns about vegetarians not getting enough protein. To the contrary, by incorporating legumes (e.g. beans, lentils, peas, soy, and peanuts) into their diets and combining them with grains, vegetarians get all the protein they need.
We've been trying to eat a lot more legumes in our house lately and lentils are at the top of the list. Not only are they inexpensive and fast to prepare, they're an incredible source of protein, dietary fiber and amino acids. They're also inexpensive, which is a bonus when you're trying to stretch your food budget.
The combination of the sweet of the fruit and the crunch of the nuts with the soft texture of the lentils makes a nutritious dish that my family flipped for — and no one asked where the meat was!
Cranberry Lentil Salad
Ingredients
1

Cup

Lentils

1/2

Cup

dried cranberries

1/4

Cup

Parsley, chopped

1

Tsp

kosher salt

1/2

Cup

walnuts, chopped

Juice of 1 Small Lemon

2

Tbsp

olive oil
Nutrition
Calories:
250
kcal
|
Carbohydrates:
29
g
|
Protein:
10
g
|
Fat:
11
g
|
Sodium:
400
mg
|
Fiber:
11
g
|
Sugar:
8
g