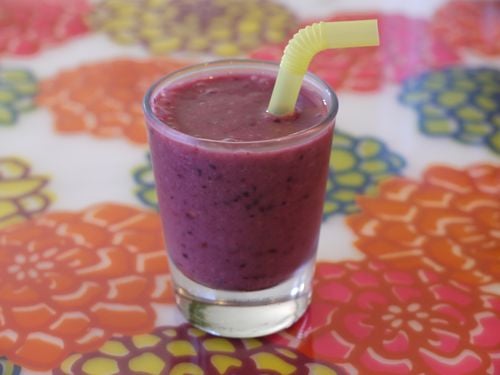 Pin
Some mornings I get into the rut of making my kids the same old breakfast recipes. While I'm comforted by the fact that they love what I make them (Chloe could eat egg and cheese omelettes until she is blue in the face and Kenya, as you may know from last week's post, is obsessed as of late with museli, it can make me feel like I'm a lazy mom. The biggest issue for me is time. Between me not having a lot of it in the morning and the amount of it it takes my little ones to eat (Kenya can nurse a bowl of cereal for what seems like an eternity), I have to make things that are reasonably simple, but still loaded with as much nutrition as possible.
Recently, I added this breakfast recipe to my rotation and it has quickly become one of our new favorites. I call it Smoothie Your Way because the recipe all depends on what you've got sitting in your fridge or freezer or the things your kids enjoy the most. I've listed the basic formula for one serving, but don't let it stop from you improvising to make it just the way your family likes it best. And since you can always change up the ingredients, you never again have to worry about getting into a breakfast idea rut. Each day can truly be your way!
Smoothie Your Way
Ingredients
1

banana

1

Cup

Fruit (of your choice fresh or frozen such as mango, berries,

papaya, pineapple or cherries)

1/2

Cup

Plain Yogurt or Kefir

1/2

Cup

milk (I like to use vanilla rice or almond milk)
Instructions
Place all the ingredients in a food processor and puree until smooth.
Nutrition
Calories:
370
kcal
|
Carbohydrates:
75
g
|
Protein:
14
g
|
Fat:
4
g
|
Cholesterol:
10
mg
|
Sodium:
170
mg
|
Fiber:
10
g
|
Sugar:
52
g