Hi, I'm Catherine. I'm a mom of three (15, 13, and 7), an entrepreneur, and a cookbook author.
In spite of a love for cooking that started in childhood, graduating from culinary school and working in several high end restaurants, when I had my first child in 2007, I found myself struggling with what to feed this new human. I searched exhaustively for a comprehensive guide that offered new parents simple, nutritious, flavorful recipes and guidance on how to feed their new eaters only to discover that, much to my surprise, that resource did not exist.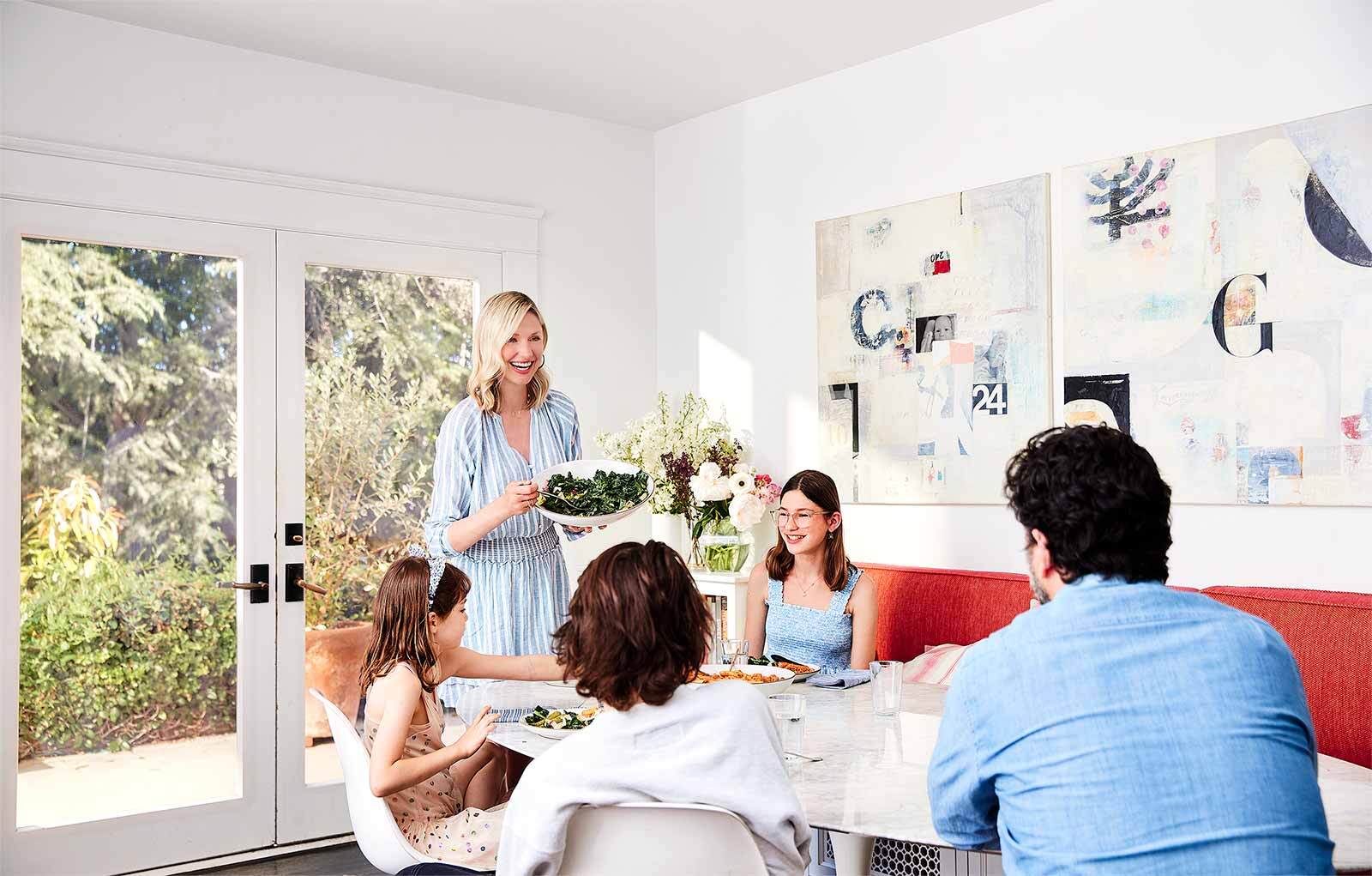 Recognizing a "new mom dilemma" that was not being adequately addressed anywhere, I began doing extensive research and combined it with culinary experience to create a food information resource for new parents called Weelicious. The years passed, and as my children — and the children of the Weelicious community — grew, I found myself adapting to meet the needs of parents with children of all ages. Shortly after, it occurred to me that in expanding Weelicious beyond baby food to address the mealtime needs of the whole family, my two passions in life — family and food —had naturally found their way to each other. Today, the Weelicious website is home to over 2,500 original family friendly recipes and over 500+ how-to videos.
I've written four cookbooks. Weelicious: One Family. One Meal. is meant to be an inspirational feeding guide, weaving together my personal experience feeding my own kids with fact-based evidence on children and eating, and features 140 original "fast, fresh and easy" recipes.
Weelicious Lunches: Think Outside the Lunchbox, was inspired by having heard one too many times from parents bemoaning the redundant nature of making school lunch everyday. Packed with over 160 fun recipes my goal was to arm time-challenged parents (actually, what parent isn't time challenged?) with a variety of easy and realistic solutions beyond the standard PB&J.
My third book, Smoothie Project, resulted from a quest I had embarked on to heal my son's chronic ailments through nutrition after no doctor was able to uncover why he felt unwell. Having documented that whole journey for years on social media, along the way I encountered so many people suffering with their own health challenges who also found relief in nourishing their bodies with smoothies. Intended to be the ultimate smoothie bible, the book is filled with over 100 delicious smoothie recipes and how to nutritionally tailor them for your own specific health needs and feel your very best.
My most recent book, Meal Prep Magic, is being released in Spring of 2023. The book is filled with time saving tricks for stress-free cooking, tips to organize your kitchen and meal prep hacks to help you save both time and money and turn your kitchen — the room we probably all spend the most time — into a space you love to be in.
For years I heard from members of the Weelicious community asking if there was a way to get Weelicious meals sent to them, so in 2015 I launched One Potato, a meal delivery service focused specifically on the dinnertime needs of families. Using Weelicious' most popular recipes as well as many new ones, the mission was, again, bringing families together through food, keeping meals simple, delicious, and appealing to both adults and kids. One Potato sends all of the ingredients pre-prepped so that every dinner gets on the table in 30 minutes or less, and we recently expanded our offerings to cover breakfast and lunch with a wide selection of frozen blend-and-drink smoothie packs, pack-and-go pre-prepared school lunches, and our insanely delicious slice n' bake cookies.
I have appeared multiple times on The Today Show, Good Morning America, ABC's The Chew, The Doctors, Access Hollywood Live, KTLA and Fox News; hosted "On the Go with Catherine McCord", a weekly segment on NBC's Naturally with Danny Seo; as well as appearing regularly on the Food Network's Guy's Grocery Games and doing the occasional guest spot on Food Network's Next Food Network Star, Big Bad Budget Battle with Ree Drummond, and Duff Till Dawn. You'll also be able to see me in Spring 2023 in Food Network's Super Chef Grudge Match. Fun Facts: People Magazine voted Weelicious one of the "50 Most Influential Mommy Blogs" and I once co-hosted New Year's Rockin' Eve with Regis Philbin!
I'm so glad that you've found Weelicious and I hope it helps you make your whole family's mealtime easier, healthier and more fun!
Happy eating!