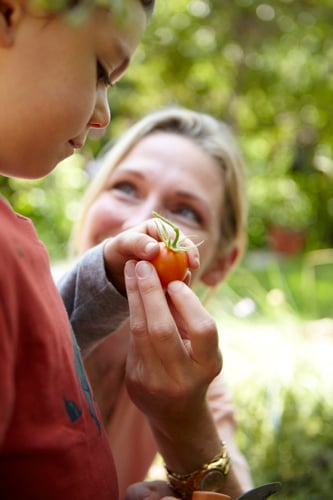 Pin
Everyday I get frustrated emails from Mom's at the end of their rope. I hear comments like "How do I get my kids to eat? They hate fruits and veggies! All they want is junk"! And so on…
I'm not saying these are the only ways or that they'll work on your strong willed little one, but it's definitely a good start.
1. Shop with your little one. I know this sounds like a dreadful activity, but it works. My favorite place to go is the farmers market because there are tons of other kids there and the free samples are endless. Kenya usually will have a piece of corn, strawberries and apple slices in his hand all at one time. I've never seen him say no to any food he's eaten there.
2. If you don't live near a farmers market try the grocery. Go to the fruit and veggie aisle and come up with some fun recipe and cooking ideas together. Say "hmm, what should we do with this sweet potato? Could we mash them and add some pineapple or raisins?" Kids want to participate and helping them be creative will open up a whole array of culinary possibilities that they will enjoy cooking and eating.
3. Cook with your kids. Since my son was old enough to hold a spoon I've had him in the kitchen with me. He loves peeling bananas and pouring frozen fruit and rice milk into the blender for a smoothie HE made. Any time you're cooking a recipe, even if it's something you've made 100 times, think of a task your little one can do like shelling beans, stirring, pushing the button on the food processor, ANYTHING!)
4. Talk as you're cooking. Tell your child what you're doing and why. Make it like a story. I let Kenya hold fruits and veggies or give him samples as I'm cooking involving him in the process. He has a high chair and a little table (from Ikea) in the kitchen where he can play, look at books and snack on the foods I'm working with.
5. Eat as a family. Its tough, especially with so many schedules, but if kids see you eating broccoli and how much you're enjoying it, then hopefully they will too. I heard the best story today. A Mother told me that her daughter won't eat anything but noodles with butter (a frequent trap food for parents). For some reason, though, her Grandmother, a rawist (go figure) taught this 6 year old how to make kale, lettuce, fruit, flax smoothies that she has for breakfast every morning. A little girl that hates everything drinks kale smoothies? The fact that "Nana juice" is her favorite breakfast should shows me that kids want to emulated those around them. If Daddy loves steamed fish with peas, then maybe his kids will too.
Image by Maren Caruso