The holidays are my favorite time of the year because it's such an easy time to get my kids involved in the kitchen. There are so many fun recipes that little hands can help you make to start creating memories in the kitchen that last a lifetime. Here are 15 Holiday Recipes to Make with Kids!
Icebox Log Cake
This Icebox Log Cake is SO much fun to build. It's basically an edible craft and oh so cute to make this time of year!
Missouri Cookies
We make these for Hanukkah every year and they're so simple (no oven required!). They're great for little ones who want to get their hands a little dirty and help flatten out the cookies.
Christmas Bagel Wreaths
There couldn't be a cuter lunch to make than this Christmas Bagel Wreath. Let the kids decorate their "wreath" how they want and enjoy!
Cheesy Popovers
Even smaller kiddos can help mix together the batter for these delicious Cheesy Popovers. Plus watching them puff up while they're in the oven is the most fun!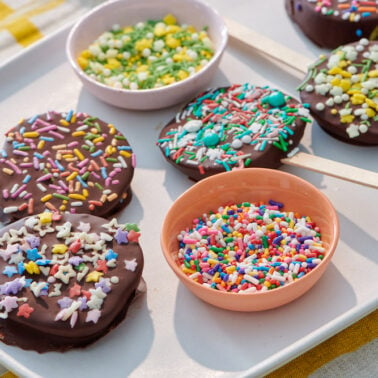 Chocolate Covered Apple Lollipops
If sprinkles and chocolate are involved, you better believe my kids are on board! These Chocolate Covered Apple Lollipops are super festive for the holidays!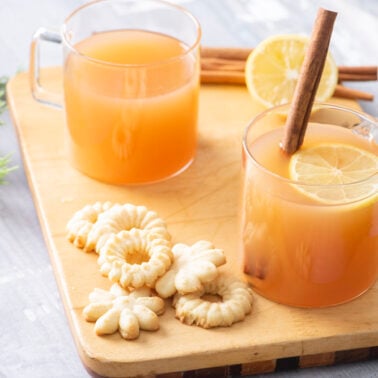 Spiced Apple Cider
Any kid will love a warm mug of this Spiced Apple Cider. Let them get involved by helping squeeze the lemon juice and place the cinnamon sticks in the pot!
Eggnog Sugar Cookies
Decorating cookies is one of our family's most favorite holiday activities. Adding eggnog to a classic sugar cookie is a fun way to change things up!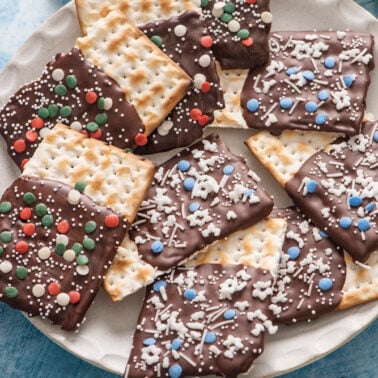 Chocolate Dipped Matzah with Sprinkles
Another fun Hanukkah activity to do together. These are so tasty and 100% kid approved!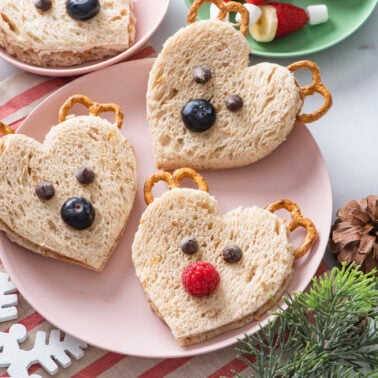 Reindeer Sandwiches
Another super adorable holiday lunch idea are these Reindeer Sandwiches. Fill with your favorite nut butters and jams!
Holiday Chocolate Chip Sprinkle Bars
A sprinkle explosion! Every kid (and adult) loves making these decadent Chocolate Chip Sprinkle Bars for the holidays.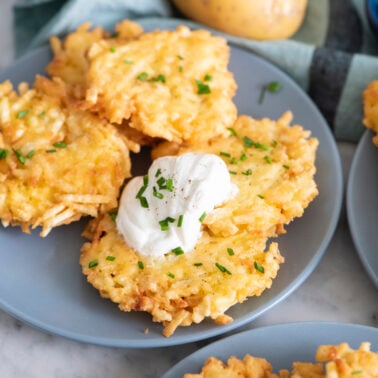 Potato Latkes
I used to get my kids involved by telling them to "using their muscles" to squeeze the excess moisture out of the grated potatoes for these Potato Latkes. Get ready to flex!
Cake Mix Sprinkle Cookies
These Cake Mix Sprinkle Cookies are beyond easy to make and pack a hugely festive holiday punch! Only 4 ingredients!
Gingerbread Pancakes
Not only do these taste incredible, but they're so cute! Let your kids help you ladle the batter into the gingerbread man cookie cutter.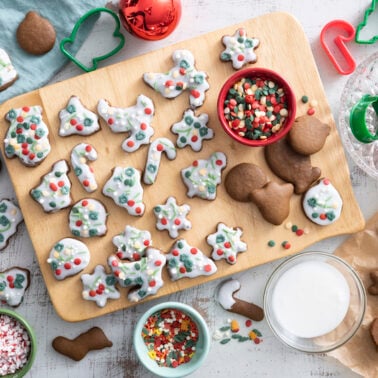 Soft and Sweet Molasses Roll Out Cookies
Bring out your favorite holiday cookie cutter shapes and whip up a batch of these together for a fun time!
Challah Bread Pudding
Watching this Challah Bread Pudding rise in the oven is about as much fun as getting to eat it!