Rugelach are delicious crescent roll pastries filled with any of your favorites like sweet fruit preserves, nuts, chocolate or pretty much anything your heart could desire!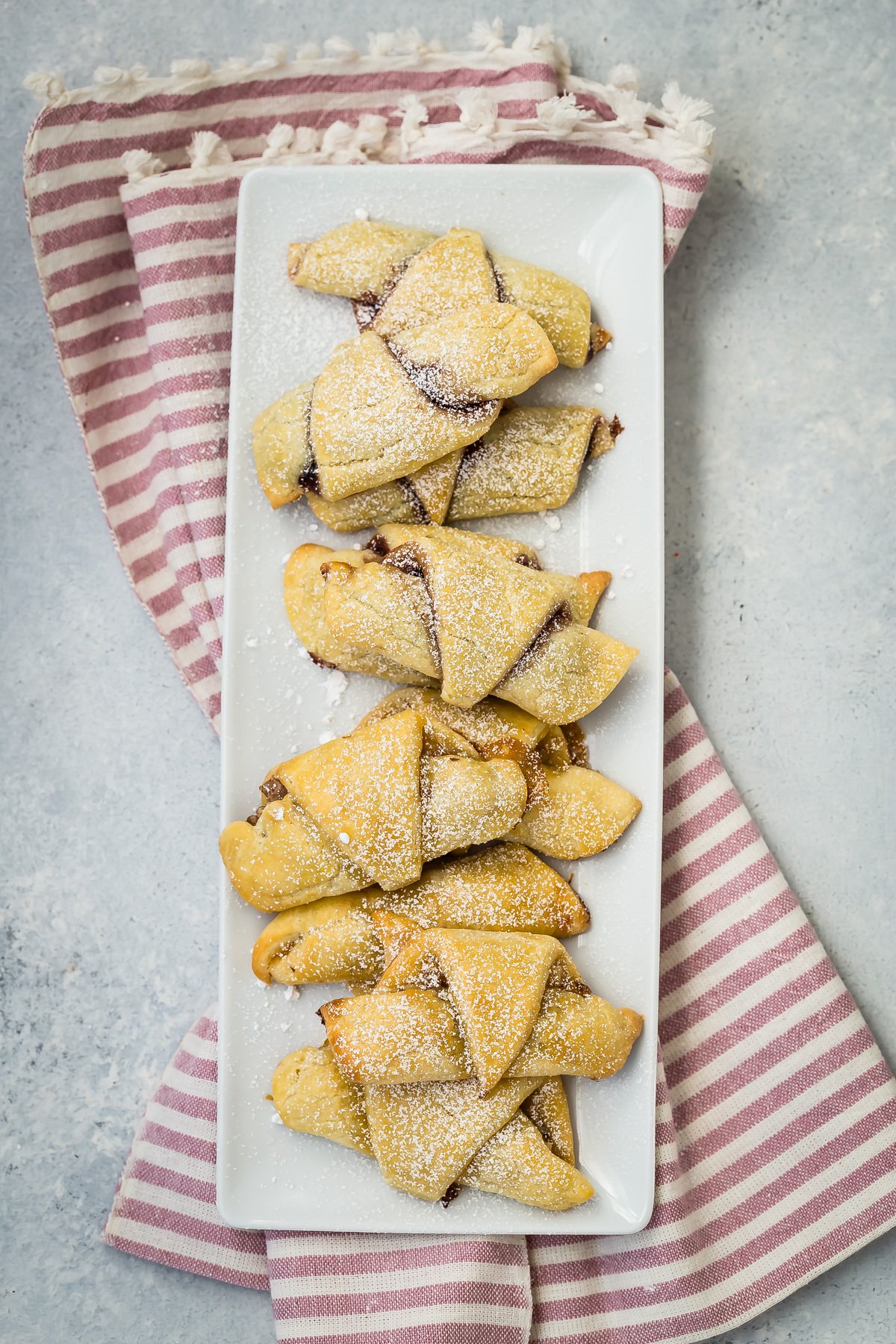 I'm lucky that my husband and I get to share and celebrate two holidays in our home with our kids: Hanukkah and Christmas. Ever since my husband and I first started dating years ago, we have enjoyed taking part in each other's holiday traditions. Sure, my husband freaked out that first year when he came home from work late one night and found a huge evergreen tree in his living room adorned with ornaments and twinkling lights by yours truly, but now he loves it. 😉
When I was growing up, my family always had sugar and gingerbread cookie making parties, so when I decided to continue the tradition with my own kids, I wanted to make sure a cookie my husband loved growing up was represented as well. Rugelach isn't exactly a cookie, it's more of a pastry, but it certainly looks right at home on a cookie plate and my hubby is addicted to them.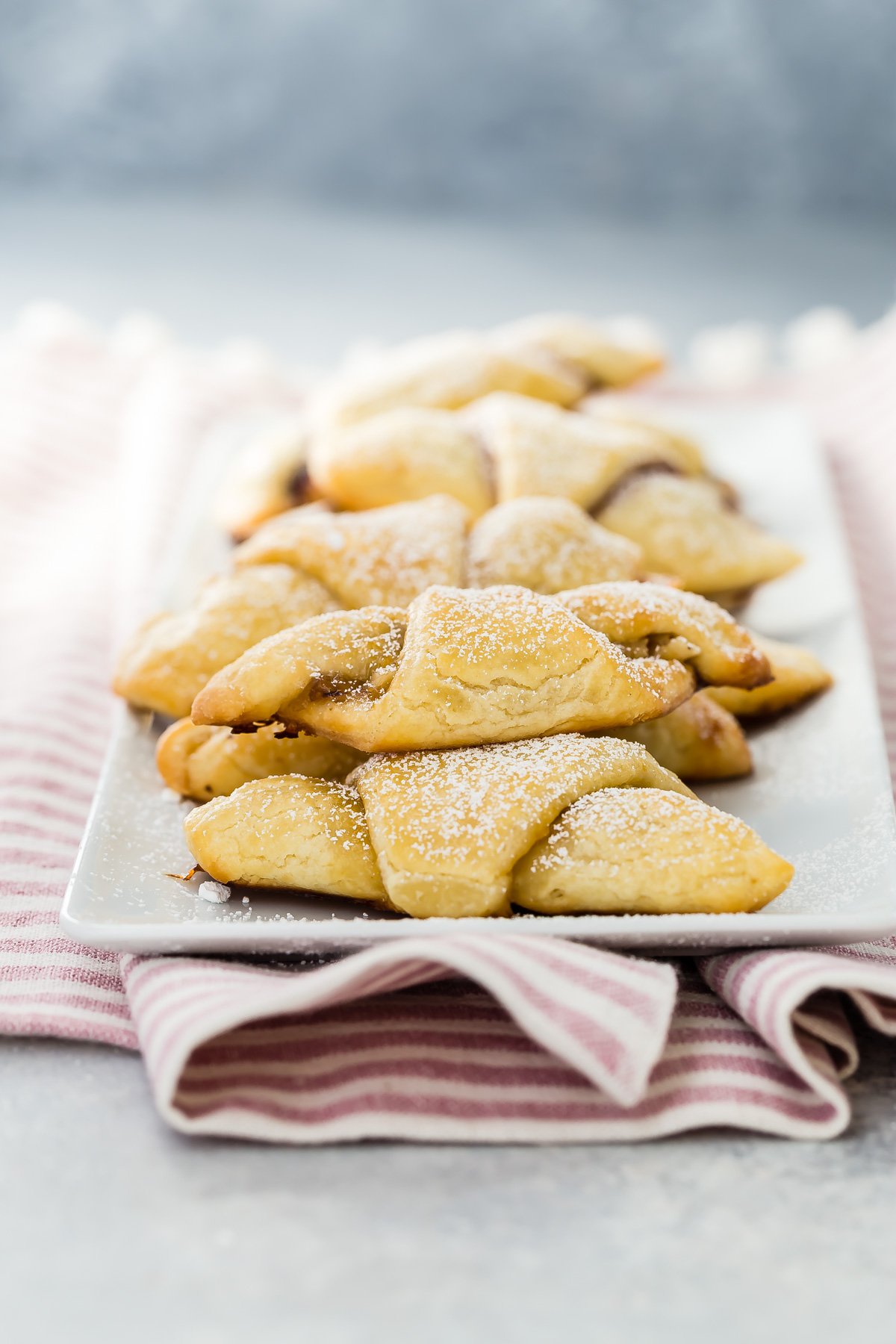 As with most of my sweet recipes, I always try to cut down on a lot of the sugar. So, instead of sprinkling a cup of sugar on the dough before adding the filling, as most traditional rugelach recipes call for, I simply fill mine with low sugar preserves and tons of chopped fruit, nuts and bittersweet chocolate (for those who really want to take them up a notch). That makes them sweet, but not too sweet.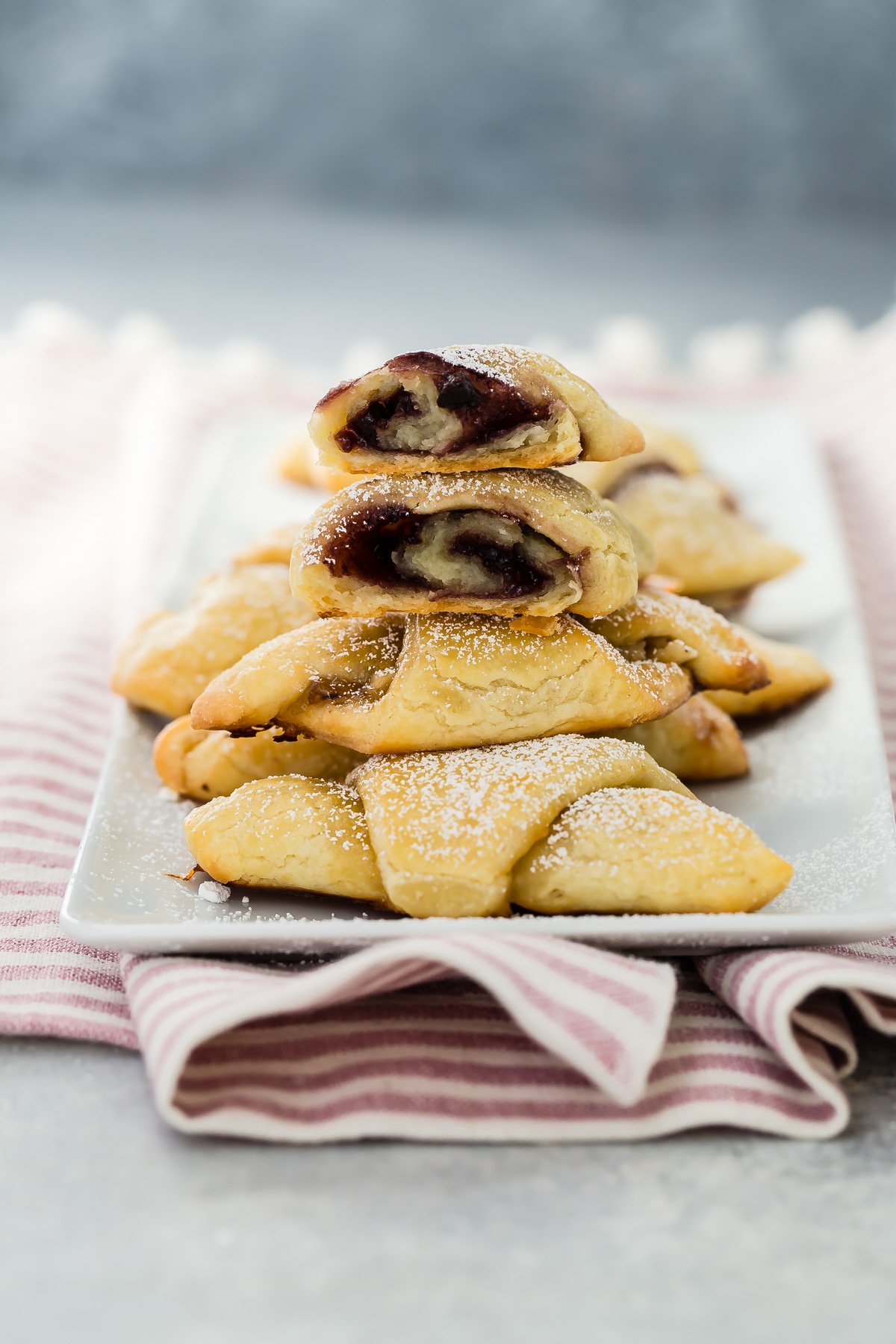 I must have done something right because Kenya and my husband couldn't keep their paws off of the first batch I made. I am not exaggerating when I say I came into the kitchen shortly after they came out of the oven to find almost all 24 cookies gone before I could photograph them for the picture you see above. At this time of year laughing and baking cookies is what the holidays are all about, no matter which one(s) you celebrate!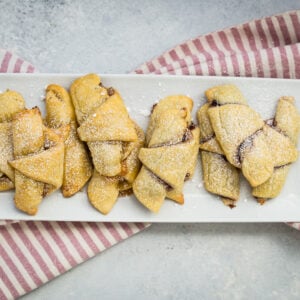 Rugelach
Ingredients
Filling Options:
1/4

cup

preserves (apricot, strawberry, raspberry)

1/4

cup

chopped walnuts

1/4

cup

chopped dried fruits (cranberries, raisins)

1/4

cup

mini chocolate chips or chopped dried fruit, optional
Instructions
Place the first four ingredients in a food processor or standing mixer and mix until combined.

Slowly add the flour, little by little until just combined.

Divide the dough into 2 balls, wrap each with plastic wrap and refrigerate for 1 hour.

Preheat the oven to 350 degrees.

On a lightly floured surface, roll each dough ball into a 9 inch round and using a pizza cutter or knife, cut into 12 equal wedges (like a pizza pie).

Before separating the wedges evenly spread the round with 2 tbsp preserves.

Sprinkle 1/4 cup of filling of your choice and press them down gently to adhere to the dough.

Starting with the wide end of each wedge, roll up into 24 cookies.

Place on a baking sheet with the tip pointing down and brush with egg wash.

Bake for 20-25 minutes or until golden.

Video
Nutrition
Calories:
100
kcal
|
Carbohydrates:
9
g
|
Protein:
1
g
|
Fat:
7
g
|
Cholesterol:
15
mg
|
Sodium:
20
mg
|
Sugar:
4
g