Southern Style Pork Tenderloin is smoky, sweet, and tangy all in one. This is the perfect summer grilling recipe.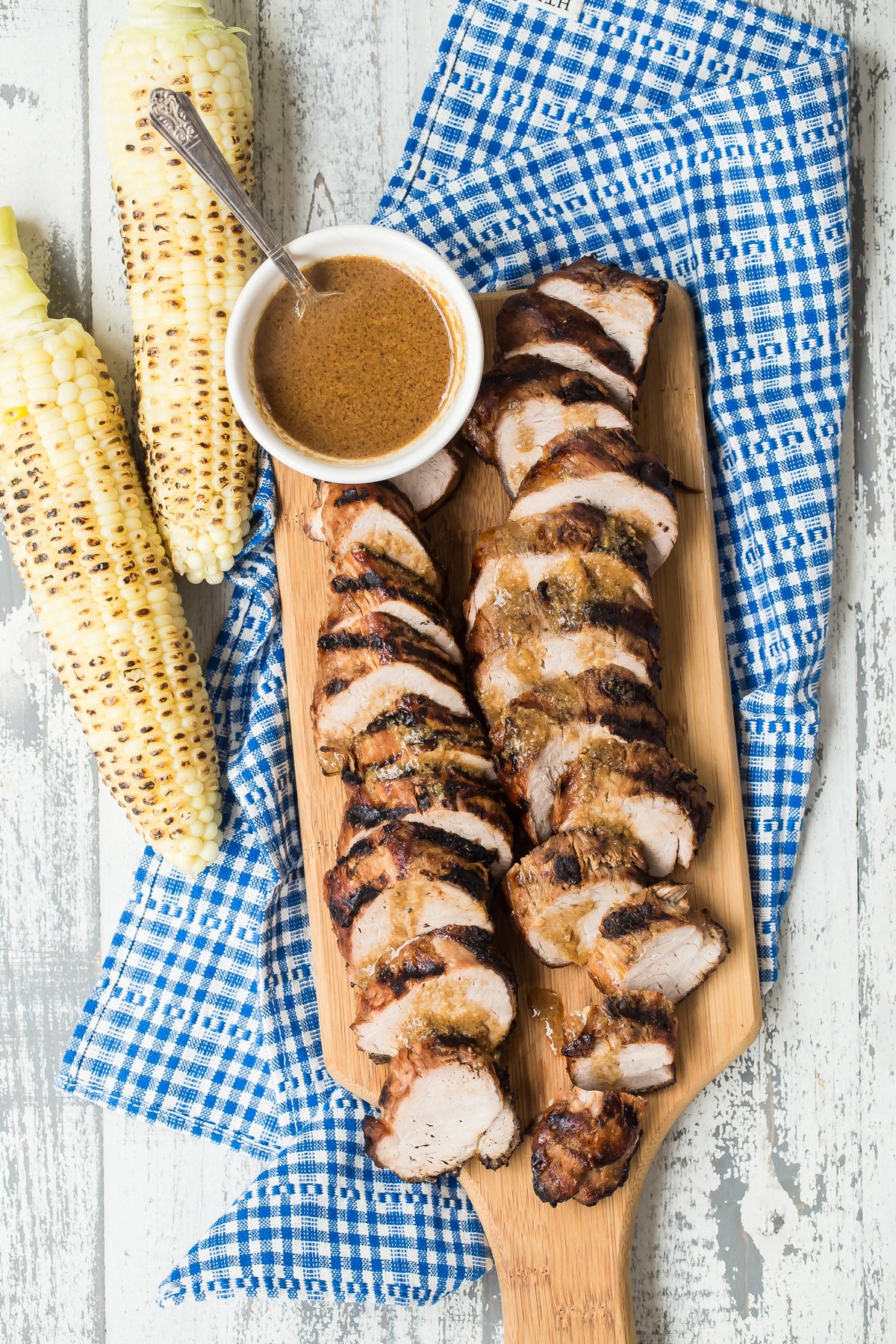 Hello, new BBQ! For my and hubby's anniversary last year, my "way-too-good-to-us" in-laws got us a fancy pants gas grill. Embarrassingly, it's been sitting outside for months untouched. In fact, almost three seasons have passed since it arrived on our doorstep because it is so complicated to install.
Now, I'm an obsessive griller. But I'm also totally challenged in the mechanical department and for the life of me I couldn't figure out how to connect or start the thing. Even my more technically inclined husband was so frustrated that he gave up too. Finally, a few weeks ago, I surrendered and called a professional to help me and tah-dah, I've been a grilling machine ever since.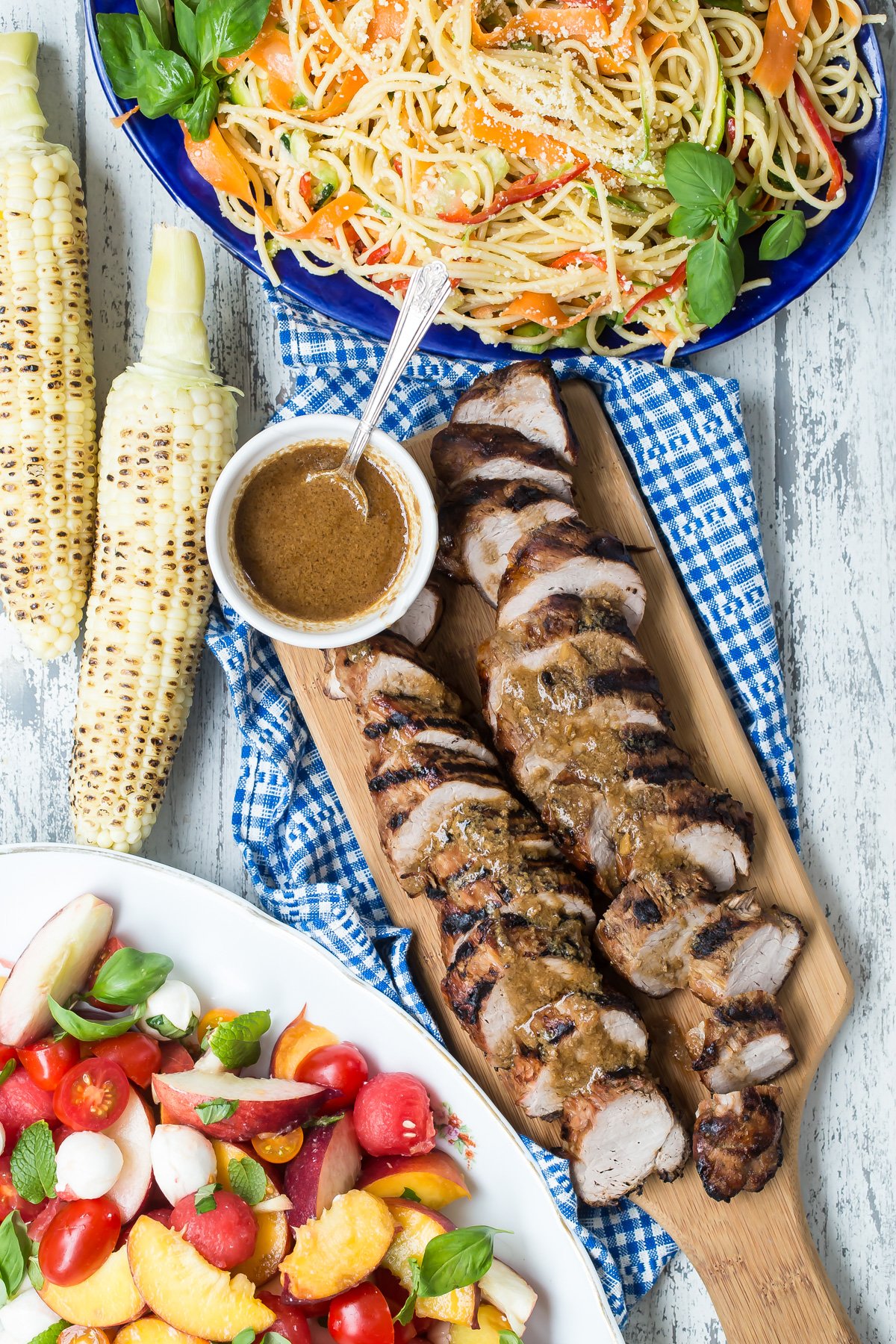 I seriously want to grill anything and everything in sight, especially during summer. From steak to asparagus to mixed veggies to halibut pesto kabobs, I'm at my absolute happiest when smoke is billowing in my face and permeating my hair. Eau de BBQ would be my dream fragrance if I ever got to design one. Anyway….
Growing up in Kentucky this Southern Style Pork Tenderloin was a Sunday night family favorite and a featured entree at many of the parties my parents threw when I was a child. Now, whenever I make this succulent, juicy dish people ask me for the recipe without fail — it's really that good. In fact, my husband had to remove himself from the table when I made it last week because he said if he didn't physically leave the kitchen he was going to eat the entire pork loin! If only he was as handy as he is hungry….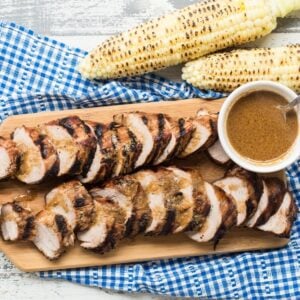 Southern Style Pork Tenderloin
Southern Style Pork Tenderloin is smoky, sweet, and tangy all in one. Perfect for grilling!
Ingredients
1/4

cup

bourbon

1/4

cup

soy sauce

1/4

cup

brown sugar

1/4

cup

dijon mustard

3

tbsp

olive oil

1

tablespoon

finely chopped fresh ginger

3

garlic cloves, minced

2

whole pork tenderloins, approximately 2 pounds total, trimmed
Instructions
Place the first seven ingredients in a bowl and whisk to combine. Pour into a large zipper bag or glass container large enough to hold the pork tenderloins and marinate overnight or up to 2 days.

Preheat a grill to high heat, and oil the grates.

Remove tenderloins from the bag, reserving the marinade, and grill for 14-15 minutes, turning halfway through or until the internal temperature is 140°F. Remove from heat and set meat aside to rest for 5-10 minutes to allow the juices to rest and redistribute.

While the meat is resting, place the marinade in a small pan. Bring to a boil, reduce to a simmer and cook for 10 minutes.

Slice the tenderloin on a bias and serve with the sauce if desired.
Nutrition
Calories:
240
kcal
|
Carbohydrates:
12
g
|
Protein:
33
g
|
Fat:
4
g
|
Cholesterol:
100
mg
|
Sodium:
930
mg
|
Sugar:
9
g