As the sun sets on another glorious summer, there's no better way to bid adieu to the season than with an unforgettable Labor Day bash. Fire up those grills, dust off those picnic blankets, and get ready to indulge in a feast that'll make your taste buds dance. I've rounded up some mouthwatering recipes that are bound to turn your Labor Day gathering into an epic end-of-summer extravaganza.
Appetizers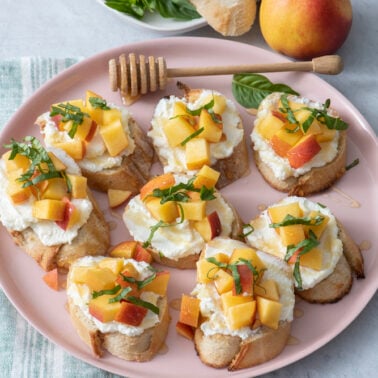 Peach and Ricotta Crostini
Peach and Ricotta Crostini are the easiest summertime appetizer or snack you'll ever make. Not to mention, they're absolutely delicious!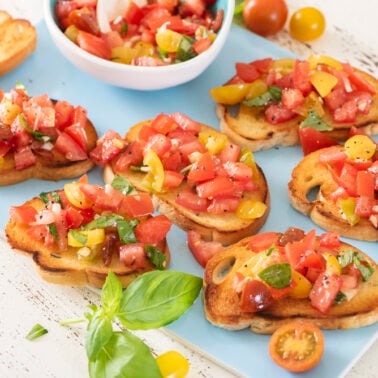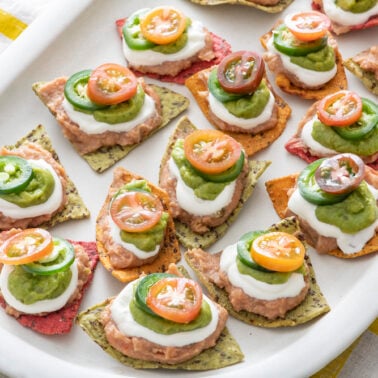 Nacho Scoopers
Forget about a big platter of chips with gooey processed cheese on top and go for these individual Nacho Scoopers. Each chip is piled high with your favorite nacho toppings so every bite is delicious!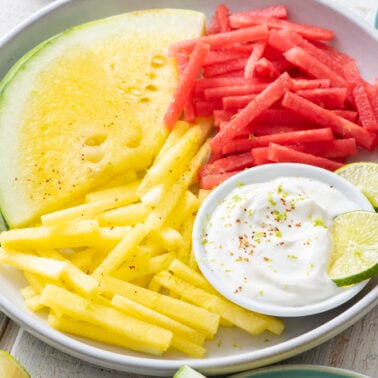 Watermelon Fries
There's nothing better to snack on at a BBQ than some fresh watermelon. Cut your watermelon into fries for the ultimate fun factor!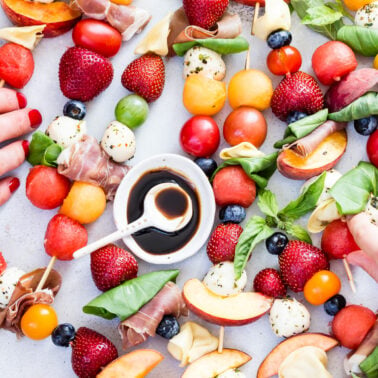 Fruit Caprese Kabobs
These little kabobs are like summer on a stick! Fresh, delicious and the perfect addition to your Labor Day menu.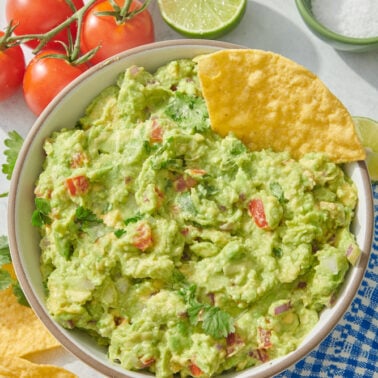 Guacamole
Guacamole is a crowd-pleaser at any gathering! Whether you're hosting a party or simply looking for a delicious snack, this creamy and flavorful dip is the perfect choice.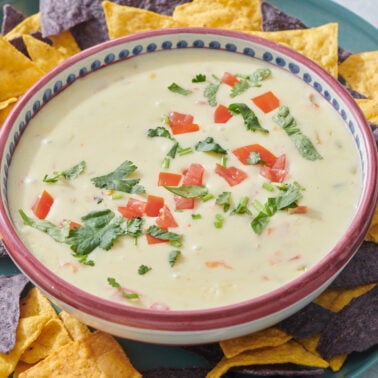 Slow Cooker Queso Blanco
Queso blanco in the slow cooker is the ultimate appetizer and simple to make. It's cheesy, delicious and perfect for snacking on before the main event.
Salads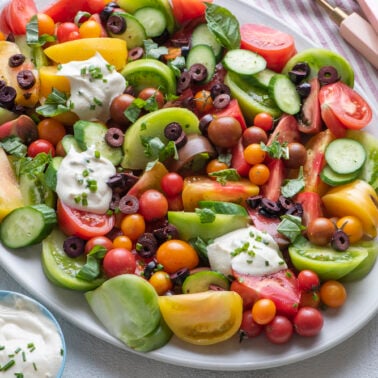 Heirloom Tomato Salad
Heirloom Tomato Salad is one of our go-to recipe when these bright beautiful tomatoes are in season. It's fresh and delicious!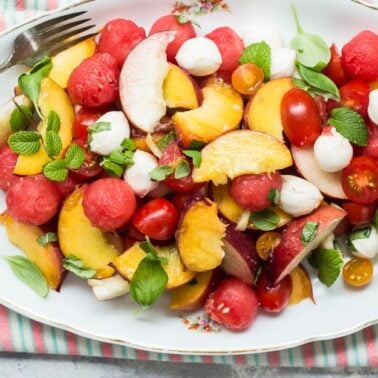 Summer Fruit and Mozzarella Salad
This salad is the perfect way to dig into your peaches and nectarines from the summer with some melon balls and fresh mozzarella it's lights out delicious!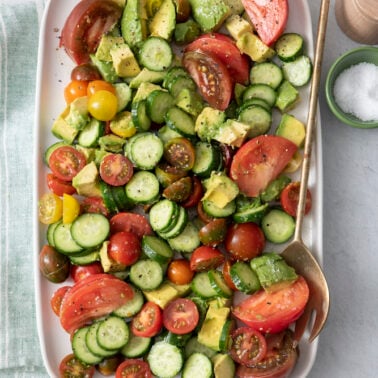 Avocado Cucumber Tomato Salad
This Avocado Cucumber Tomato Salad is the perfect recipe to go along with your grilling this summer!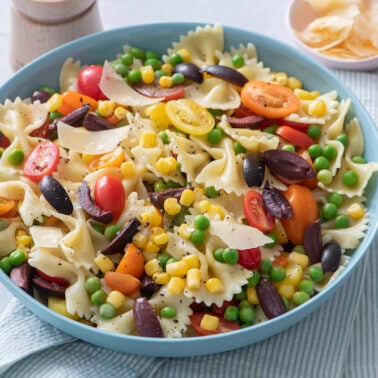 Summer Succotash Pasta Salad
This is an easy dish that highlights all of summer's freshest produce and is such a crowd pleaser!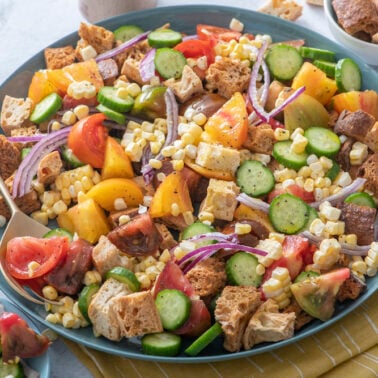 Tomato Bread Salad
When you're looking for an easy dish that really impresses and just screams summer, try this Tomato Bread Salad!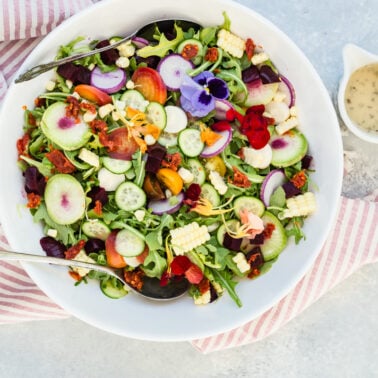 Summer Garden Salad
This summer garden salad is light and fresh with tons of crispy vegetables. Topped with the perfect dressing everyone will love!
Mains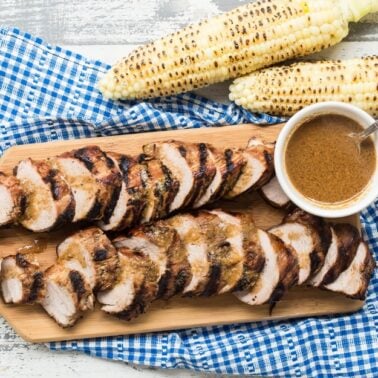 Southern Style Pork Tenderloin
Southern Style Pork Tenderloin is smoky, sweet, and tangy all in one. Perfect for grilling!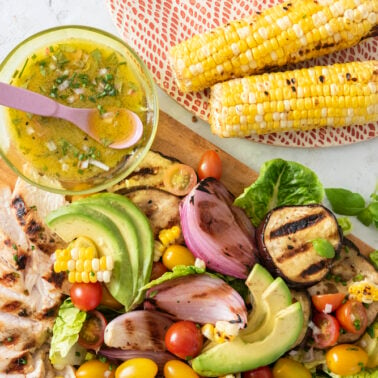 Grilled Chicken, Vegetable and Avocado Salad
There's nothing better than a bed of crispy lettuce topped with grilled chicken, tons of grilled vegetables and sliced avocado and then drizzled with a zippy vinaigrette!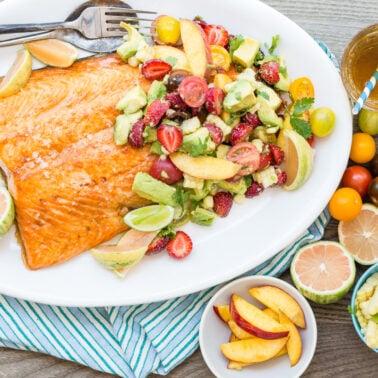 Broiled Salmon with Summer Fruit Salad
No grill needed for this salmon recipe and it's so easy! Broiled salmon with a summer fruit salad on the side will impress anyone at your Labor Day get togethers!
Guacamole Cheddar Burger
A classic beef burger served California style, topped with fresh guacamole, is an absolute perfect and easy main for your Labor Day menu.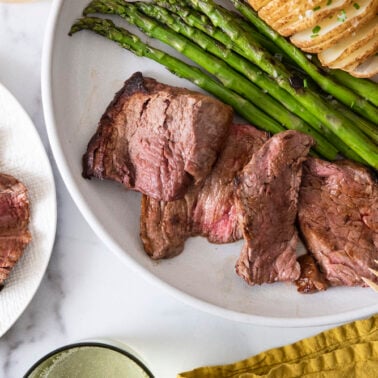 Pan Seared Beef Tenderloin
My family loves a good steak so it's always on the menu for our big get togethers. Especially during grilling season!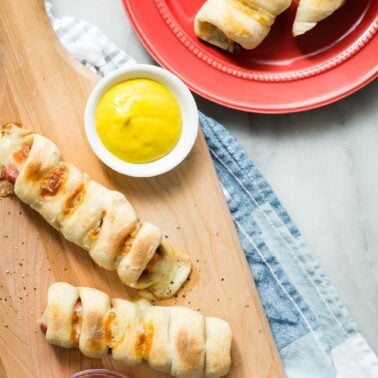 Cheesy Pizza Hot Dogs
This recipe is a great one for kids, but adults love them too! Pizza and hot dogs all in one delicious meal? Yes please!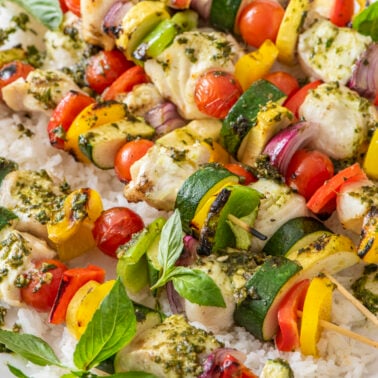 Halibut Pesto Kabobs
Halibut Pesto Kabobs are easily one of my favorite healthy recipes that everyone in our family enjoys! They're simple to make, delicious and great for summer BBQs!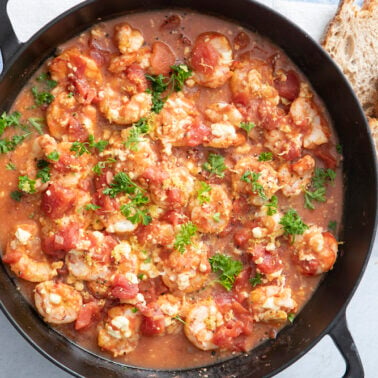 Greek Style Shrimp
This Greek Style Shrimp recipe is a super easy, yet impressive weeknight meal. Beautiful shrimp baked in tomatoes and topped with feta is a tough combo to beat!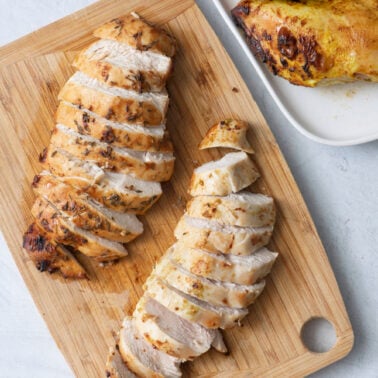 Marinated Chicken 6 Ways
Don't sleep on just a delicious piece of marinated chicken on the grill (or stove) for your end-of-summer parties! This post has six of my favorites.
Desserts
Peach & Strawberry Shortcakes
Juicy strawberries, ripe peaches and honey vanilla yogurt with a light and fluffy shortcake is the ultimate summer dessert everyone will want over and over again!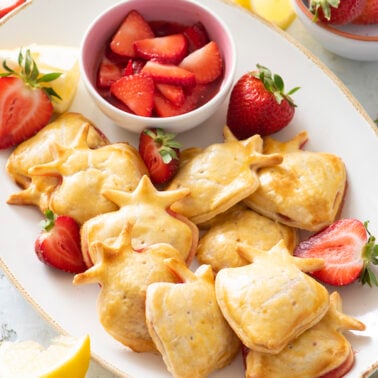 Strawberry Lemon Hand Pies
Strawberry Lemon Hand Pies are perfect hand-held goodies! Filled with juicy strawberries and just a touch of lemon juice, this easy to make dessert is a satisfying treat any time of day.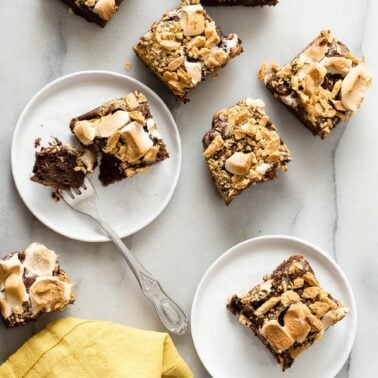 S'mores Cakey Black Bean Brownies
S'mores just remind me of summer, so there's no better way to celebrate the end of the season than with these delicious brownies!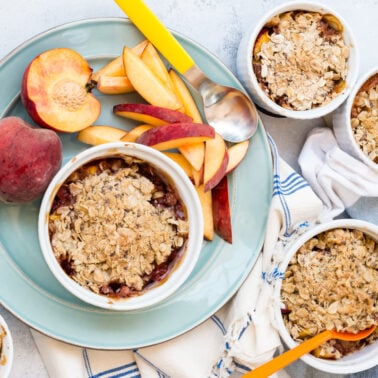 Peach Crumble
Peaches, peaches and more peaches. We can't get enough. This crumble is next level, especially when topped with some ice cream!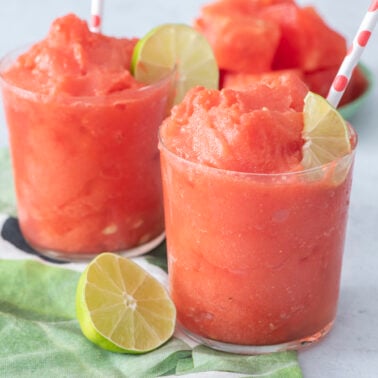 Watermelon Slushie
This bright and beautiful Watermelon Slushie will blow your mind at first sip! It's super refreshing, sweet and a bit tangy — the perfect summertime treat!
Graham Cracker Chocolate Dipped Ice Cream Sandwiches
Hot summer days call for cold treats like these Graham Cracker Chocolate Dipped Ice Cream Sandwiches! 
Dairy Free Chocolate Cherry Ice Cream
Dairy Free Chocolate Cherry Ice Cream is filled with sweet, ripe cherries and rich chocolate! It's so delicious, it's hard to believe that it's entirely dairy free.
Armed with these recipes, your Labor Day gathering is destined to be a hit, creating memories that will warm your heart well into the coming months. Here's to cherished moments, delightful dishes, and a summer finale that's truly sensational!
If you make any of these recipes let me see them by tagging my on social media! Happy Labor Day!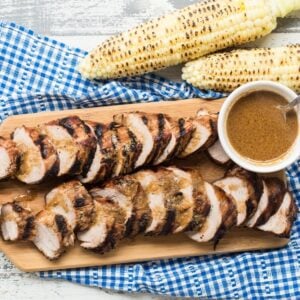 Southern Style Pork Tenderloin
Southern Style Pork Tenderloin is smoky, sweet, and tangy all in one. Perfect for grilling!
Ingredients
1/4

cup

bourbon

1/4

cup

soy sauce

1/4

cup

brown sugar

1/4

cup

dijon mustard

3

tbsp

olive oil

1

tablespoon

finely chopped fresh ginger

3

garlic cloves, minced

2

whole pork tenderloins, approximately 2 pounds total, trimmed
Instructions
Place the first seven ingredients in a bowl and whisk to combine. Pour into a large zipper bag or glass container large enough to hold the pork tenderloins and marinate overnight or up to 2 days.

Preheat a grill to high heat, and oil the grates.

Remove tenderloins from the bag, reserving the marinade, and grill for 14-15 minutes, turning halfway through or until the internal temperature is 140°F. Remove from heat and set meat aside to rest for 5-10 minutes to allow the juices to rest and redistribute.

While the meat is resting, place the marinade in a small pan. Bring to a boil, reduce to a simmer and cook for 10 minutes.

Slice the tenderloin on a bias and serve with the sauce if desired.
Nutrition
Calories:
240
kcal
|
Carbohydrates:
12
g
|
Protein:
33
g
|
Fat:
4
g
|
Cholesterol:
100
mg
|
Sodium:
930
mg
|
Sugar:
9
g