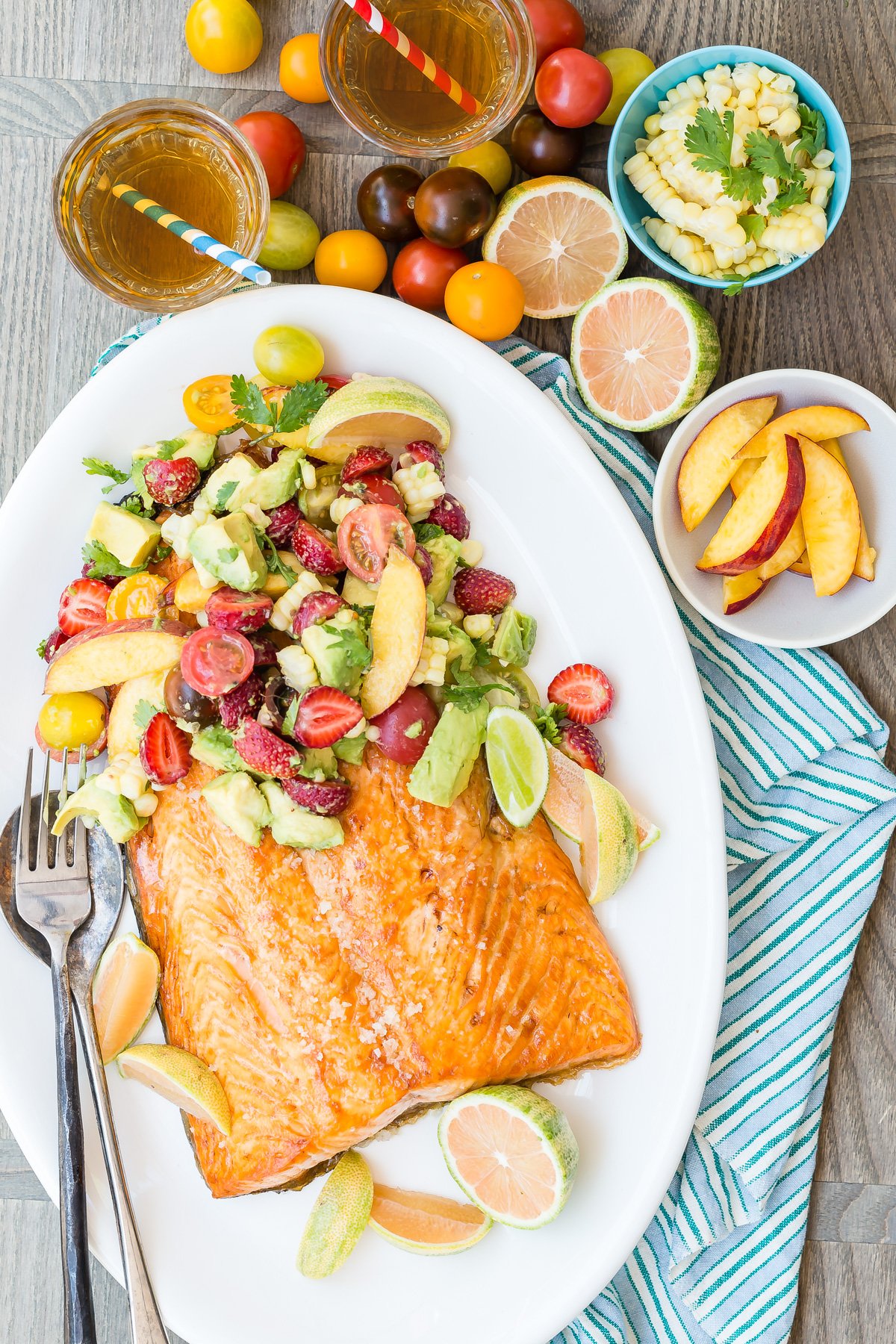 Pin
Every Sunday when we go to the farmers market I buy a HUGE fillet of salmon, from Marilyn, our beloved seafood purveyor. The second I get there I race to get in the long line of other farmers market goer's who have been devouring her insanely good salmon for years. While I enjoy it as is with nothing more than a sprinkle of salt on it, this Summer Fruit Salad is a total game changer! It screams SUMMER from the very first bite.
Pin
The first time I made this Broiled Salmon with Summer Fruit Salad we had friends over and they were so excited to try it. After all, there's nothing more beautiful than bringing out a huge platter with a gorgeous piece of fish on it, but when you see the bright colors of the composed salad it's jaw droppingly gorgeous.
Pin
The best part comes when you take a bite, though. As much as I love eating a piece of salmon on it's own, this summer fruit salad adds not only a ton of nutrition, but also a sweet, tangy and crunchy note to each and every bite.
Pin
If you're looking for a total crowd pleasing recipe this summer you must try Broiled Salmon with Summer Fruit Salad. It's the easiest recipe to whip up and a total game changer.
Broiled Salmon with Summer Fruit Salad
Ingredients
1

1/2 pounds

salmon filet

kosher salt

black pepper, optional

1

avocado, chopped

1/2

cup

strawberries, halved

1

ear of corn, cut off the cob

1/2

cup

cherry tomatoes, halved

2

tablespoons

chopped cilantro

1

peach, diced

1

small

lime, juiced
Instructions
Preheat broiler. Place salmon on a foil lined baking sheet, season with salt and pepper and broil 8-10 minutes or until golden.

In the meantime, place the remaining ingredients in a medium sized bowl and toss to combine. Season with a pinch of salt.

Place the salmon on a plate or platter and top with the summer fruit salad.