Heirloom Tomato Salad is one of our go-to recipe when these bright beautiful tomatoes are in season. It's fresh and delicious!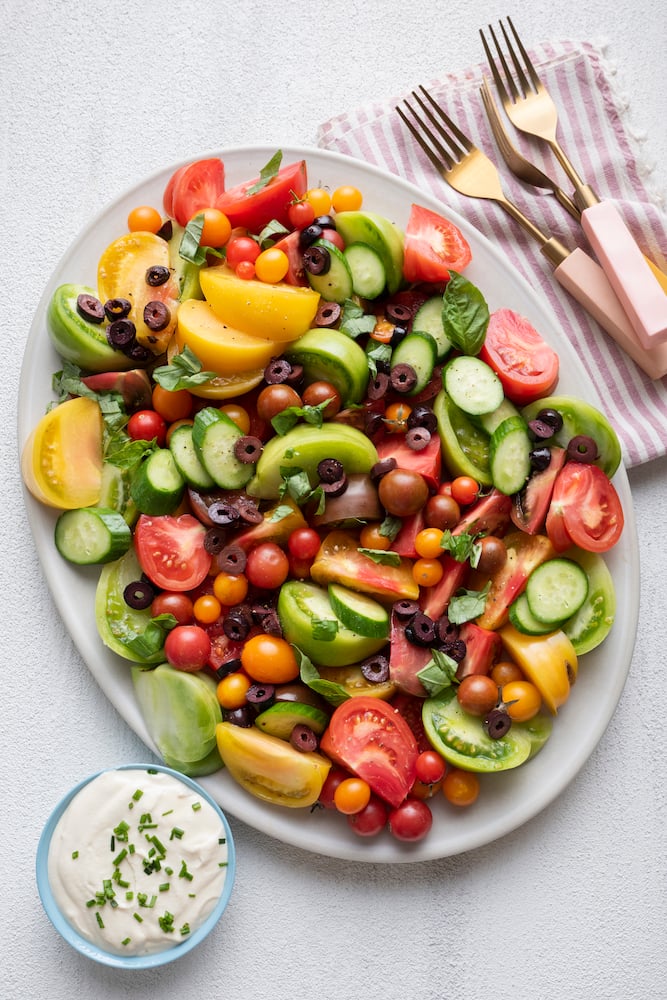 Sometimes I feel like we can spend so much time trying to jazz up a recipe, we lose sight of the power of simple ingredients. Take heirloom tomatoes for example. For me, there's truly nothing like the sweet, juicy taste of a gorgeous heirloom in summertime, either on its own or as the foundation for this straightforward, delicious Heirloom Tomato Salad.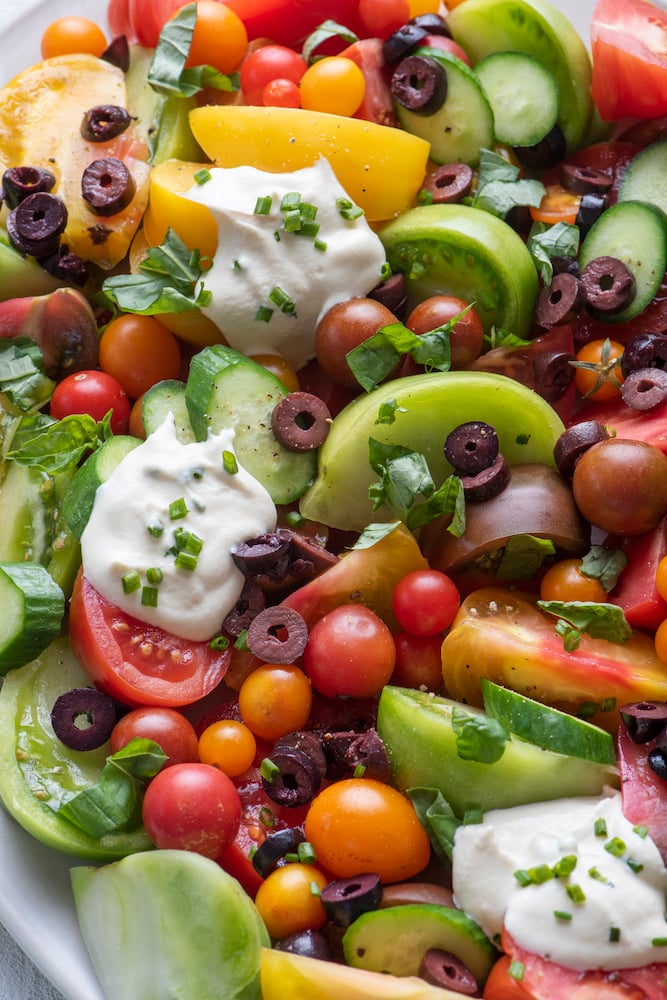 I've made all the time during the late spring and summer — often at the request of my kids whenever they see heirloom tomatoes at our farmers' market. There are never leftovers when I make this salad. Every bite has a bright mix of fresh herbs, crunchy cucumbers, briny olives, and a light and refreshing Greek yogurt dressing. Here are some of my favorite tomato tips:
Heirlooms are classic varieties that are prized today because of their intense flavors, vibrant colors, and unique shapes. They're delicate, so they must be handpicked and packed.
When shopping for heirloom tomatoes, be sure to choose ones that are heavy for their size and store them on the counter at home –- not in the refrigerator.
Remember that heirlooms ripen quickly, so buy frequently and enjoy soon after purchase. Size and shape have no correlation with quality; large or small, they're all delicious!
Cherokee Purples are generally my favorite when buying heirlooms, but here are several other gorgeous varieties with slightly different flavors that make this salad flavorful and mouthwatering: Marvel Stripe, Brandywine, Evergreen, Black Prince, Sun Gold or Black Cherry, and small varieties like Pink Cherry, Red Grape and Red Pear.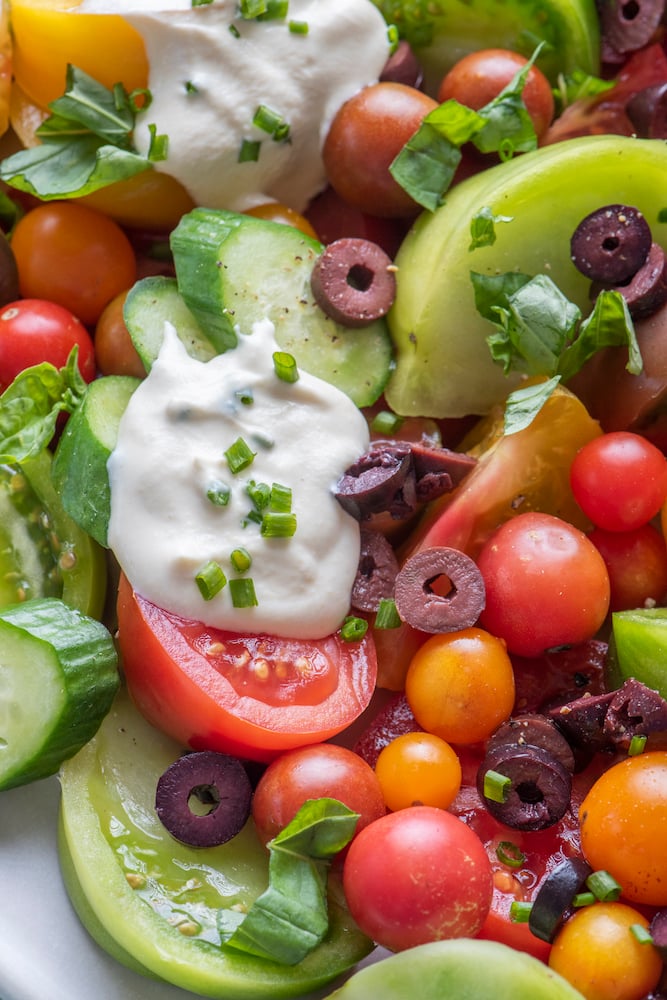 Looking for more heirloom tomato recipes? This Heirloom Tomato Pico de Gallo is a huge hit in my house and I can't wait to make these Caprese Quesadillas with Heirloom Tomatoes again. So run fast before summer is over and grab a big bag of these beauties to bring home!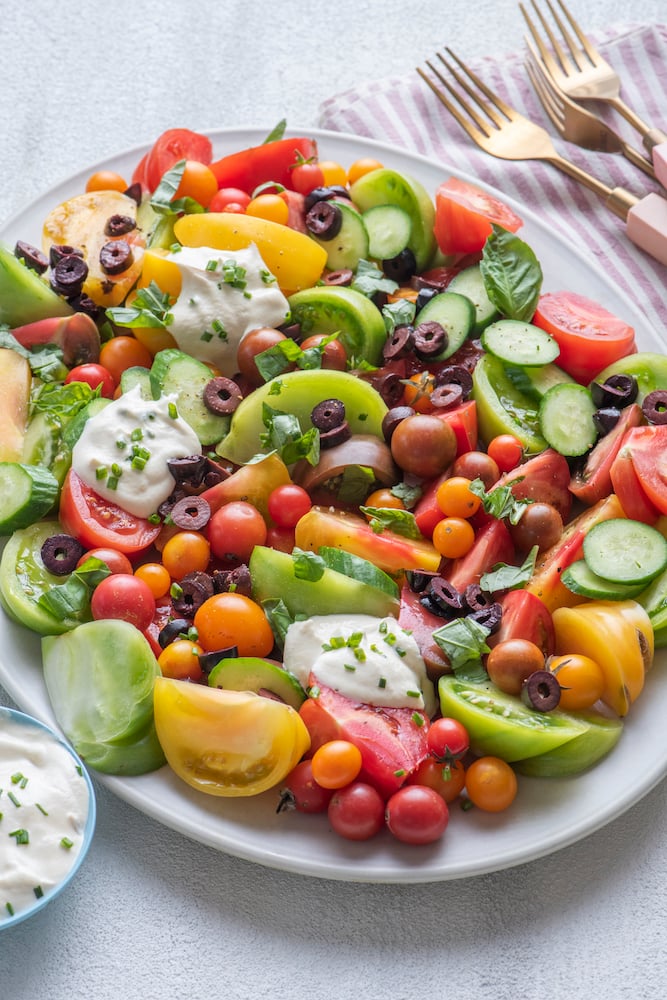 What are you looking forward to making with Heirloom Tomatoes this season?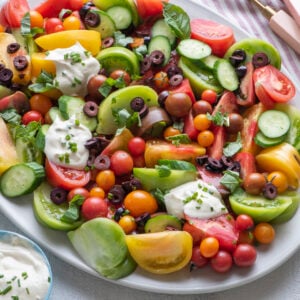 Heirloom Tomato Salad
Heirloom Tomato Salad is one of our go-to recipe when these bright beautiful tomatoes are in season. It's fresh and delicious! 
Ingredients
4

large

heirloom tomatoes, sliced into 1/2-inch wedges

2

cups

halved cherry tomatoes

1

cup

sliced persian cucumbers

1/2

cup

pitted, sliced black olives

1/4

cup

mixed herbs, torn into pieces (I used purple and green basil, cilantro, and chives)

1 1/2

teaspoon

kosher salt

1/2

cup

greek yogurt

1/4

cup

dijon mustard

2

tablespoons

lemon juice
Instructions
In a large salad bowl toss to combine the tomatoes, cucumbers, olives and herbs, and sprinkle with the 1 teaspoon salt.

In a small bowl, whisk together the yogurt, mustard, lemon juice and remainder of salt to thoroughly combine.

Serve the dressing alongside the tomato salad.
Nutrition
Calories:
70
kcal
|
Carbohydrates:
10
g
|
Protein:
3
g
|
Fat:
3
g
|
Cholesterol:
5
mg
|
Sodium:
540
mg
|
Fiber:
3
g
|
Sugar:
6
g