Kids running around in swimsuits eating popsicles. That is summer to me.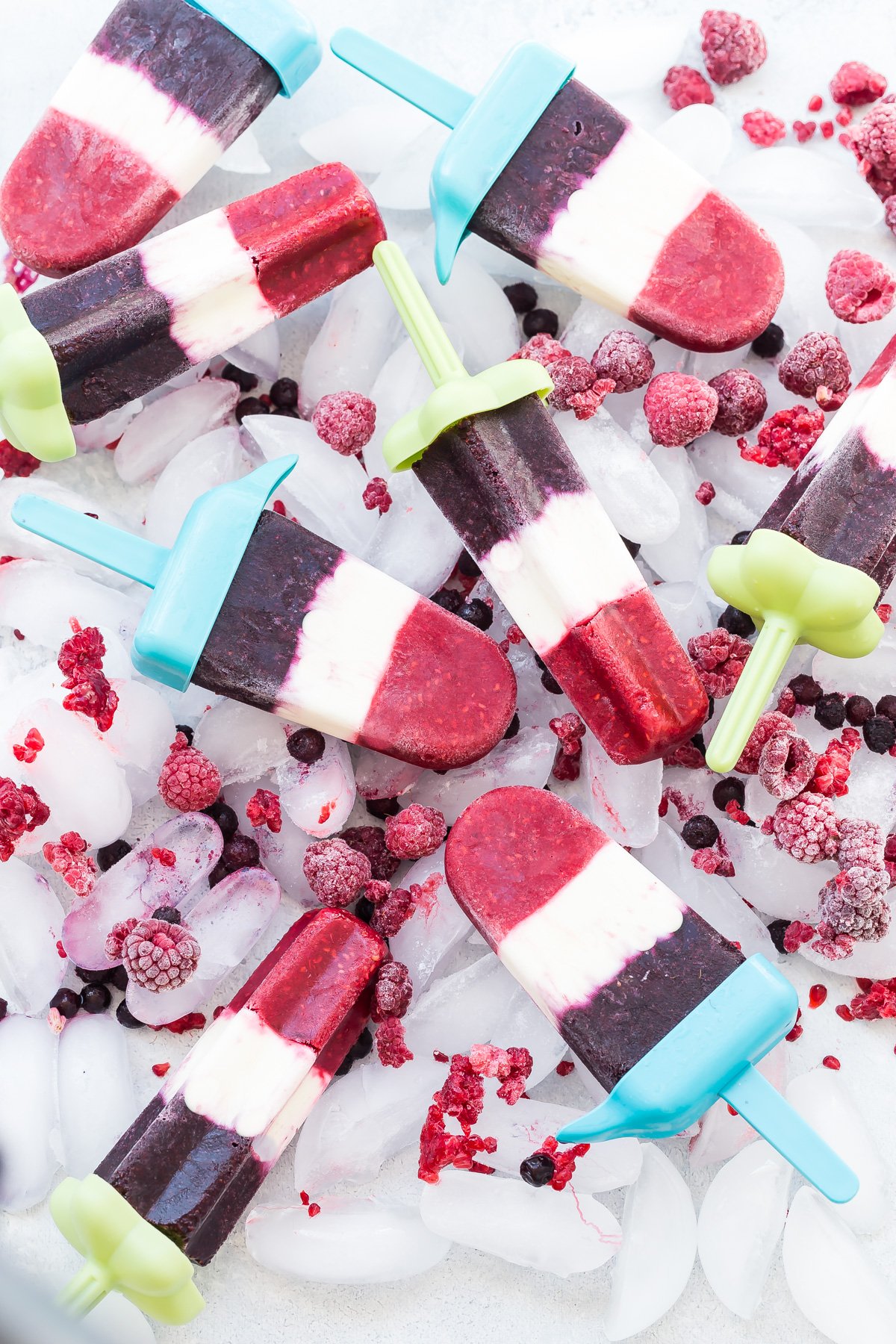 Pin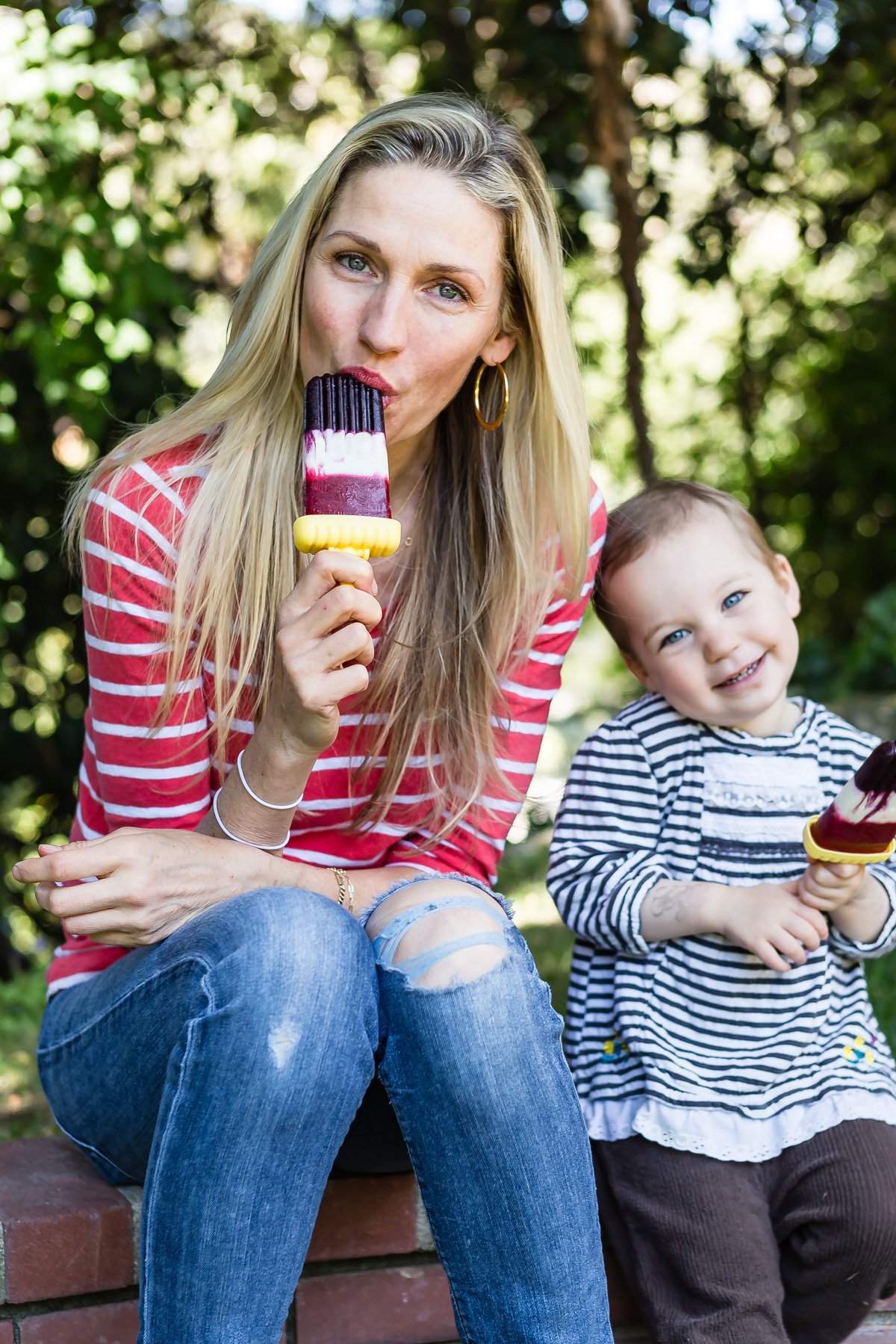 Pin
And when those popsicles happen to be red, white and blue? Well, that can only mean it's the Fourth of July!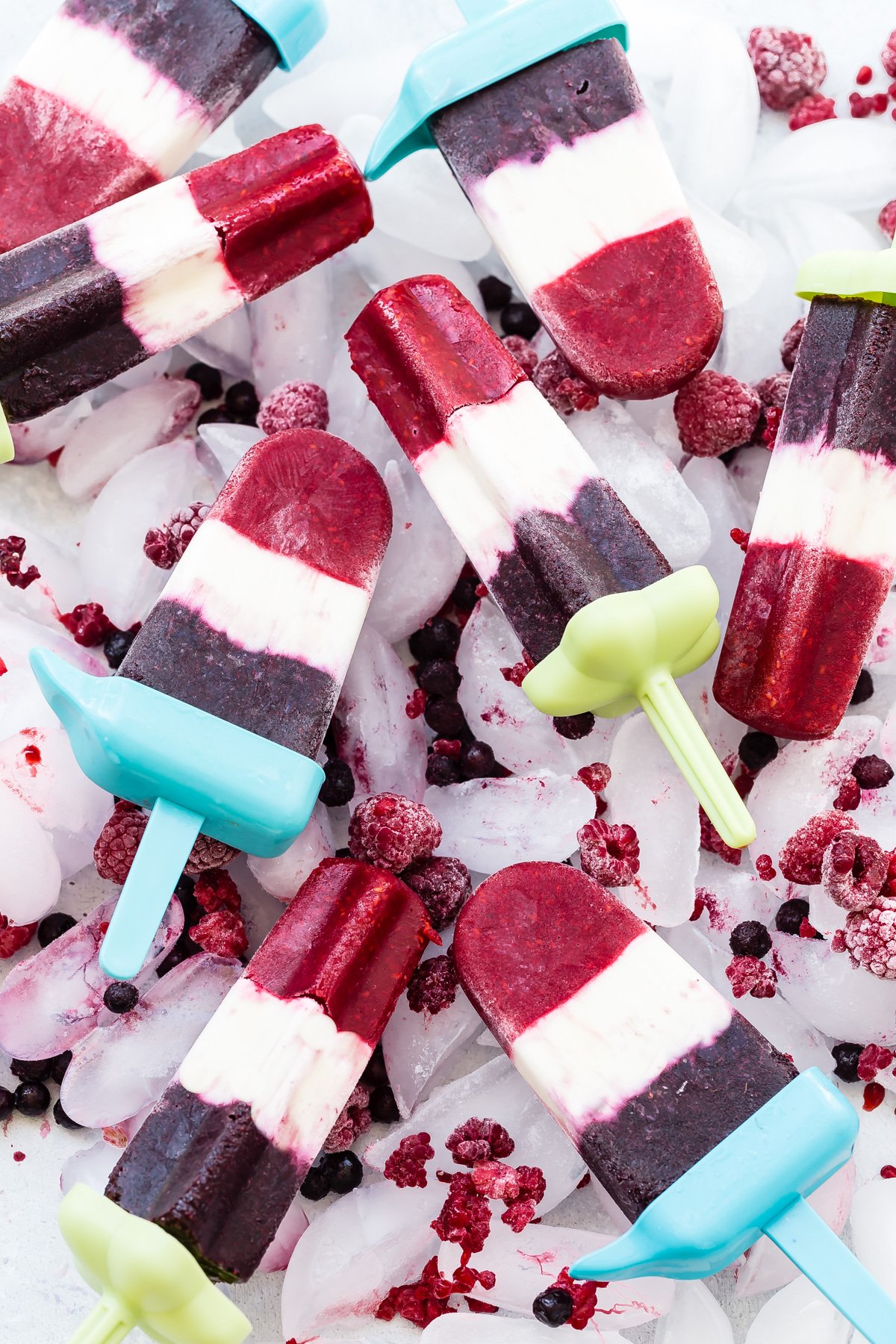 Pin
I vividly remember being a kid, playing with my friends at our local swimming pool and sucking on Bomb Pops (big red, white and blue rocket-shaped popsicles that seemed all the rage in the 70's) to cool down in the summer heat. I adored Bomb Pops, looking back, I can't imagine how much food coloring and sugar I must have ingested over the years.

Pin
Those popsicle memories are great, but how can I share them with my own kids without also exposing them to all those unwanted additives and chemicals? There has to be a way to make your own version of those sinfully delicious iced treats — full of eye appealing color — but also healthy at the same time.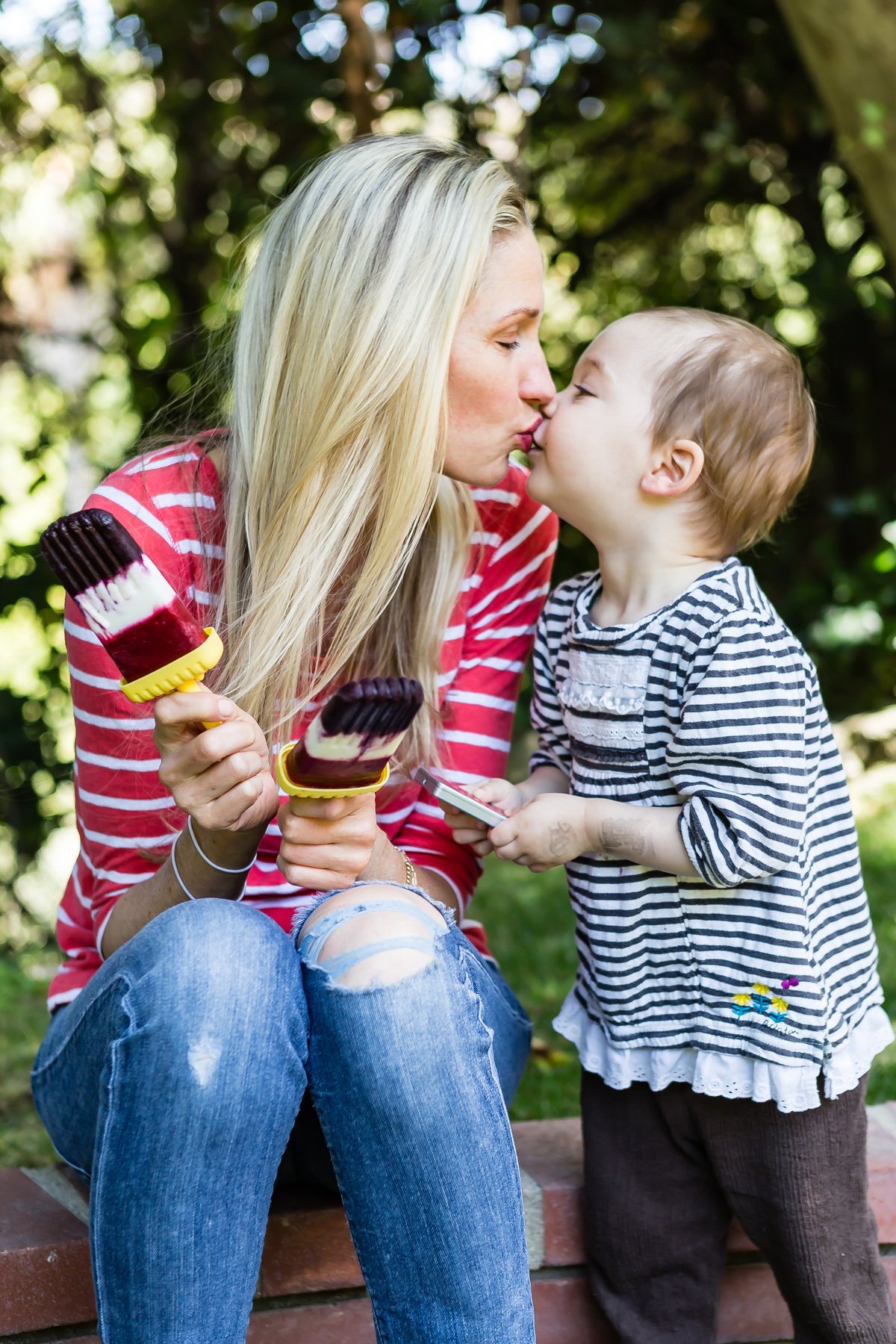 Pin
I use fresh fruits and yogurts to make festive popsicles that are nutritious as well. And for the Fourth, blueberries and raspberries make it easy to celebrate the holiday. Packed with antioxidants, Vitamin C, dietary fiber, calcium and more, these Red, White & Blue Popsicles seem like a much better idea than the sugar and corn syrup laden ones infused with Red Dye #17 and Blue Dye #26 you'll find in the store.
I don't want my kids eating that. Not when they can enjoy homemade colorful pops whose colors come straight from nature, not a laboratory. So when your kids are looking for something refreshing that will impress them at the same time, make a batch of these pops. You won't mind at all when they ask for seconds and thirds. In fact, you'll encourage it!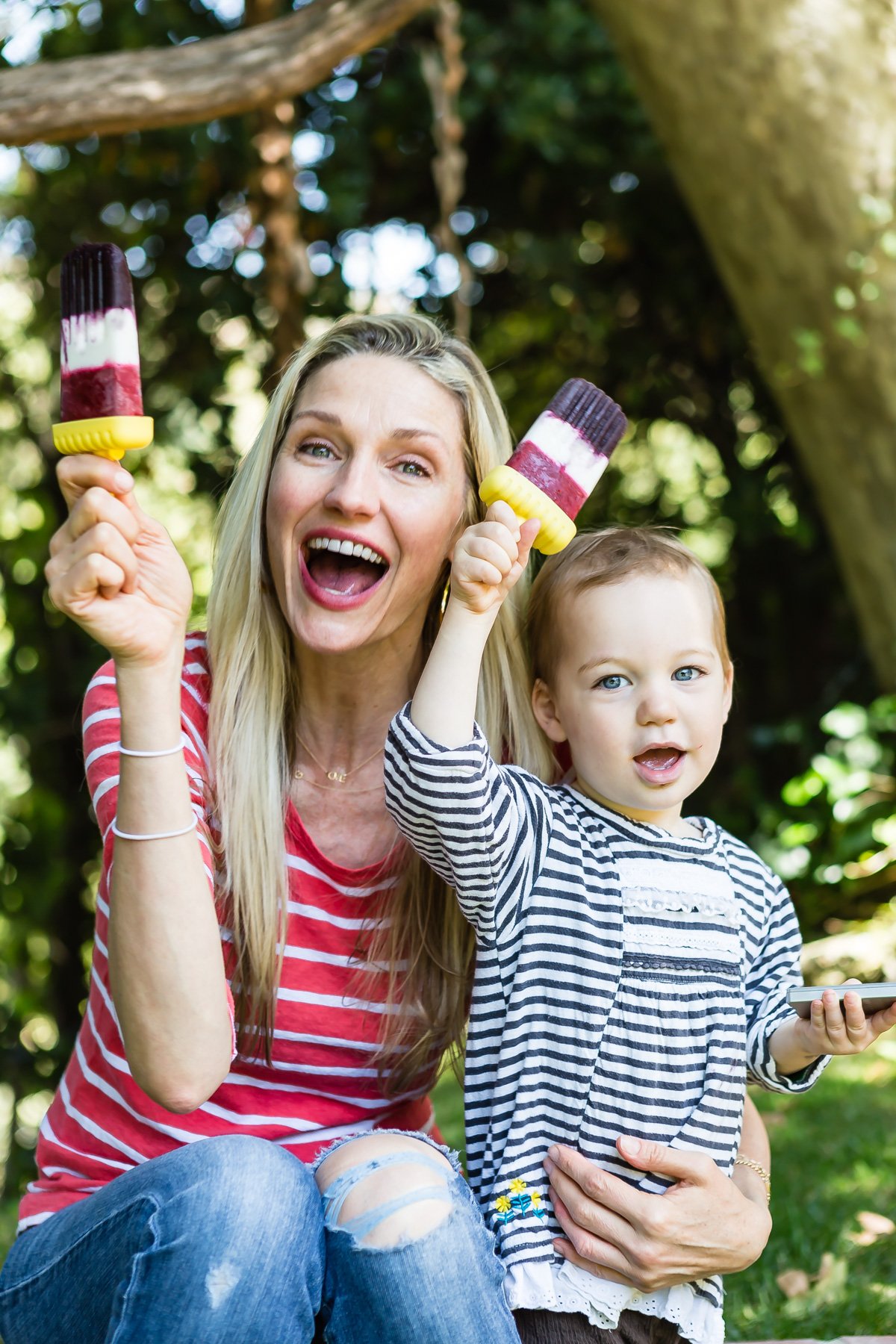 Pin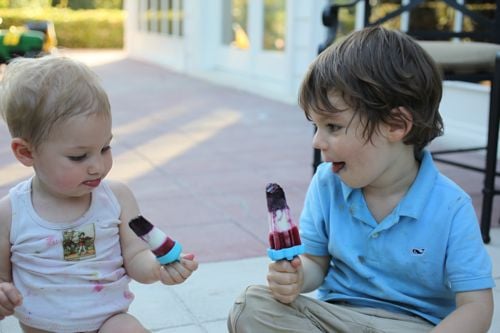 Pin
Red, White & Blue Pops
Ingredients
1

12 oz Bag Frozen Blueberries, defrosted

6

tablespoons

Agave, divided (you can also use honey)

1

cup

Plain Yogurt

1/2

cup

milk (you can use cow's milk, almond, rice or soy)

1

12 oz Bag Frozen Raspberries, defrosted
Instructions
Place defrosted blueberries and 2 tablespoons agave or honey in a blender and puree until smooth.

Pour the blueberry puree 1/3 way up each popsicle mold and freeze for 30-45 minutes.

Combine the yogurt, milk, and 2 tablespoons of agave or honey in a bowl and whisk until smooth.

Pour yogurt mixture 2/3 way up the popsicle molds on top of the blueberry mixture, gently tap to even out the yogurt layer, and freeze for another 30-45 minutes.

Place defrosted raspberries and 2 tablespoons agave or honey in a blender and blend until smooth.

Finish the popsicles by pouring the raspberry puree over the yogurt, place sticks in and freeze 6 hours to overnight, until frozen through.

*Because all popsicle molds are different sizes, you may have left overs. You can refrigerate the remaining berry purees and use as toppings for yogurt, granola, pancakes, etc.