Making homemade pickles is actually really easy! This recipe calls for a mix of fresh ingredients that produce pickles (and other pickled vegetables) with just the perfect amount of flavor and zip that everyone loves.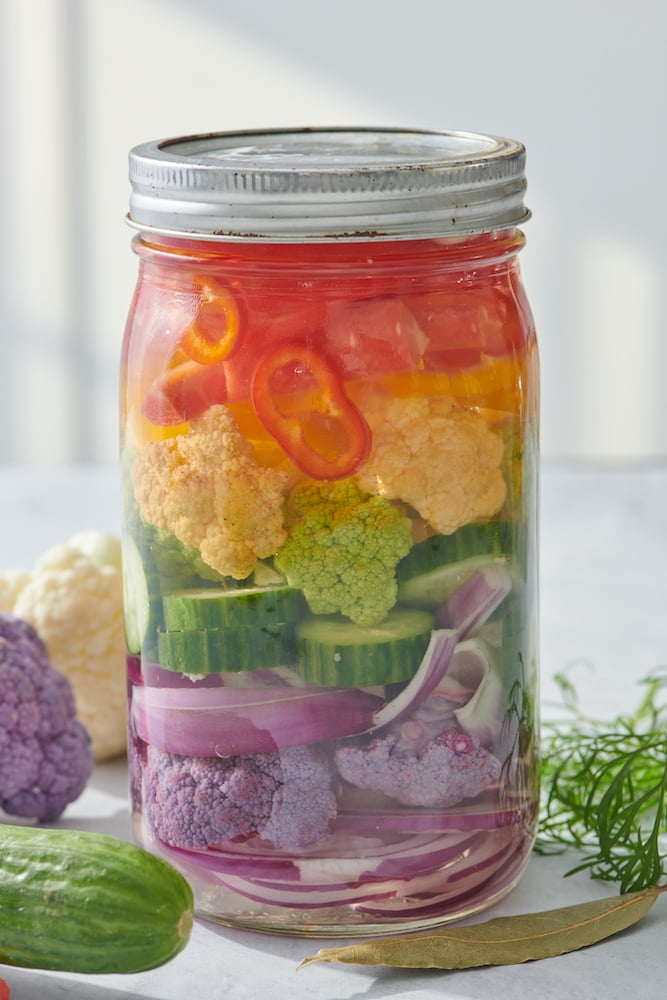 I'm all for buying jarred pickles, but recently I saw lemon and pickling cucumbers at the farmer's market and it inspired me to make my own pickle recipe. There are tons of herbs and spices you can use to make pickles, but I prefer classic and simple. This recipe works great for making classic cucumber pickles of course, but we love adding tons of different vegetables to make a rainbow of pickled deliciousness. I love making homemade pickles because the kids get super stoked to help me with a fun project in the kitchen and inevitably gets them excited about eating the veggies in a couple days!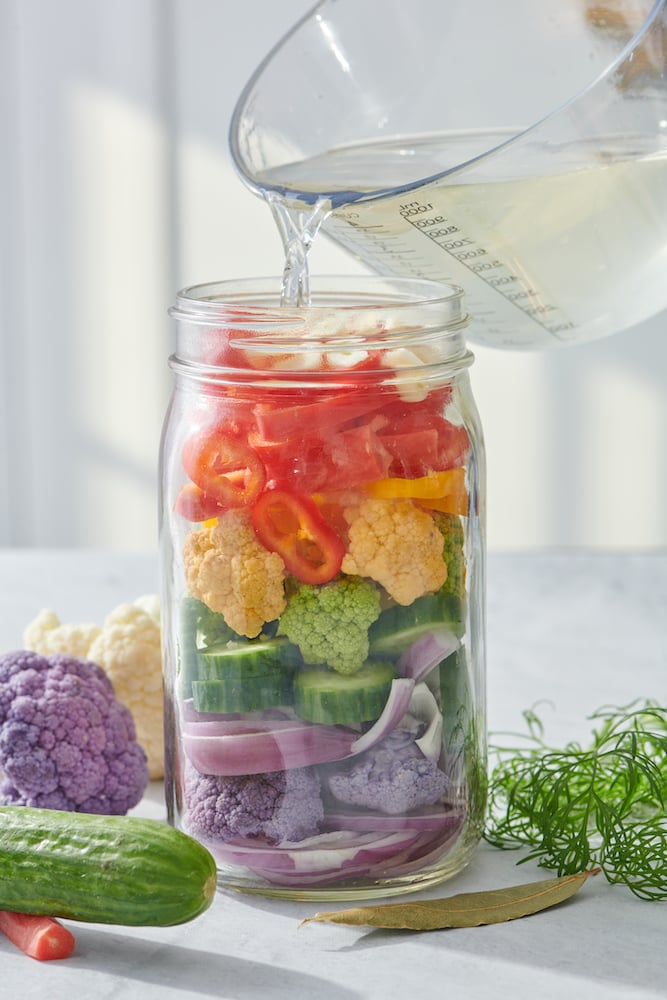 I think that my kids get their love of pickles from my side of the family, although my husband argues it's a double gene since he fondly recalls times spent as a kid on the Lower East Side of New York picking his pickles from the wooden barrels of his father's favorite pickle man. My mother and I are both obsessive pickle eaters whether they're made from cucumbers, okra, carrots or pretty much any other veggie.
How to Make Homemade Pickles
Making homemade pickled vegetables couldn't be easier. Here's how to do it:
Grab one pound of your favorite vegetables (I made a list of what we use below). Pack the vegetables, dill, garlic and bay leaves into two clean 16 ounce mason jars. Leave about an inch at the top to have room for the liquid.
Combine the salt, sugar, vinegar and water in a small sauce pan over low/medium heat. Stir until salt and sugar have dissolved.
Allow the liquid to cool slightly to warm then pour into the tow jars making sure all of the vegetables are covered with the brine.
Close the jars tightly and refrigerate for 2-3 days before eating.
Best Vegetables for Pickling
You really can't go wrong with what vegetables you choose to pickle, but here are some of my family's favorites:
Carrots
Lemon Cucumbers
Green Beans
Asparagus
Cauliflower
Peppers
Celery
Green Tomatoes
Jalapeños
Okra
Pickling Cucumbers
Red Onions
I love having homemade pickles in our refrigerator for burger night or to use in egg salad or wraps. What's your favorite way to eat pickles? Let me know in the comments!
Photos by Ivan Solis
Easy Homemade Pickles
Making homemade pickles is super simple and a great activity to get kids involved and excited about eating their veggies!
Ingredients
1

pound

vegetables of choice, cut into equal sizes

3

tablespoons

kosher salt

1

tablespoon

sugar

1

cup

distilled white vinegar (you could also use champagne vinegar or white wine vinegar)

1

cup

water

4

garlic cloves, thinly sliced

6

sprigs

dill
Instructions
Divide the vegetables between 2 16 oz. mason jars.

Combine salt, sugar, vinegar and water in sauce pan over low heat. Whisk to combine until salt and sugar are fully dissolved.

Divide the garlic, dill and bay leaves between the jars.

Pour the vinegar mixture over the vegetables and cover the jars.

Refrigerate and start enjoying after 2-3 days. You can eat them up to 1 month.
Nutrition
Calories:
130
kcal
|
Carbohydrates:
26
g
|
Protein:
3
g
|
Sodium:
14210
mg
|
Fiber:
5
g
|
Sugar:
16
g