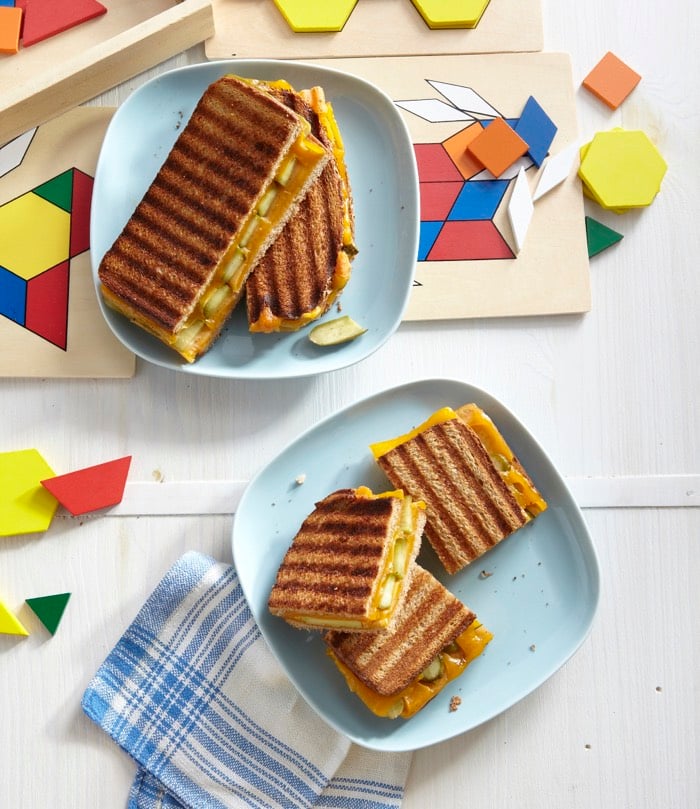 Pin
I take absolutely no credit for the creation of this recipe. I have never heard of anyone eating it before (or seen it on a menu, so please feel free to tell me if you have). The idea was all my kids'.
We often buy hearty whole grain sour dough bread and sharp cheddar cheese at the farmers' market which we use to make, among other things, paninis. Sometimes we'll add a slice of heirloom tomato or avocado to jazz them up, but last weekend Kenya asked if we could just use pickles.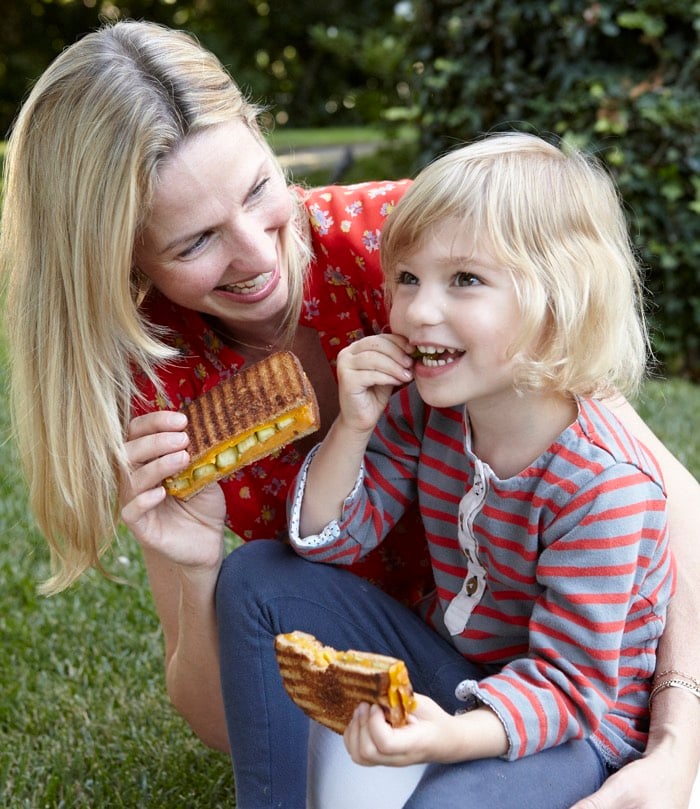 Pin
Pickles. Not as a garnish to accompany the tomato and avocado, mind you, but as the sole co-star to the cheese. It sounded so silly that we all (even Kenya) started giggling, "grilled cheese and pickle?" But then Chloe started chanting for it too. Never one to ignore a culinary request, especially one from my kids, I thinly sliced a bunch of kosher dills and started assembling the sandwich.
Well, my munchkins are definitely on to something. Who knew you could up the ante on the classic grilled cheese — a sandwich already bordering on perfection — but three days in a row later, the Grilled Cheese and Pickle Panini has become a new lunchtime favorite in our house.
Photos by Maren Caruso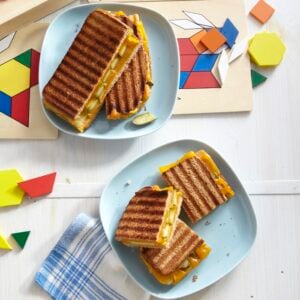 Grilled Cheese and Pickle Panini
Ingredients
4

Slices

Whole Wheat Bread (or your favorite sandwich bread)

4

Slices

cheddar cheese

2

pickles, thinly sliced lengthwise
Instructions
Preheat panini maker (this can also be made in a saute pan).

Place a slice of cheese on one slice of bread and cover with a layer of sliced pickles.

Place another slice of cheese on top of the pickles and cover with a slice of bread.

Continue making the second panini.

Place sammies in the panini maker and cook for 2-3 minutes.

Slice panini in half or on a diagonal to make triangles and serve.
Nutrition
Calories:
250
kcal
|
Carbohydrates:
30
g
|
Protein:
15
g
|
Fat:
8
g
|
Cholesterol:
15
mg
|
Sodium:
1400
mg
|
Fiber:
5
g
|
Sugar:
7
g