Want a recipe that's perfect for breakfast, lunch OR dinner? You have to try these fast and easy Egg Pesto Melts!
Home late!!! Trying to catch my breath after carrying an armful of bags up the stairs and into the house. Shoes off, someone's screaming, I'm trying to get settled. Wait a minute. Dinner?! Sound familiar? If so, these Egg Pesto Melts are the perfect recipe for you! Simple, fast and delicious. They're guaranteed to be a huge hit with the whole family.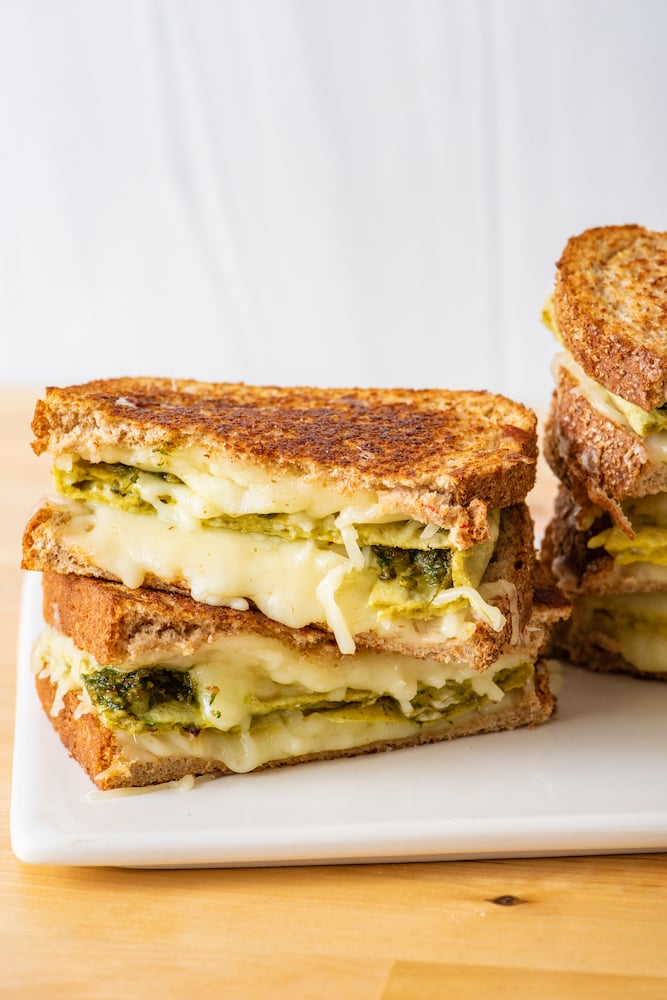 This has obviously happened to me more than once, so I've devised a few recipes to have up my sleeve on nights like these in order to feed my super hungry posse in (way) under 20 minutes. I adore pesto, eggs and bread. They have long shelf lives and are always on hand in my fridge. Thank goodness I can use them to make something my guys not only like — but really love, like this Egg Pesto Melt — so I don't have the mommy guilt of not getting a decent meal on the table.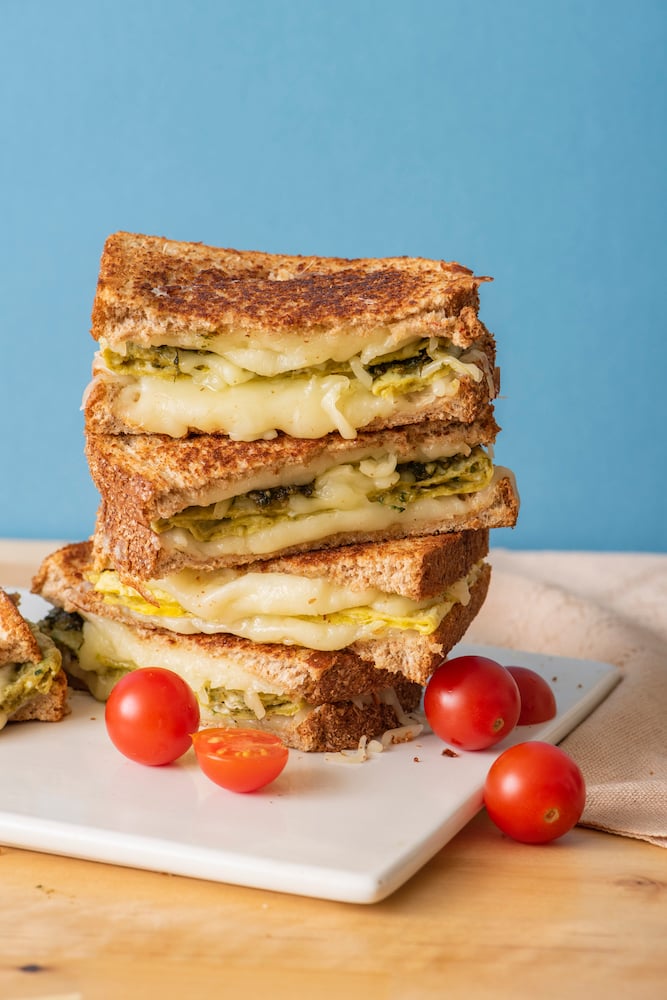 Even when I'm short on time and still have a night of bath, brushing teeth, books, and bed ahead of me (phew, I'm exhausted…do these days ever end?), at least I can be assured we all have bellies full of nutritious food.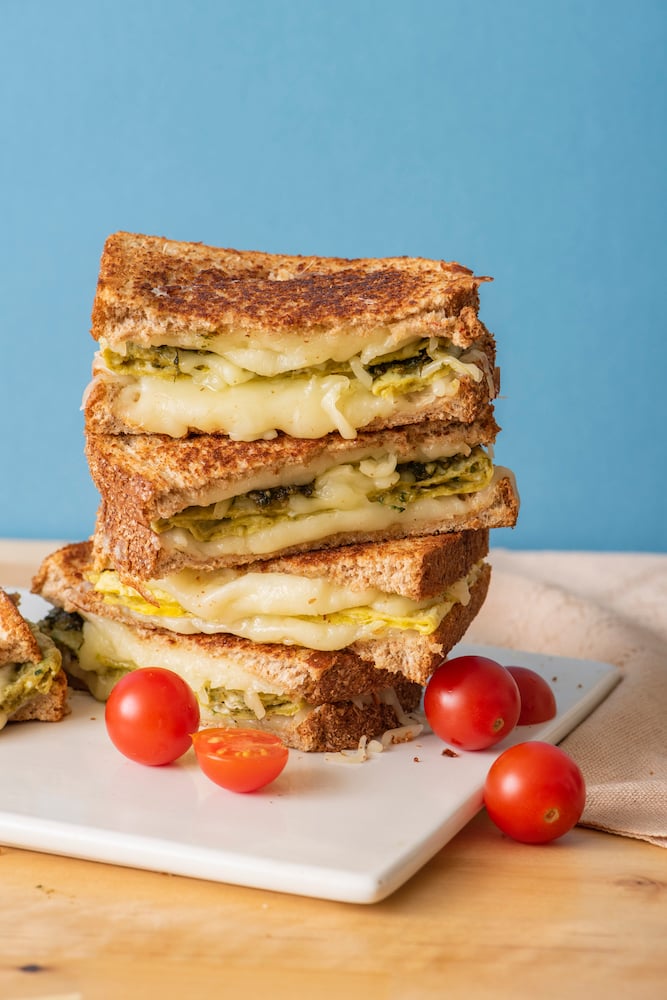 Pesto is always a go to topping or mix-in for us since we pretty much always have it on hand. There are seven pesto recipes on Weelicious.com, but one of our favorites right now is this Hemp Seed Pesto. It's great on pasta or chicken, but goes perfect on these Egg Pesto Melts too.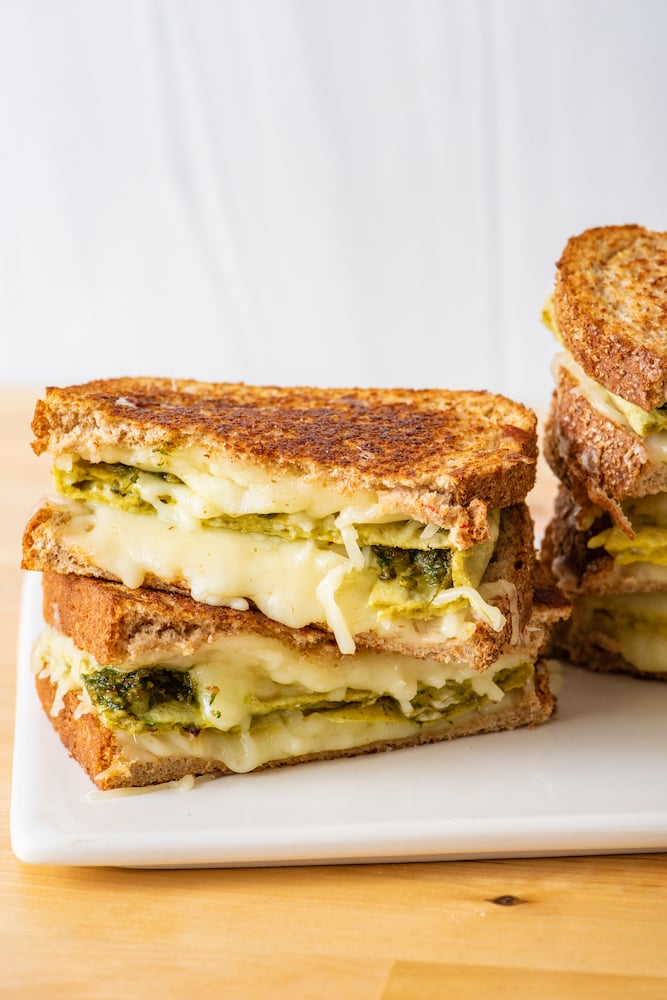 Make Egg Pesto Melts for breakfast, lunch or dinner and get ready for everyone to be fully satisfied. Tag me on social media if you make this recipe. I love seeing your creations!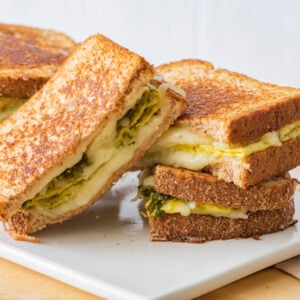 Egg Pesto Melt
This melt is a simple sandwich that's perfect for breakfast, lunch or dinner!
Instructions
Whisk the 1 egg and 1 tablespoon pesto in a bowl.

Heat 1/2 teaspoon oil in a small sauté pan over medium heat. Pour in the egg mixture, tilting the pan to spread it evenly across the bottom.

Allow the egg to cook for one minute, using a rubber spatula to gently pull the egg away from the sides of the pan so the rest of the liquid egg can continue to coat the pan and cook.

Using the spatula, fold the outside parts of the omelet inwards into a square shape (to fit the bread).

Remove the square-shaped omelet to a plate, place a slice of bread topped with 2 tablespoons of the shredded cheese, cheese side up, in the pan. Top with the omelette, another 2 tablespoons of cheese and slice of bread. Cook for 1 minute on each side until golden.

Repeat steps to make all 4 sandwiches.
Video
Nutrition
Calories:
310
kcal
|
Carbohydrates:
24
g
|
Protein:
18
g
|
Fat:
16
g
|
Cholesterol:
25
mg
|
Sodium:
590
mg
|
Fiber:
4
g
|
Sugar:
4
g