These simple Spinach Cake Muffins have the perfect amount of sweetness and an appealing bright green color but no intense spinach flavor! Kids (and adults) love them!
I get inspired (and such a thrill) when Weelicious moms send me their ideas for new recipes, though occasionally some of the suggestions can seem out there. Not too long ago, a mom sent me a recipe she had seen on a blog that was for Spinach Cake Muffins. The recipe called for spinach and applesauce combined with a boxed cake mix. Don't get me wrong, I'm all for incorporating vegetables as often as possible, but there was something about the thought of spinach mixed into a sweet muffin that came across as unappealing to me. However, this mom was incredibly passionate about figuring out how to make these muffins a bit more healthy (and without the boxed cake mix). Her enthusiasm won me over, and wanting to see if there would be any value to trying a recipe like this, I started playing around with it.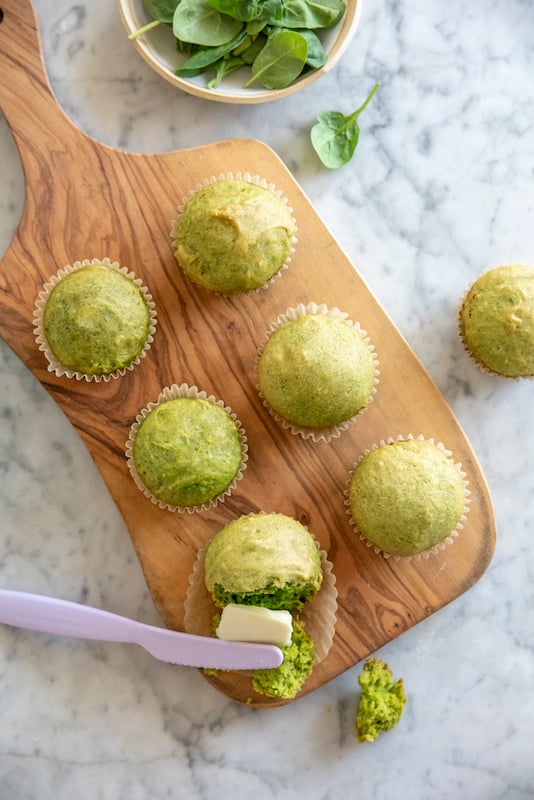 After a bunch of trial and error, I was kinda shocked at how delicious the muffins turned out. They had just the perfect amount of sweetness and an appealing bright green color, but no intense spinach flavor. I surprisingly got really into making them, and the new recipe produced a sweet little gem of a muffin that my kids absolutely loved. Chloe joined me in making a batch and got so into it that I caught her eating spinach leaves directly out of the measuring cup — who says kids don't like their greens?! I always find that when you give little ones a chance to be a part of creating something in the kitchen, it can transform food for them in a way that's just as much fun to make as it is to eat!
Thank you to the Weelicious mom who inspired this Spinach Cake Muffin recipe (you know who you are) and to everyone else, please keep the ideas coming! They energize me, spark great ideas and no matter how out there they may be, can produce an awesome and delicious result.
Photos by Ivan Solis
Spinach Cake Muffins
Ingredients
1/2

cup

unsweetened applesauce

1

large egg

2

teaspoons

vanilla extract

1

cup

fresh spinach, packed

1/3

cup

sugar

2

tablespoons

vegetable or canola oil

1

1/2 cups

all purpose flour

1

teaspoon

baking powder

1/2

teaspoon

baking soda

1/2

teaspoon

kosher salt
Instructions
Place the first 6 ingredients in a food processor and puree.

Place the remaining ingredients in a separate bowl and combine.

Pour the spinach puree in a large mixing bowl.

Slowly mix the dry ingredients into the wet until combined.

Scoop batter into a greased mini or regular muffin tin, filling each cup 2/3 of the way.

Bake for 12 minutes for mini muffins and 18-20 minutes for regular sized muffins.

Nutrition
Calories:
50
kcal
|
Carbohydrates:
9
g
|
Protein:
1
g
|
Fat:
1
g
|
Sodium:
100
mg
|
Sugar:
3
g