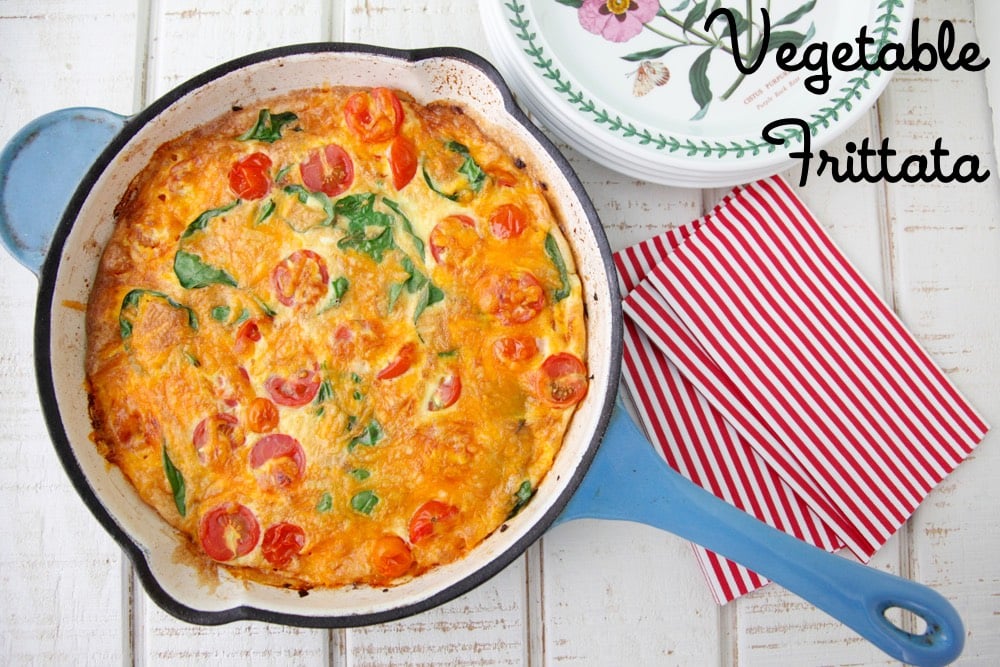 Pin
This recipe originally came about when I took Kenya to Whole Foods one afternoon and told him he could pick out whatever veggies he wanted to go into his frittata. My son loves grocery store games, so he's always up for a challenge. He really got into figuring out which vegetables would sauté well together to mix into his egg "pizza". I jokingly call it a pizza because after you remove the skillet from the broiler using an oven mitt where the eggs, cheese and vegetables have been busy getting all bubbly and golden on top, all you do is slide it out of the pan on to a cutting board and slice the fritatta into wedges — which are perfect for little hands to hold and look very similar to slices of pizza.
Pin
My family loves their eggs. We go through at least a dozen each week, sometimes more. Not only are eggs high in protein, relatively inexpensive, and super tasty, they're also one of the most versatile foods out there. How many foods can make that claim? I use them for breakfast to make crepes and omelets, for lunch to make Egg Pesto Melts, and currently at least once a week to make one of the kids favorite dinner recipes, this Vegetable Filled Frittata.
I'm betting you'll never see eggs disappear as fast as when you make these Veggie Filled Frittatas!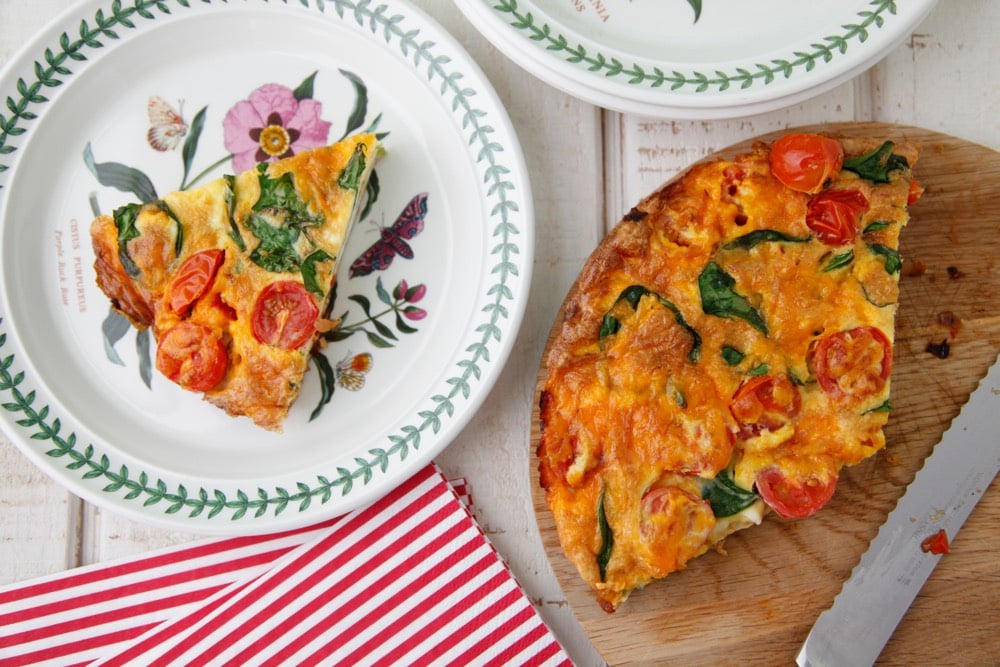 Pin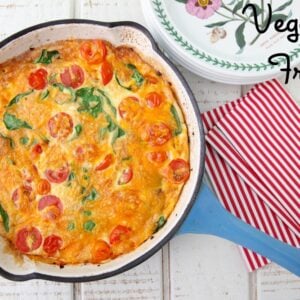 Veggie Filled Frittata
Ingredients
8

large

eggs

1/2

teaspoon

kosher salt

1

tablespoon

olive oil or butter

1

small

onion, diced

1

bell pepper, diced

1

cup

packed spinach leaves

1

cup

cherry tomatoes, halved

1/2

cup

shredded cheddar cheese
Instructions
Preheat the oven to 350F.

Whisk the eggs and salt in a bowl and set aside.

Heat the oil in a medium-size ovenproof skillet* (about 9 inches in diameter) over medium heat. Add the onion and bell pepper, sauté for 4 minutes. Add the spinach and cook 1 more minute.

Pour the eggs over the vegetables and top with the cherry tomatoes and shredded cheese.

Bake for 25 minutes, or until cooked through. You could also set your oven to broil, place the skillet on the middle rack, and broil for 10 minutes.

Use a potholder to remove the skillet from the oven and keep the glove or mitt on the handle until completely cool.

* Note: If you're not sure if your skillet is ovenproof, just wrap foil around the handle!
Nutrition
Calories:
130
kcal
|
Carbohydrates:
3
g
|
Protein:
8
g
|
Fat:
9
g
|
Cholesterol:
195
mg
|
Sodium:
270
mg
|
Fiber:
1
g
|
Sugar:
1
g