This Tomato Bruschetta recipe is simple and so incredibly delicious. You'll be wondering where this appetizer has been hiding from you for all of these years!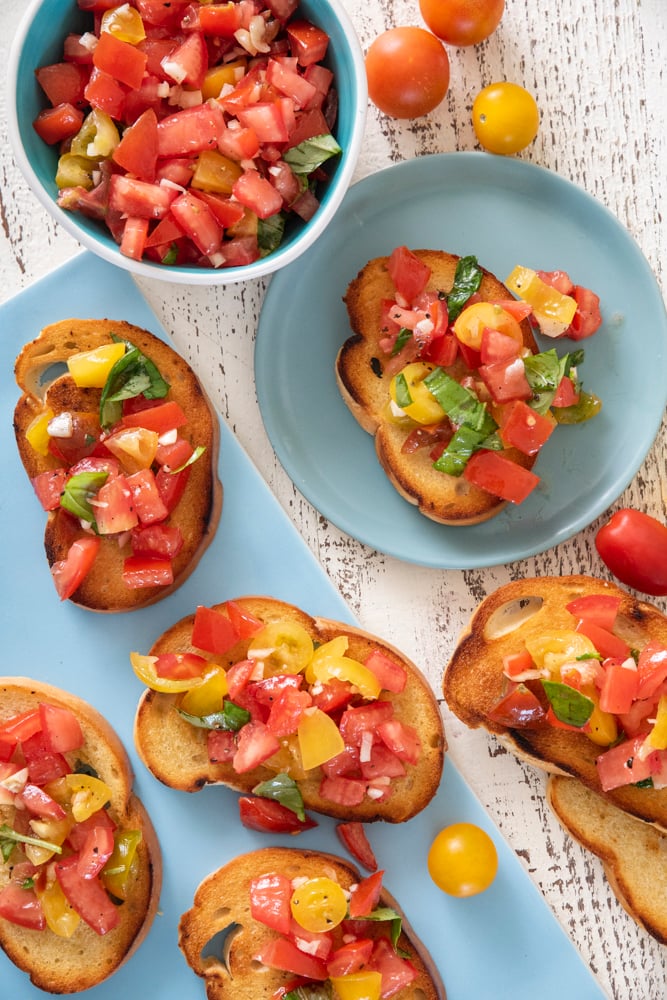 Tomato Bruschetta is served as a little edible "welcome" at one of Kenya and Chloe's favorite restaurants, and they look forward to it as much as the meal itself when we visit. If I told them that would be their entire meal, I don't think there would be one single protest.
My family loves Tomato Bruschetta so much, I decided to take my own swing at it. All I had to do was brush a few thin slices of French bread with olive oil, toast until just golden and crispy, and then top the bread with first-of-the-season chopped tomatoes, basil and garlic. I don't want to toot my own horn, but I think I nailed it!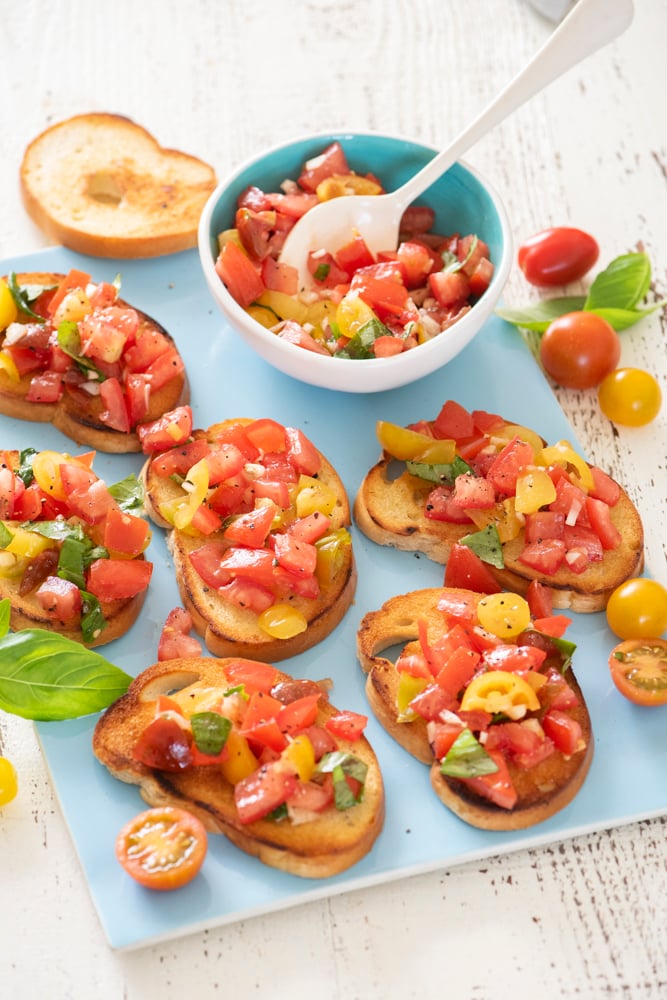 The key to this Tomato Bruschetta is using juicy, ripe tomatoes. We love heirloom tomatoes or Cherokee purple tomatoes for this recipe, but as long as you find some that are decadent and juicy that your family loves, you're sure to have a winning dish. Our garden is always running wild with tomatoes so if I don't use them for this recipe I'm using them in Heirloom Tomato Salad, Avocado Cucumber Tomato Salad or Tomato Bread Salad.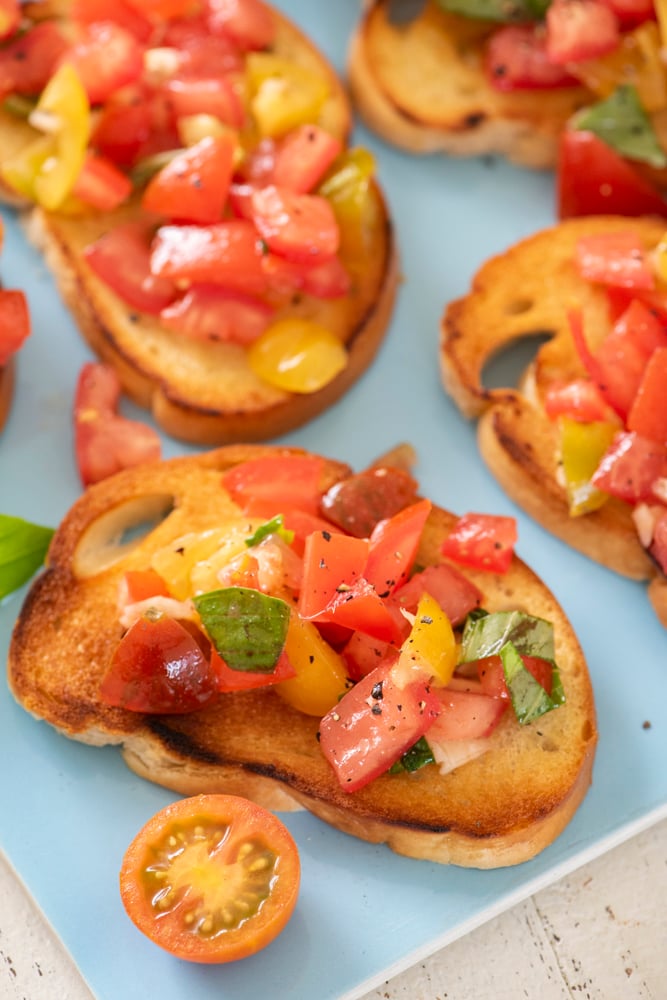 Not only did my kitchen smell incredible while I was making Tomato Brushcetta, but Kenya and Chloe declared that "my" bruschetta was even better then the kind they get at their favorite restaurant! This might be my favorite appetizer, and will be perfect for an outdoor barbecue, or a starter before a big family get together! I can't wait to try this recipe on everyone else soon!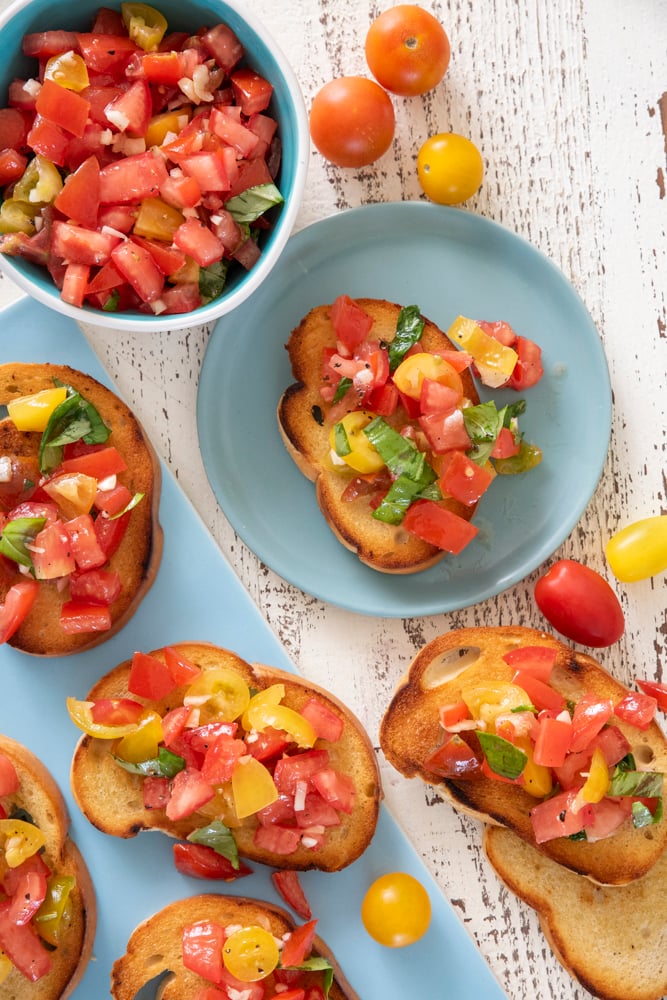 Let me know in the comments what you think! And tag me on social media when you inevitably fall in love with this recipe!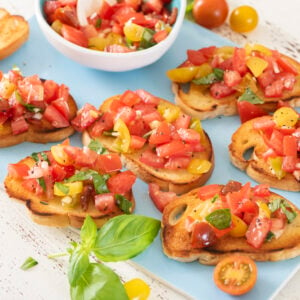 Tomato Bruschetta
Instructions
Lightly brush each slice of bread with olive oil and place on a Silpat or parchment-lined baking sheet.

Bake 4-7 minutes, or until golden. Set aside.

In a bowl, combine the tomatoes, olive oil, basil, garlic and salt.

Top the toasted bread slices with the tomato mixture and serve.
Nutrition
Calories:
290
kcal
|
Carbohydrates:
22
g
|
Protein:
5
g
|
Fat:
21
g
|
Sodium:
610
mg
|
Fiber:
2
g
|
Sugar:
4
g