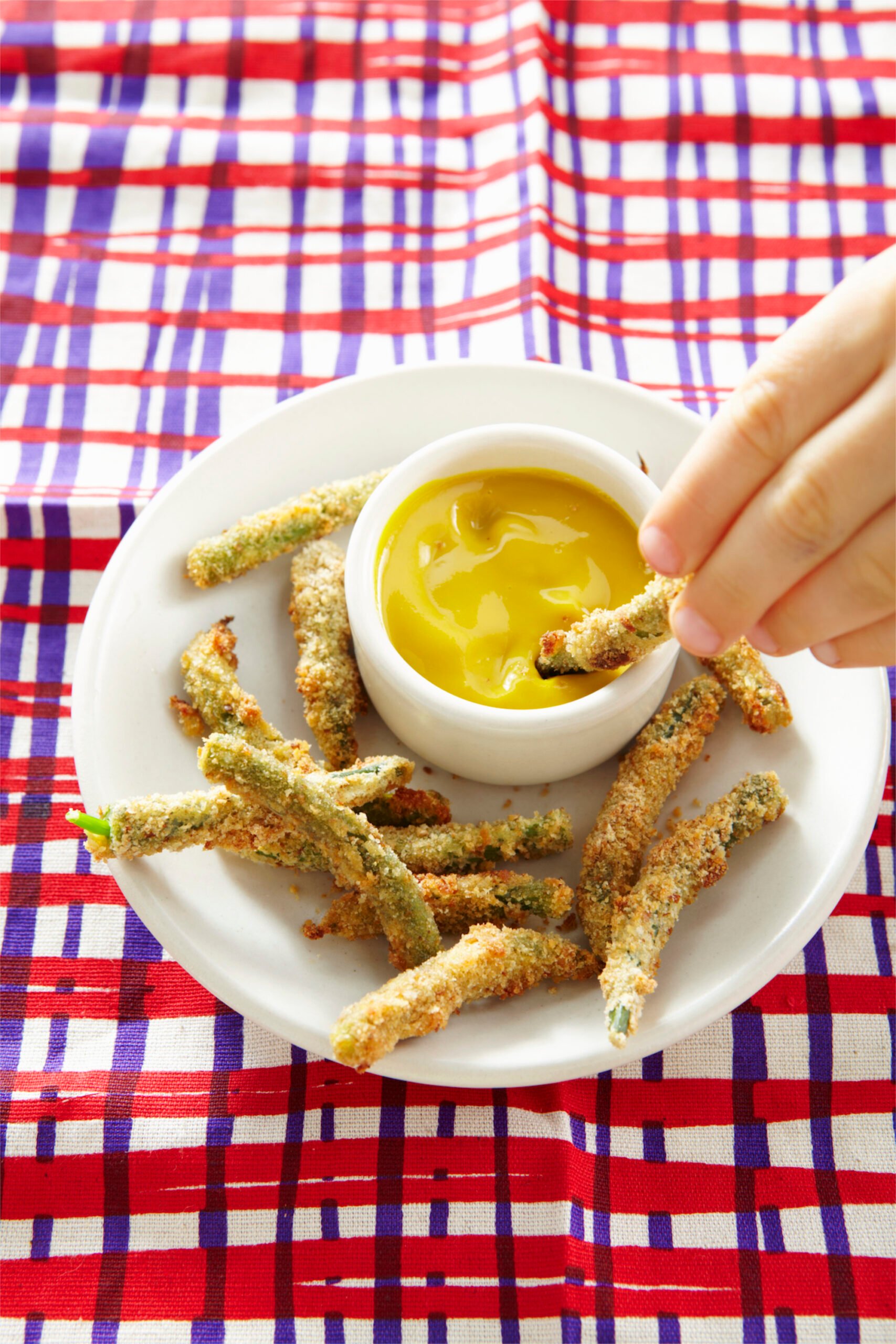 Pin
When I was a kid, one of my favorite activities was sitting with my grandfather in front of huge bags of green beans that he had picked from the local U-pick farm and snapping the ends off of them. My grandfather loved to gnaw on the raw beans and chat away with me. This year, Kenya and Chloe planted their first bean stalk and when the beans were finally ready, the two of them had the best time picking them, snapping the ends off and helping me steam them for dinner.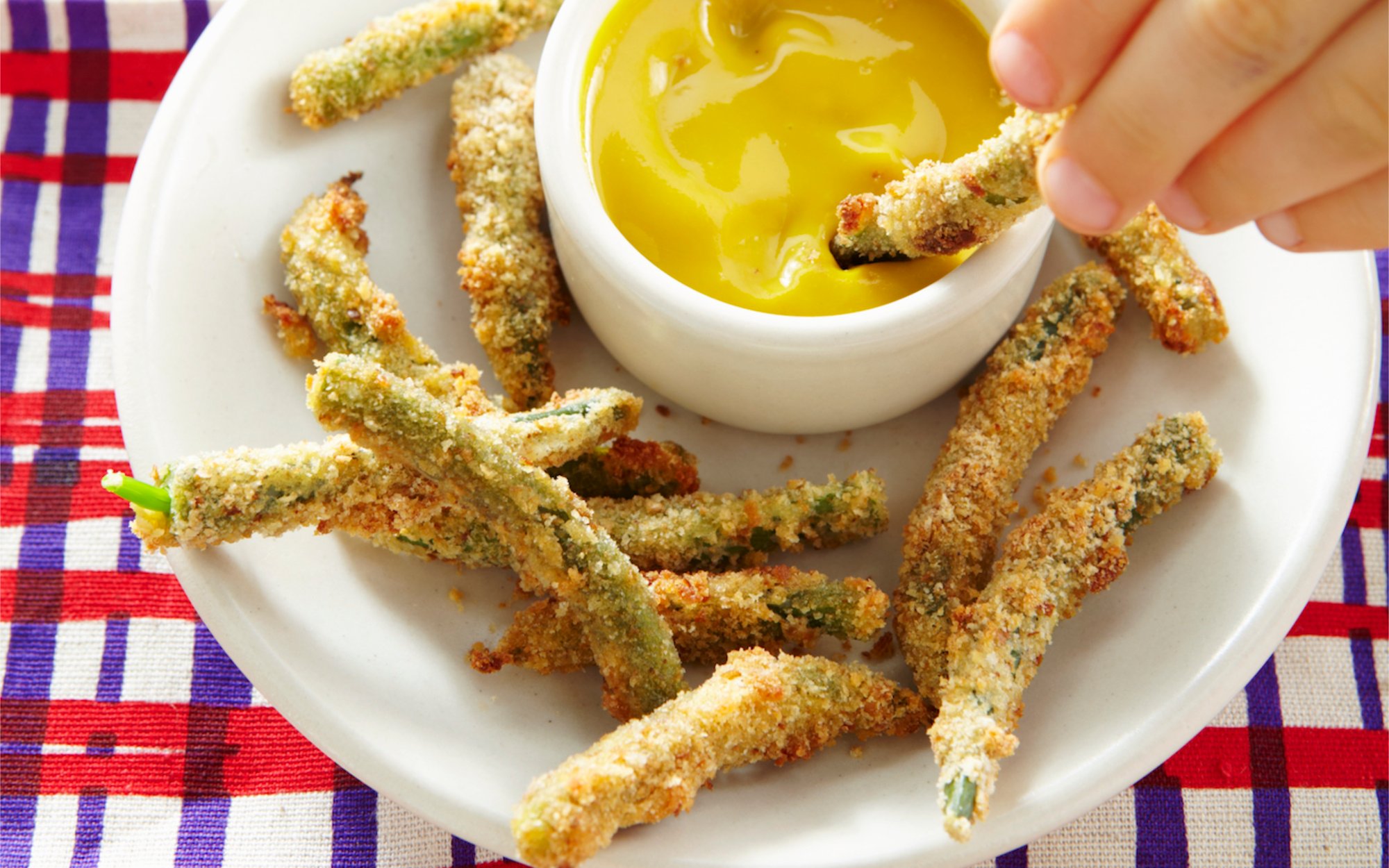 Pin
Fresh green beans are crisp, sweet and delicious, but after a summer full of simple preparation I decided to test drive this version. My kids love almost any food with a crispy crust, so I should have known what a big hit it would be. Because the beans are baked, they have the crunchy coating of fried beans, but are totally healthy. But the real star of this dish was the ginger-honey mustard dipping sauce. Chloe was busy dipping and dunking her veggies in it (and when she ran out of beans she even tried to drink it!).
Whenever you want to change things up a bit and put a spin on what seems like the everyday ho-hum veggie, try this and see how your troops react.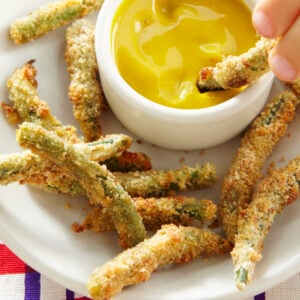 Fried Green Beans w/ Honey Mustard Dip
Ingredients
1

cup

whole wheat panko or bread crumbs

1/2

teaspoon

kosher salt

1/2

teaspoon

garlic powder

2

large eggs

1/4

cup

flour

green beans, cut into bite size pieces (about 2-3 inches long)

cooking oil spray
Honey Mustard Dipping Sauce:
1/4

cup

mustard (yellow or Dijon)

1

tablespoon

honey
Instructions
Preheat oven to 450 degrees and coat a large baking sheet with cooking spray.

Mix the first 3 ingredients in a bowl.

Whisk the egg in a separate bowl.

Place the flour in another bowl.

Make an assembly line with the three bowls, first dipping the green beans into the flour, then the egg and finally into the bread crumb mixture, coating the beans evenly and repeating with the remainder of the beans.

Place all of the coated green beans on the baking sheet or on a rack above a baking sheet. Arrange beans so that they're not touching, spray with oil and bake for 30 minutes or until the bread crumbs are golden.

Serve with dipping sauce.

To make the dipping sauce: combine ingredients in a bowl and stir to combine well.

* If freezing, after step 5 place on a baking sheet and freeze for 30 minutes. Remove and place in a Ziploc bag, label with the date and name of the recipe, and freeze. When you're ready to eat – take them out of the freezer and put them in the oven, adding at least another 3-5 minutes to the baking time.
Nutrition
Calories:
210
kcal
|
Carbohydrates:
39
g
|
Protein:
9
g
|
Fat:
2
g
|
Sodium:
700
mg
|
Fiber:
5
g
|
Sugar:
10
g