With all the craziness and excitement of Halloween, how do we get everything done and feed the kids too? Just make a big batch of these Pizza Mummies in the morning and all you have to do before everyone shows up for the big fashion show is toss them in the oven for a few minutes.
Every year we go to my dear friend Keri's house for her famous Halloween party. If kids and parents alike could design their dream Halloween party, they would both come up with this one. We're talking games, arts and crafts, a dead end street with house after house decorated to the nines, kids and adults decked out in their spooky best, a relaxed vibe, and tons and tons of homemade food. If Keri ever stops hosting this shindig I don't know what I'll do, because my kids only association with Halloween is this party and I can't bear the thought of telling them that as fun as Halloween is, it could never be as awesome as Keri makes it.
The party is always a potluck and for the past two years I've brought my Mummy Dogs to add to the spread. This year both of my kids have requested I make Pizza Mummies. They're so darned cute and I like that my kids' bellies get filled up with something other than the pounds of sugar awaiting them on their trick or treat extravaganza.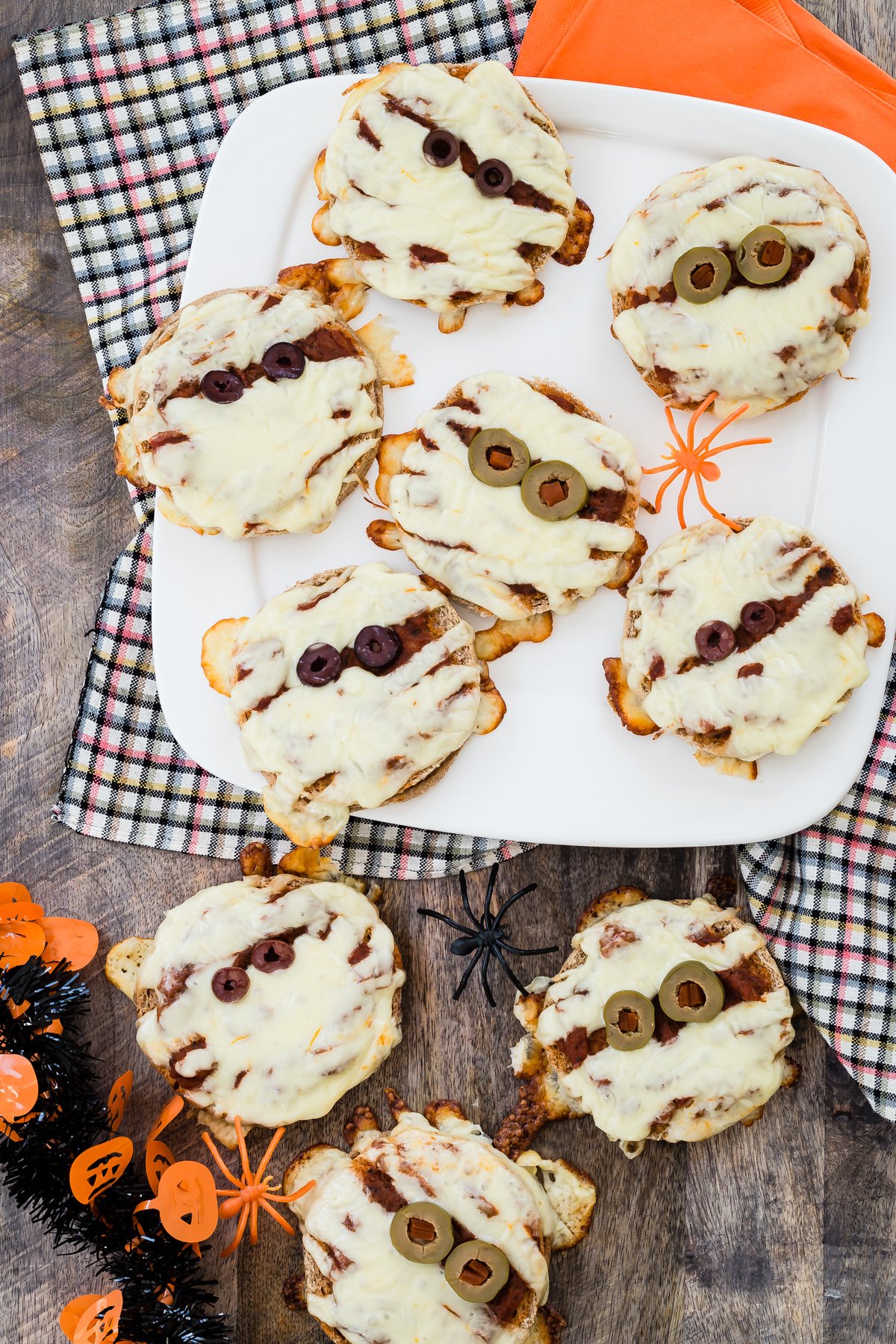 Chances are your kids may be even more amused by your Pizza Mummies than they are about everyone's costumes!
Weelicious Disclaimer: Pizza Mummies probably won't prevent your kids from eating candy, but they hopefully will get their night started off in a fun and filling way. Your little ones can even help you make them, just like Chloe and a few of her buddies do in today's Pizza Mummies Video!
If you'd like everything you need to make your own Pizza Mummies sent straight to your door, you can add this kit to your One Potato Box for the month of October!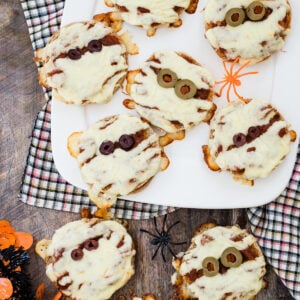 Pizza Mummies
My kids always get a kick out of making these mini pizzas with me for Halloween. Plus they're great to prep ahead of time and pop in the oven before trick or treating!
Ingredients
2

english muffins, cut in half

8

teaspoons

pizza sauce

2

mozzarella cheese sticks

3

green olives with pimentos
Instructions
Place the English muffin halves on a baking sheet and bake for 5 minutes.

Remove muffins from oven and spread 2 teaspoons of the pizza sauce onto each English muffin half.

Peel the mozzarella sticks into strings and decoratively arrange them on top of each English muffin. Slice the green olives into 1/4 inch thick rings and place them on top of the cheese to create eyes.*

Bake mummies for 3 more minutes, or until the cheese is melted.

* If making mummies in the morning to eat later in the day, after this step place muffins on a plate, cover loosely with tin foil and refrigerate. When ready to serve, continue with step 5.
Video
Nutrition
Calories:
230
kcal
|
Carbohydrates:
28
g
|
Protein:
12
g
|
Fat:
9
g
|
Cholesterol:
25
mg
|
Sodium:
520
mg
|
Fiber:
3
g
|
Sugar:
1
g