Halloween Taco Dip is the most festive recipe you could ever make for your Halloween parties and get togethers this year!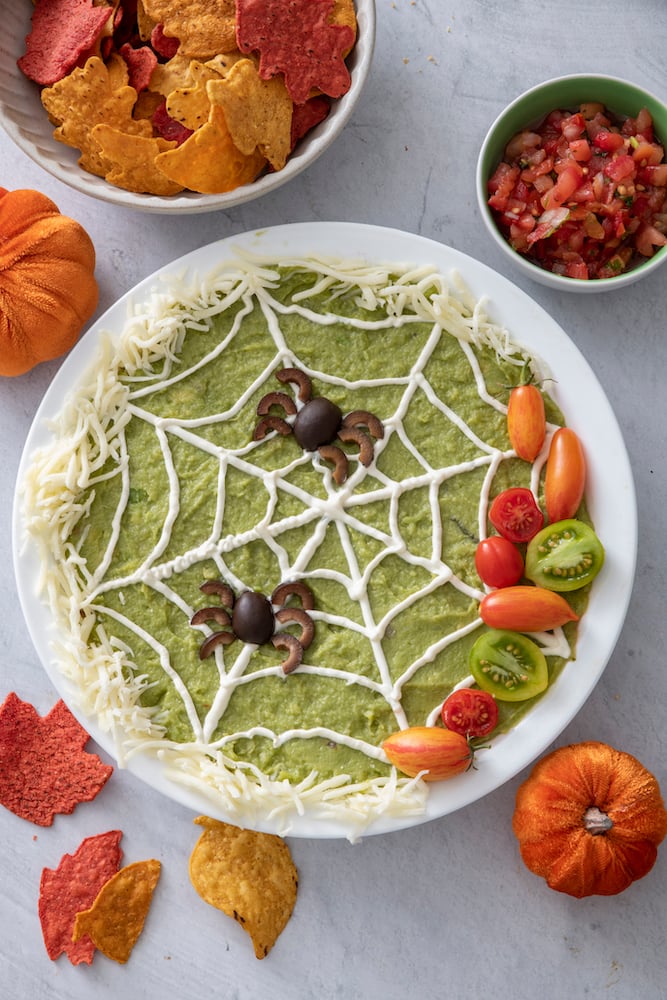 Every year before we go trick or treating, I try to get some food in my kids that's a little more hearty, filling (and healthy) before they devour candy. This year, I'm making this Halloween Taco Dip! It's super cute and who doesn't love a taco inspired dip you can scoop onto your favorite chip? It's layers of beans, salsa and guacamole which is super simple but absolutely adorable.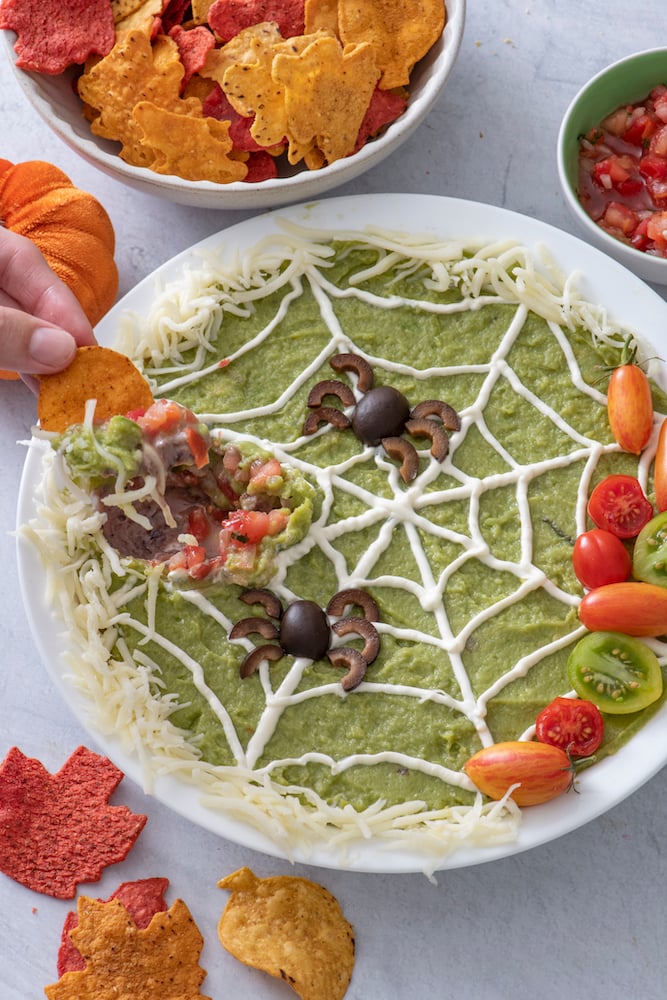 My favorite part of this Halloween Taco Dip is the super duper cute sour cream "spider web" on top! And don't forget the olive "spiders". When I tested out this recipe and served it to my kids they were obsessed with the spider critter hanging out on its web. It's so cute you almost don't want to eat it, but once you take your first scoop of this dip you won't be able to stop!
Halloween can be a tough one for parents with all the candy and sugar that inevitably end up in your kids. I think it's all about balance! I opt for dye-free candy for mine and try to make sure they get some protein in them before they get hyped up on the sugary candy rush. Every year we make tons of cute recipes before we head out the door to trick-or-treat like Mummy Dogs, Tangerine Pumpkins + Banana Ghosts, Puff Pastry Pumpkins and so many more.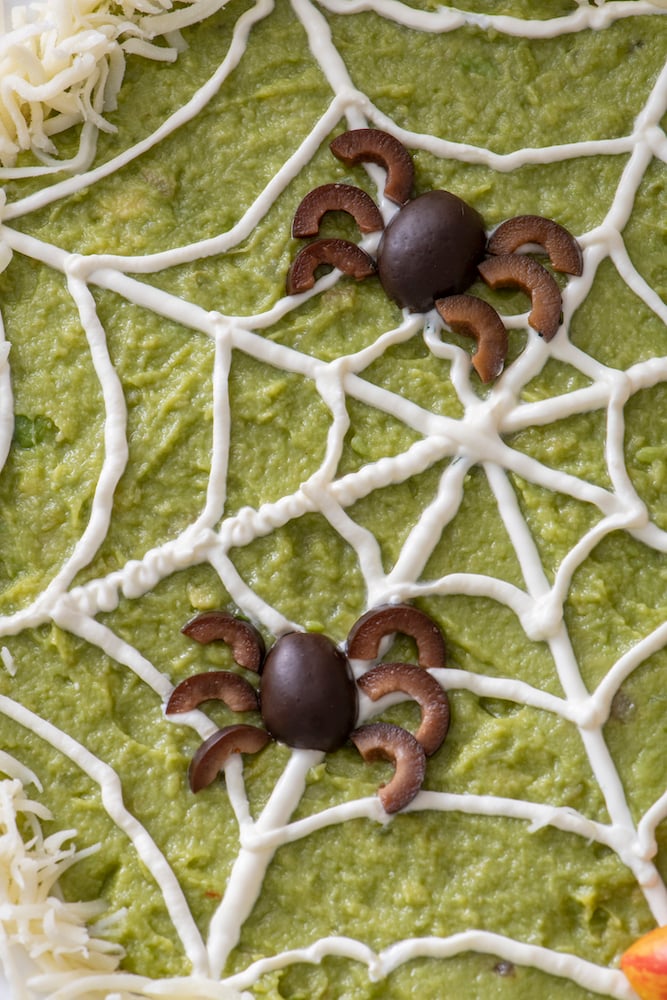 For the spider web top: a couple helpful tips. First, you don't need a fancy piping bag for this! Grab a plastic bag and push the sour cream to the corner of the bag. Cut off a very small amount from the tip of the corner and there ya go! A DIY piping bag. Also, if the sour cream is a little too thick, add a touch of water until you get the right consistency.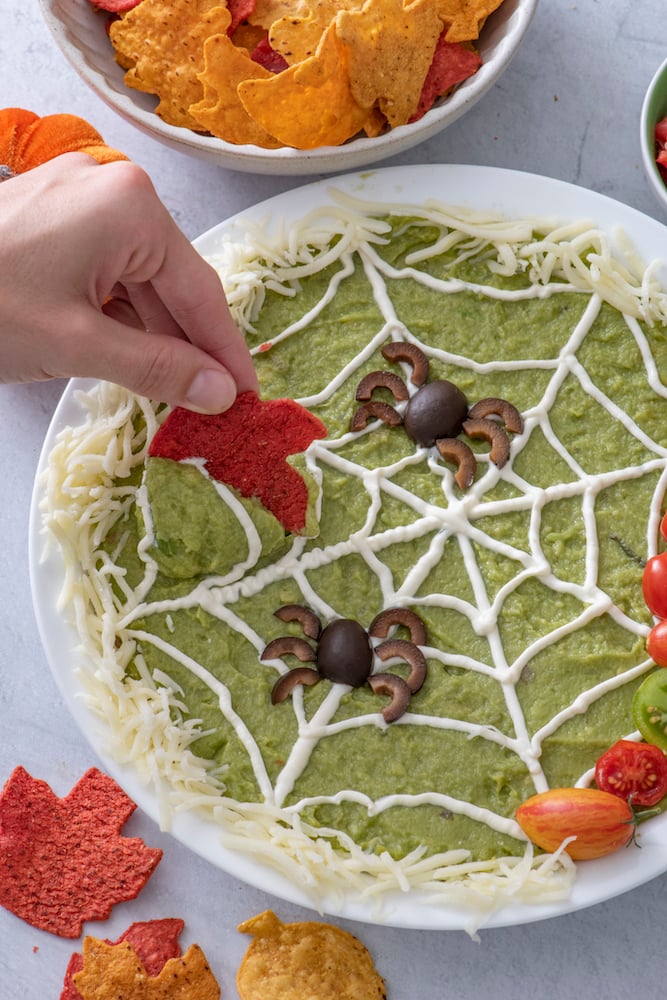 I hope you all have a happy and fun Halloween! Tag me on social media if you make this super cute recipe.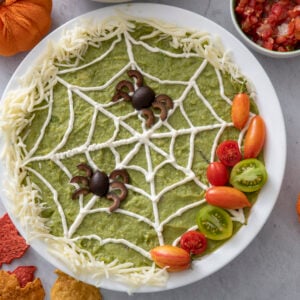 Halloween Taco Dip
Halloween Taco Dip is the most festive recipe you could ever make for your Halloween parties and get togethers this year! 
Ingredients
1

can

black beans, drained and rinsed

1/4

cup

greek yogurt

juice of

1/2 lemon

1/2

teaspoon

salt

3/4

cup

mild chunky salsa

guacamole

1/4

cup

sour cream (for spider web)

2-3

black olives (for spiders)
Instructions
Place first 4 ingredients into a blender or food processor and purée until smooth or desired consistency.

Layer bean dip on bottom of a pie plate, followed by a thin layer of salsa, then guacamole.

Place sour cream (adding a little water if too thick) in a small plastic zip bag, squeeze to the corner of the bag and twist the bag like a pastry bag. Use scissors to cut off an 1/8-1/4 inch tip of one corner of the bag. Use as a piping bag for the spider web design.

Pipe sour cream into a spider web design on top of the dip. Cut 1 olive into "legs" and add black olive "spiders" for garnish.