You would think that for someone who cooks as much as I do, I would have a fridge full of food 24/7. Although I do try and keep my larder well stocked, there are many weeks when I'm running around non-stop and don't make it to the grocery to pick up our every day essentials.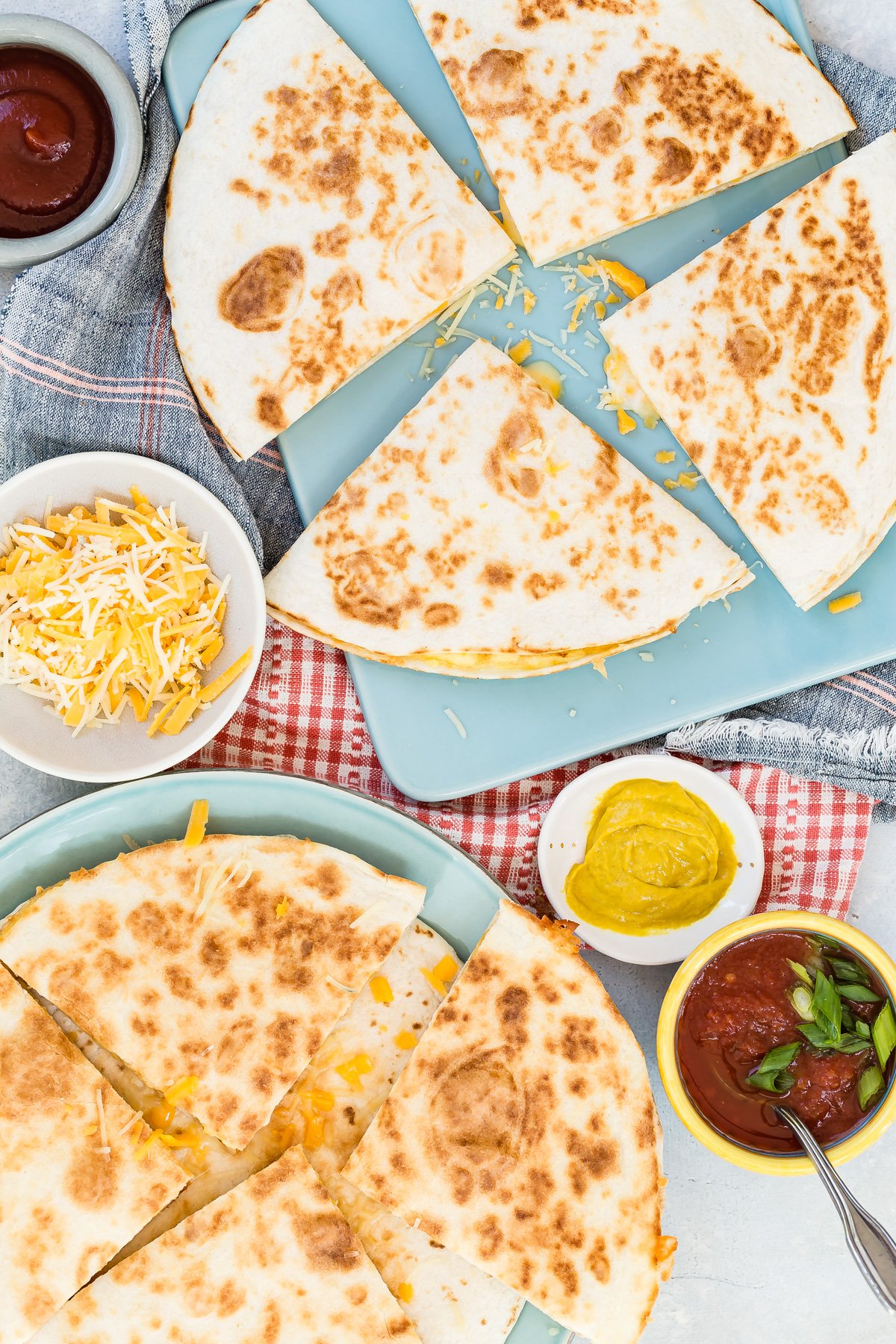 Still, there are three things that I ALWAYS have on hand; eggs, tortillas and cheese. They're all relatively inexpensive, last for weeks if properly refrigerated, and combined, make the perfect breakfast meal that will send your kids off to school with tons of energy for their day.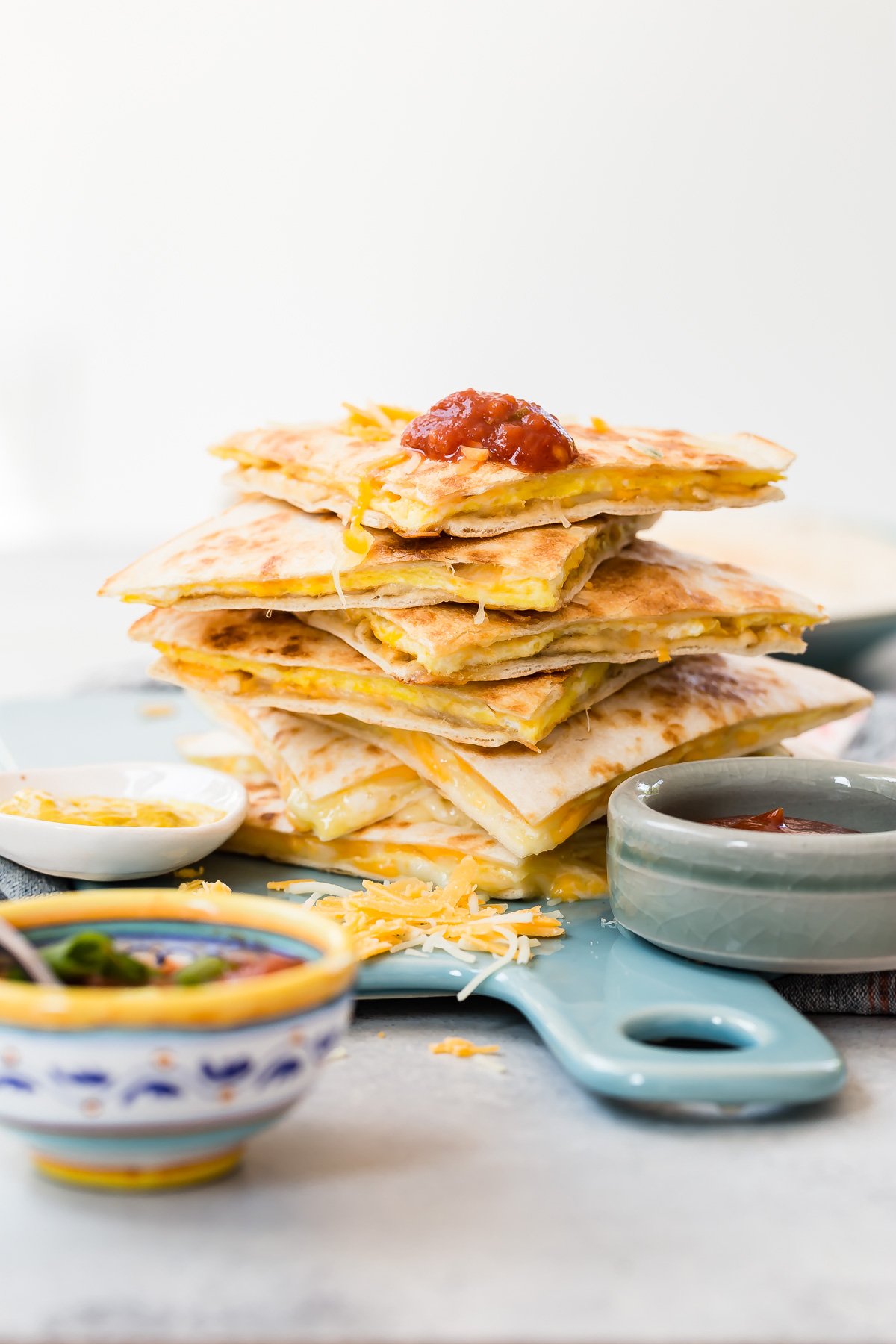 I had originally tried making this Breakfast Quesadilla with scrambled eggs, but when it came time to eat it, huge chunks of eggs kept falling out of the tortillas all over the floor. No one dislikes clean up more than me, so I went back to the drawing board and experimented — this time cooking the eggs like a thin omelet, topping each side with melted cheese and then sandwiching it all between two tortillas (if you want to watch how to do it, here's a cooking video for this recipe that walks you through the simple process in detail).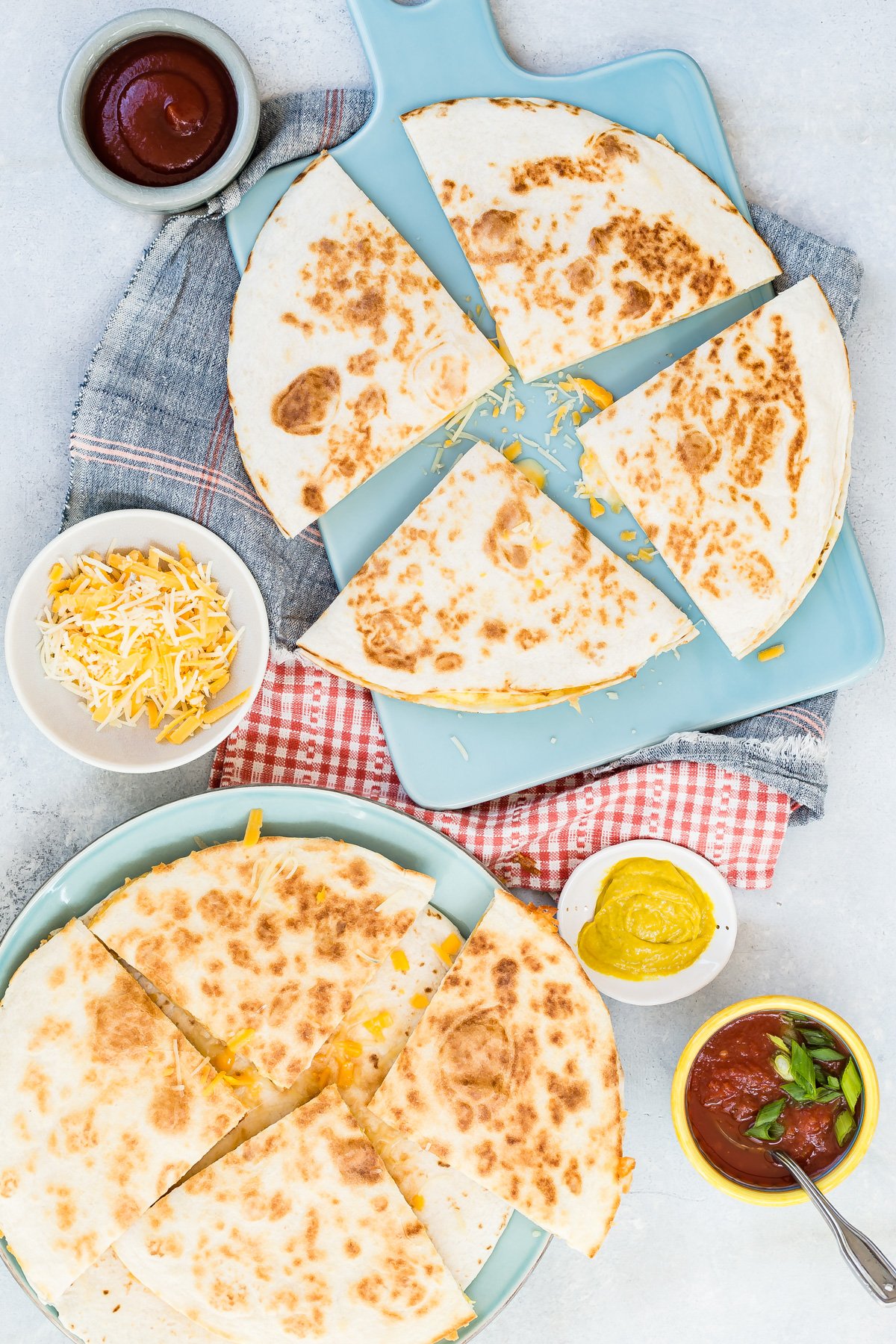 My kids love this recipe so much, it's gone into heavy morning breakfast rotation. That's good news for me, especially for tomorrow since I just checked and my fridge is practically bare again!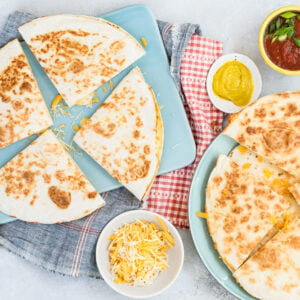 Breakfast Quesadilla
Ingredients
2

eggs

1

teaspoon

kosher salt

2

tortillas (I use whole wheat or spelt)

1/2

cup

Mexican blend cheese (or you can use cheddar, monterey jack or mozzarella)

1

teaspoon

oil
Instructions
Whisk 2 eggs and salt in a bowl for 30 seconds until combined.

Place 1 tsp of oil in a 9 inch pan over medium heat, coating the bottom of the pan (make sure to use a pan that is at least slightly larger than your tortilla).

Pour in the whisked eggs, tilting the pan to spread it evenly across.

Let the omelette cook for 30 seconds then gently use your spatula to go along the edges of the omelette, lifting them away from the pan to loosen.

Sprinkle 2 tbsp of cheese on top of the omelette, place one tortilla on top of the egg and cheese and flip it onto a plate (you can watch how I do this here).

Slide the omelette, tortilla side-down, back into the pan, sprinkle another 2 tbsp of cheese on top of the egg and place another tortilla on top to cover.

Continue to cook the quesadilla for 1 minute, pressing down lightly with a spatula to help melt the cheese, then flip the quesadilla to cook the other side for an additional 30 seconds or until cheese melts and tortilla is golden.

Cut into wedges and serve.

*If you use a smaller tortilla, use 1 egg per quesadilla and 1/4 cup of cheese.
Nutrition
Calories:
200
kcal
|
Carbohydrates:
16
g
|
Protein:
10
g
|
Fat:
10
g
|
Cholesterol:
20
mg
|
Sodium:
350
mg
|
Fiber:
1
g
|
Sugar:
1
g