Yummy! I have no other words to describe this dish. We love Breakfast Burritos in our home because they're so quick to prepare and are the perfect protein-packed breakfast after a long night's sleep (if we're lucky enough to get one these days).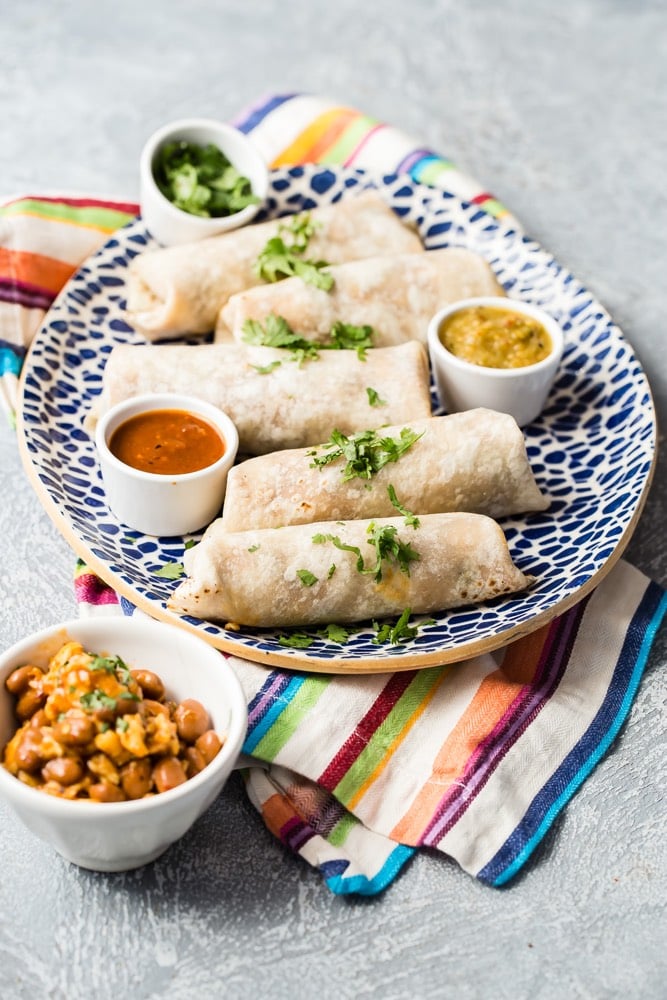 I always assumed that as my kids got older they would sleep through the night and that I, in turn, would get more sleep. Well, my kids are great sleepers, but I don't get to bed early enough to take advantage of it. As a result I am consistently sluggish in the morning, too tired to put any effort into breakfast. I've made Oatmeal in the Crock Pot so much lately, mornings are like Groundhog's Day for my kids.
Thank goodness too for leftovers because on the mornings I open my fridge to find containers of rice and beans, I know there are yet more effortless ways to deal with breakfast. I just take everything out — which on any given day might include cheese, avocado, tomatoes, and of course scrambled eggs — let the kids scoop whatever they want into their quesadillas, and voila, in minutes we've got an energy packed breakfast to get us moving when we need it most!
I love watching Kenya's little hands grabbing the tortilla-wrapped egg, bean and salsa filling as it drips out onto his plate. I can't say this is the neatest meal to consume, but it sure is delicious and, trust me, every bite will ultimately wind up in your little ones mouth!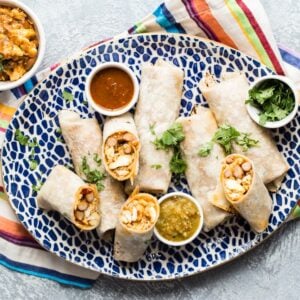 Breakfast Burritos
Ingredients
4

tablespoons

milk

1/2

teaspoon

kosher salt

1

1/2 cups

cooked pinto beans (rinsed and drained if canned)

1

cup

salsa

oil or butter, for the pan

4

tortillas, warmed if desired
Instructions
In a bowl, whisk together the eggs, milk, and salt.

Heat a nonstick pan over low to medium heat and grease with oil or butter.

Pour in the egg mixture and stir until almost scrambled, about 2 minutes.

Add the beans and salsa and cook for 2 minutes or until ingredients are heated through.

Place scrambled egg mixture and desired accompaniments into the tortillas and roll up into a burrito.
Video
Nutrition
Calories:
170
kcal
|
Carbohydrates:
17
g
|
Protein:
11
g
|
Fat:
6
g
|
Cholesterol:
185
mg
|
Sodium:
500
mg
|
Fiber:
3
g
|
Sugar:
2
g