Quick Oatmeal Pancakes are weekend brunch must in our house! Soft, fluffy and absolutely addictive. They're so fast and easy to make that I promise they'll quickly become one of your go-to breakfasts!
On the weekends we have smoothies (of course) and then make BIG batches of these Quick Oatmeal Pancakes. What makes them so quick? You just toss all the ingredients in a blender, pulse, puree and pour into your favorite saute pan or even this super cute emoji pancake pan one of our friends gave the kids for Christmas.
The batter is packed not only with plenty of protein from the eggs and milk (you can also use almond, flax, soy, oat or your favorite plant based milk) plus nutrient dense oats which offer plenty of fiber is these Quick Oatmeal Pancakes.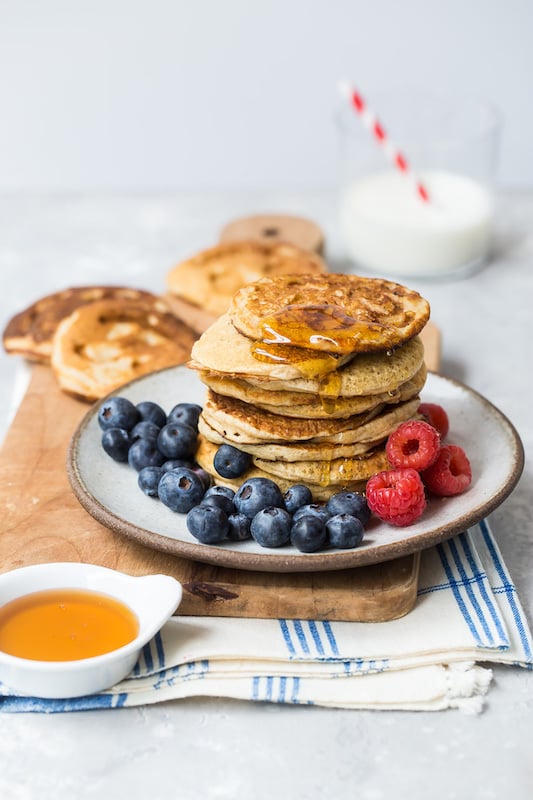 You can use any type of oil in this recipe (it's just a little), so if you have unrefined coconut oil use it. The coconut oil gives the pancakes a mild coconut flavor which also imparts a touch of sweetness in every singe bite. Mentioning sweetness, this pancake recipe doesn't include any added sugar, so if you want to sweeten them up you can top with dairy free coconut whipped cream, fresh berries or bananas, maple syrup, honey or even this naturally sweet raspberry sauce.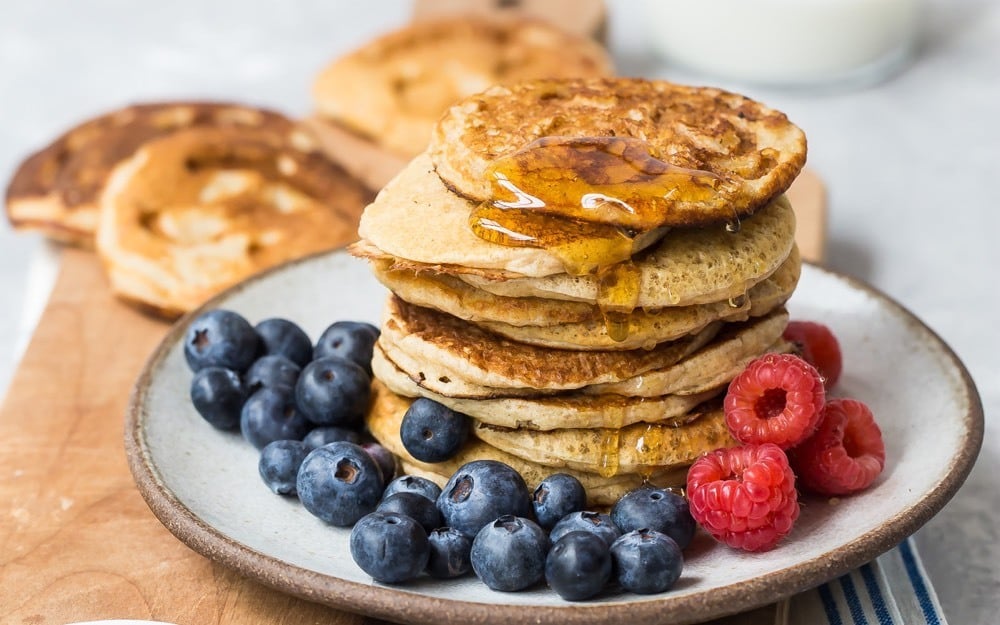 Still looking for more pancake recipes to make on the weekend? Try these Protein Pancakes, Gluten Free Banana Pancakes (perfect for anyone with a gluten sensitivity), or my Whole Wheat Pancake and Waffle Mix which is a life saver 7 days a week when you want to make pancakes in seconds.
Looking for an easy pancake recipe you can make in minutes? Quick Oatmeal Pancakes will fill your heart and stomach with joy!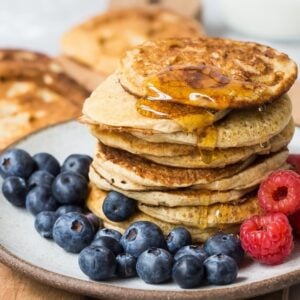 Quick Oatmeal Pancakes
Ingredients
1/2

cup

old fashioned or quick cook oats

1/2

cup

all purpose flour

2

teaspoons

baking powder

1/2

teaspoon

baking soda

1/2

teaspoon

salt

1

teaspoon

ground cinnamon

3/4

cup

buttermilk (or milk + 1 teaspoon vinegar)

1

large egg

2

tablespoons

canola, vegetable or coconut oil

1/2

teaspoon

vanilla extract
Instructions
Place the first 6 ingredients in a blender and pulse for 30 seconds or until oatmeal becomes fine.




Add the remaining ingredients and pulse to combine, about 15 seconds.

Heat a sauté or grill pan for medium heat and pour 1/4 cup batter for each pancakes. Allow pancakes to cook for 2 minutes or until the top starts to bubble, flip over and cook an additional 30 seconds or until the pancake is cooked through.