Smiley Face Protein Pancakes with four types of protein to keep you full and ready to have fun all day long.
Pin
In the morning, our general go-to food to cook together are pancakes. Sometimes it's gluten free banana pancakes, other days spinach, cottage cheese or my Whole Wheat Pancake and Waffle mix which I always keep on hand.
Recently, though, I've been making these Smiley Face Protein Pancakes which are game changers when it comes to getting as much protein as possible into their bodies. Every tender, soft pancake has a surprise of chia and hemp seeds in every bite. The first time I added them to the kids' pancakes they couldn't figure out what I had put inside, but they were totally into it. I add these seeds to our smoothies weekly, but had rarely added them to pancakes. Game changer!
The best part about these pancakes is that all of the four types of protein hidden inside offer different types of nutrients as well. The hemp seeds and chia seeds give you fiber and omega 3 fatty acids, the egg offers plenty of iron and with a side of milk, you get vitamin D, calcium and much more.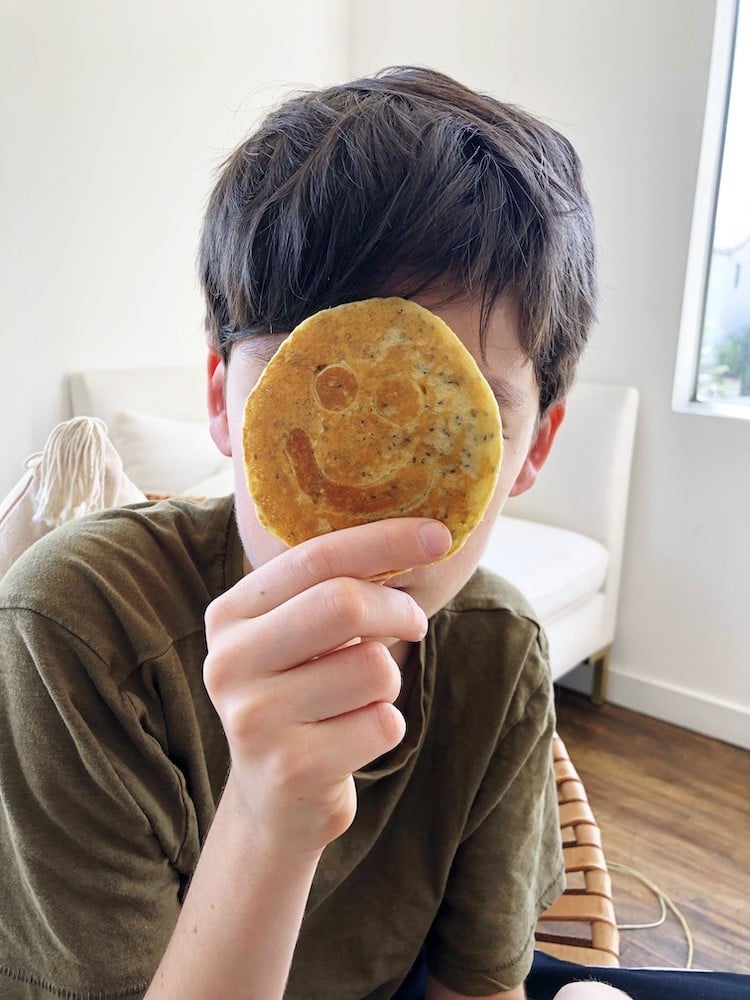 Pin
I love serving these Smiley Face Protein Pancakes with boxes of Horizon Organic Milk which the kids absolutely love. Horizon Organic milk boxes have 8 grams of protein and are available in whole, low fat and chocolate, which is great for kids who have a preference, with no artificial colors, flavors or high fructose corn syrup.
They're also shelf stable, so you can stock up on them and keep them in your pantry. Plus, their portability is a huge help when you're trying get your kids out the door with protein in the morning, or offer a no mess after school snack on the way to soccer practice/piano lessons/whatever passions your kids pursue.
I don't know many kids who don't love a pancake, and now with these Smiley Face Protein Pancakes, you can feel extra good about serving them, too.
What do you love pouring on top of your pancakes? Let me know in the comments below!
Smiley Face Protein Pancakes
Ingredients
2

tablespoons

hemp hearts

2

tablespoons

chia seeds

1

cup

white wheat flour

2

teaspoons

baking powder

1

teaspoon

baking soda

1

tablespoon

sugar

1

teaspoon

kosher salt

2

large eggs

2

tablespoons

vegetable oil

1

cup

milk (maybe less)

1

teaspoon

vanilla extract
Instructions
Place wet ingredients (eggs, milk, vegetable oil, vanilla extract) in a bowl and whisk.

In a separate bowl whisk the dry ingredients.

Pour the dry mixture into the wet mixture and stir until just combined.

Heat a large sauté pan or griddle over medium heat, lightly coat with oil or butter and pour about 1 tbsp of the mixture onto the griddle for each pancake.

Cook for 2 minutes on each side or until pancakes are set and golden.

* to make the pancakes with a smiley face: place the pancake mixture in a bottle, make a smiley face on griddle, allow to cook for 20 seconds and then cover with 1-2 tbsp of pancake mixture in a circle. Continue to cook as