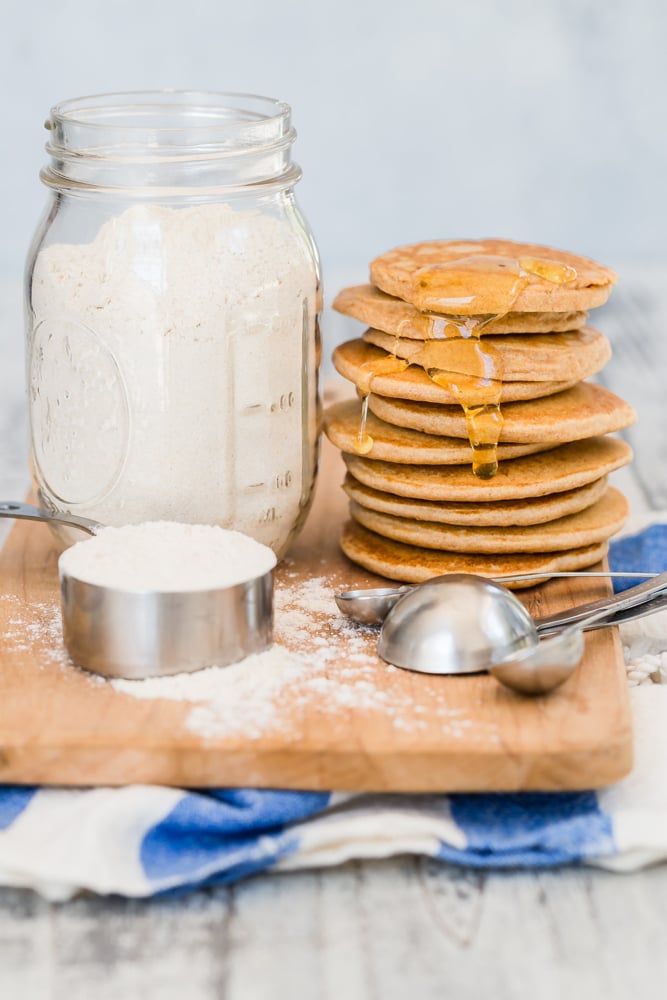 We go through a lot of pancake mix in our house. As much as I love making pancakes from scratch, the convenience of a good mix can be a time-challenged mom's best friend. There have been plenty of sleep deprived mornings where I've got to get everyone out the door to school and work and wearily reach for my box of Kodiak Cakes whole wheat pancake mix. Don't get me wrong, I love Kodiak Cakes. They are easy to make, made from wholesome ingredients and turn out awesome pancakes every time. But at almost $6 a box, I resolved to come up with my own simple, make-ahead mix that I could keep in the pantry.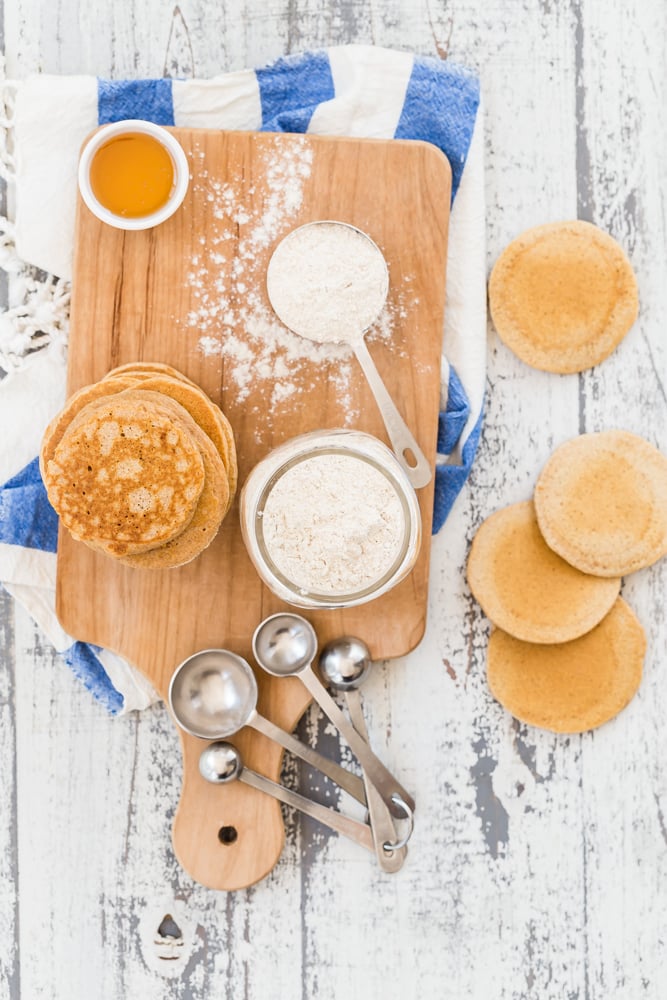 It took me a bit of trial and error, but I'm finally over the moon — I mean really over the moon — with this recipe. It actually might be one of my favorite weelicious recipes because of how versatile it is. I used the mix to make waffles this morning and the kids actually said they were the best I'd ever made!
This recipe makes a bit more mix than what you would normally find in a box of the pre-made stuff, but that's a plus, especially if you have a house full of pancake lovers. Just keep the mix in an airtight container and anytime you want to make these, just add an egg, milk, a touch of oil and a scoop of mix for whole wheat pancakes or waffles that are sure to please!
Whole Wheat Pancake and Waffle Mix
Ingredients
6

cups

white whole wheat flour

1/3

cup

sugar

2

tablespoons

baking powder

1

tablespoon

baking soda

2

teaspoons

kosher salt
Instructions
Mix all ingredients together and store in an airtight container in a cool, dry place.

To Make Whole Wheat Pancakes or Waffles - Serves 4

Whisk 1 large egg, 1 cup buttermilk and 1 tablespoon oil in a large bowl.

Whisk 1 cup pancake mix until just combined.

Heat a large pan or griddle over medium heat and grease with butter or oil.

Pour about 1 tablespoon of the pancake mixture onto the griddle, making as many pancakes as will fit and cook for 2 minutes.

Flip the pancakes and cook for one minute longer and serve.

Note: Mixture can also be used in a waffle iron following manufacturers directions.

Nutrition
Calories:
140
kcal
|
Carbohydrates:
30
g
|
Protein:
5
g
|
Fat:
1
g
|
Sodium:
520
mg
|
Fiber:
3
g
|
Sugar:
3
g