These Baked Blueberry Doughnuts are a doughnut (and berry!) lovers dream come true! Make a batch of these to have for a snack, dessert or even breakfast.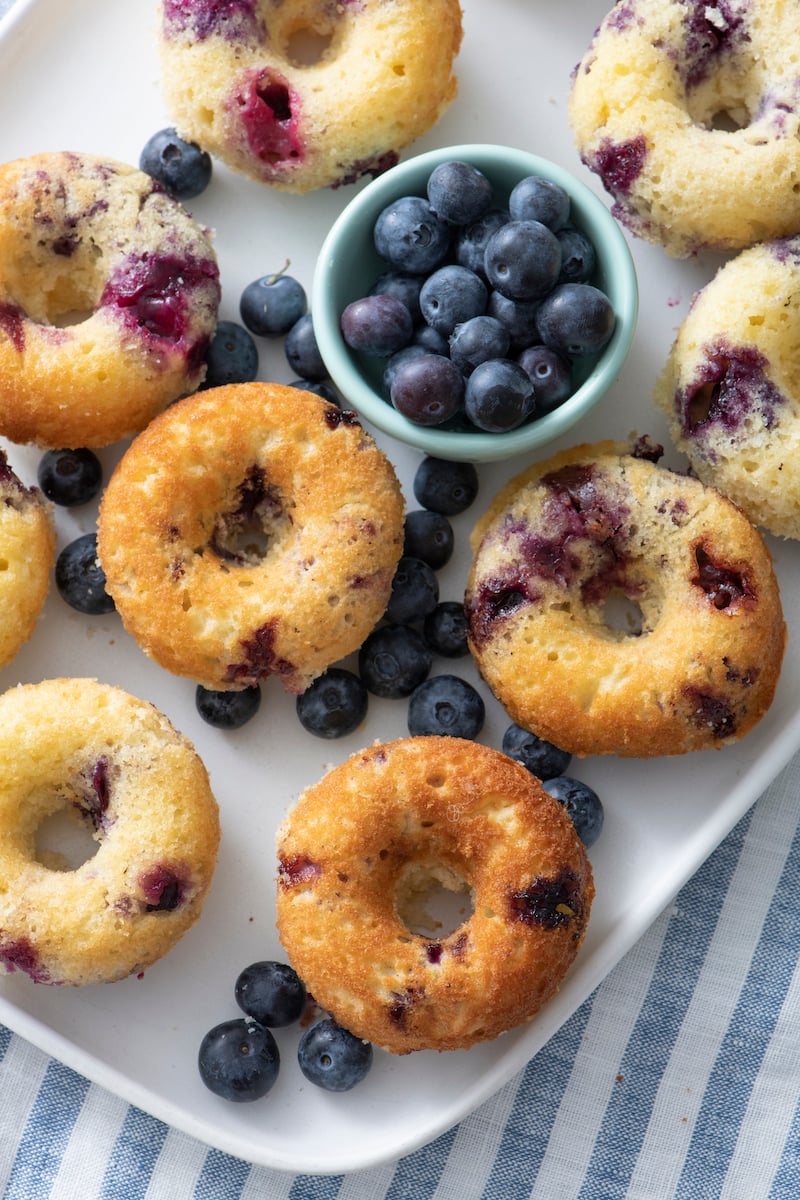 When it's berry season at the farmers' market, our eyes light up! Seeing row after row of fresh strawberries, raspberries and of course the star of today's recipe, blueberries, makes our hearts absolutely soar! I have to buy extra berries every week just for snacking while we shop or Gemma will eat them all before we get home. We're that berry obsessed!! I wanted to come up with a sweet treat using blueberries this week, so this Baked Blueberry Doughnuts recipe was the ticket!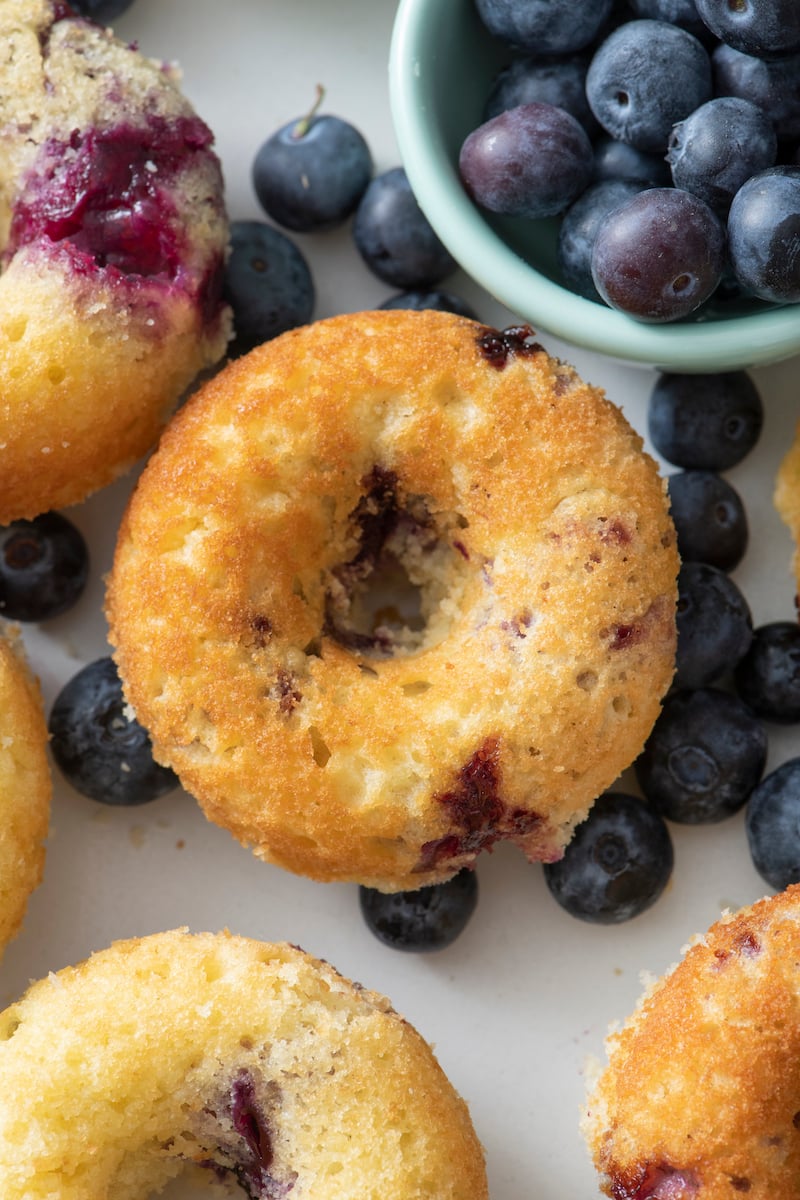 Because most doughnuts are fried, they naturally get a bad rap from a health standpoint. But being a longtime doughnut lover, I've come up with several healthier baked versions like Baked Pumpkin Doughnuts, Baked Chocolate Cinnamon Doughnuts, Crumb Cake Muffin Donuts, Lemon Pound Cake Mini Doughnuts and even Air Fryer Donuts over the years so that I don't have to deprive my kids (or myself) of them. I can't tell you how many of these Baked Blueberry Doughnuts I've made since perfecting this recipe.
I often make two dozen of these at a time, putting five aside for each of us to eat and then freezing the rest for future needs. Since unveiling them for my kids, it's earned a top spot on their list of most requested things for breakfast. I happily oblige as all it requires from me is taking three out of the freezer and popping them into the toaster for a few minutes. Voila, breakfast is served! Perfect for busy mornings when you're racing around getting everything ready!
These Baked Blueberry Doughnuts also make a great after school (or summer camp) snack that kids will absolutely adore! The texture of these doughnuts is more cake like which makes it feel like an extra special treat. Plus, the blueberries get even sweeter after they're baked and taste out of this world!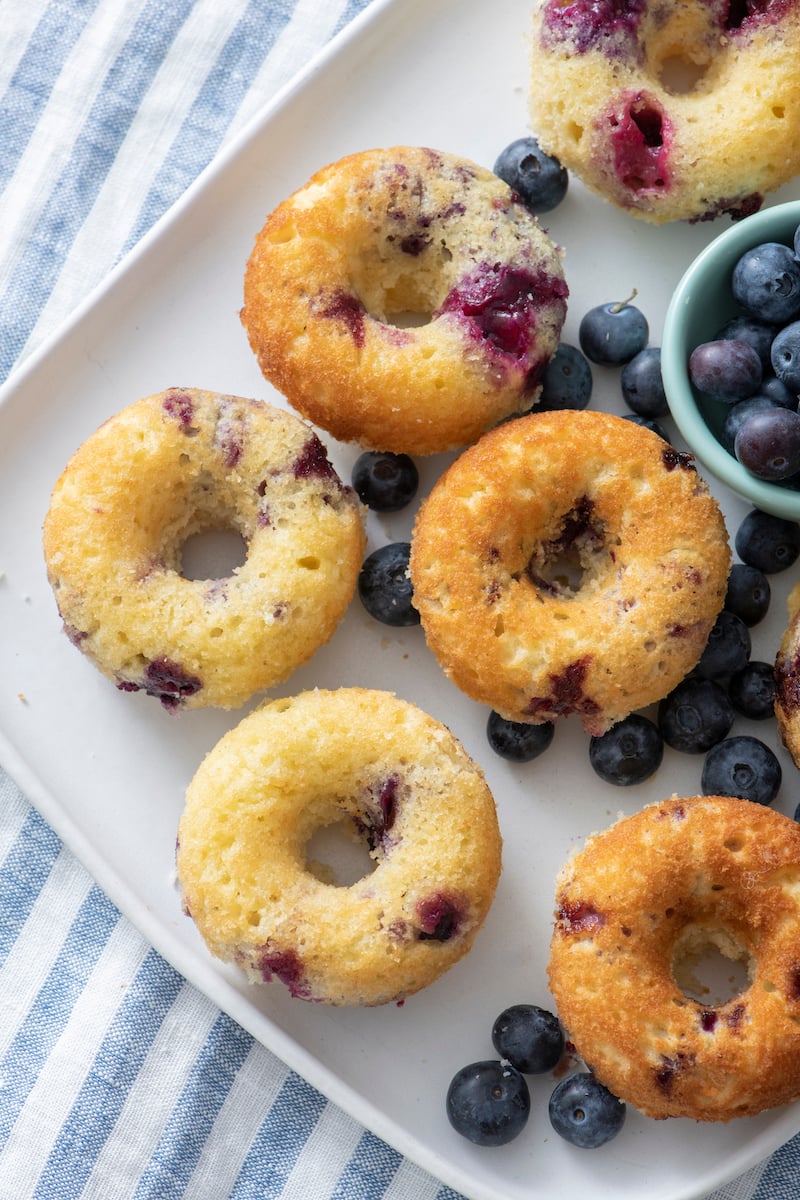 Want to turn these delicious doughnuts into something even more special and sweet? You can make a very simple glaze to add on top if your heart desires. Combine 1 cup powdered sugar, 2-3 tablespoons of milk (depending on how thick you want the glaze) and a dash of vanilla extract. Dip the tops of the doughnuts into the glaze and people will be hard pressed to decide if these are homemade or from your local doughnut shop!
Make a batch of these Baked Blueberry Doughnuts soon! They're the perfect breakfast treat to enjoy with your morning cup of coffee.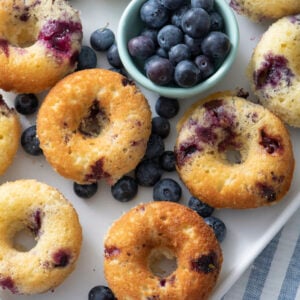 Baked Blueberry Doughnuts
These Baked Blueberry Doughnuts are a doughnut (and berry!) lovers dream come true! Make a batch of these to have for a snack, dessert or even breakfast. 
Equipment
donut pan

hand mixer or stand up mixer
Instructions
In a bowl, whisk together the flour, baking powder, and salt and set aside.

In a standing mixer (or bowl using a hand mixer), cream together the butter and sugar.

Add the egg, buttermilk and vanilla and combine.

Add the flour mixture to the butter/sugar mixture and mix until just combined.

Gently fold in the blueberries.

Spoon into greased and floured donut pan, filling ¾ full.

Bake for 14 minutes, or until the tops spring back when lightly pressed.

Cool and lightly dust with powdered sugar.