Raspberry Pancakes are fluffy and perfectly tart. These pancakes look so beautiful and are great for breakfast, snacks or even in a school lunch.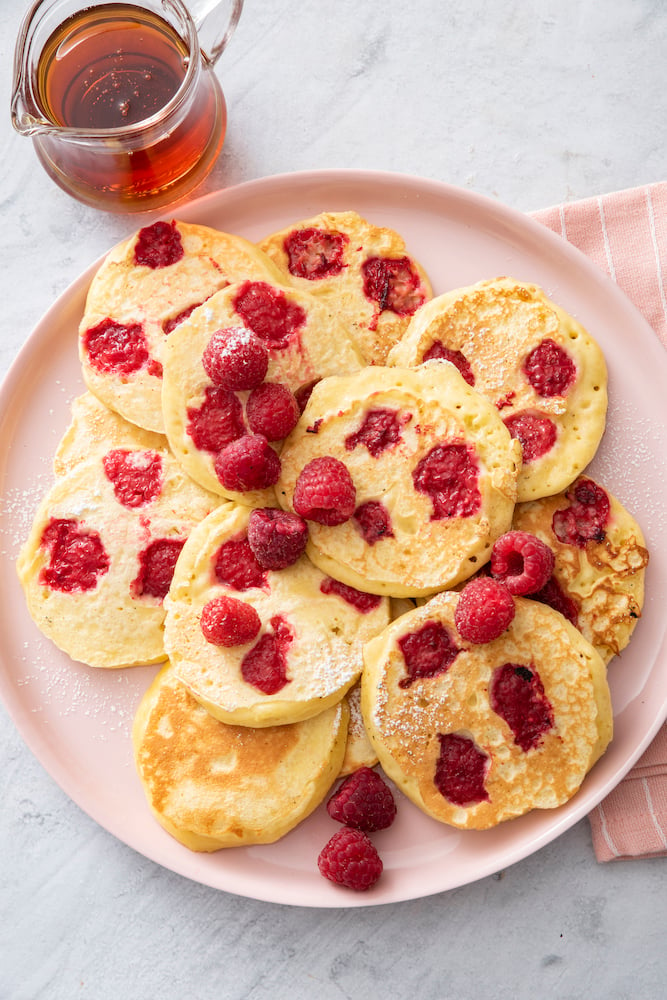 To get our ingredients for these Raspberry Pancakes, we went to our local farmer's market where Gemma was so excited to be tasked with picking out a few baskets of fresh red raspberries to make the pancakes. Giving kids some ownership when cooking, whether it be picking out the ingredients or mixing up the batter, gets them more excited to eat any recipe. Although, it's not super difficult to get my kids to eat sweet, delicious pancakes!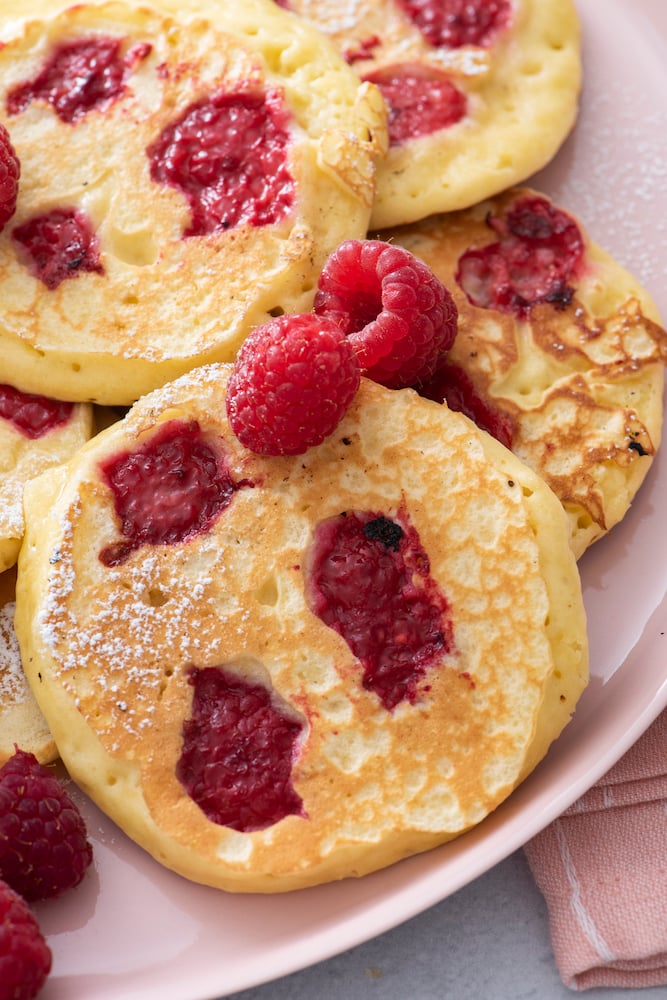 I love these pancakes because even though they are pancakes, I tried to make them as healthy as possible. Plus, raspberries are filled with fiber, vitamin C, and manganese, and are proven to have anti-inflammatory properties so you can feel good about serving these to your family. You could even try this recipe with other seasonal berries like strawberries, blueberries, cherries or even a mixture of them all!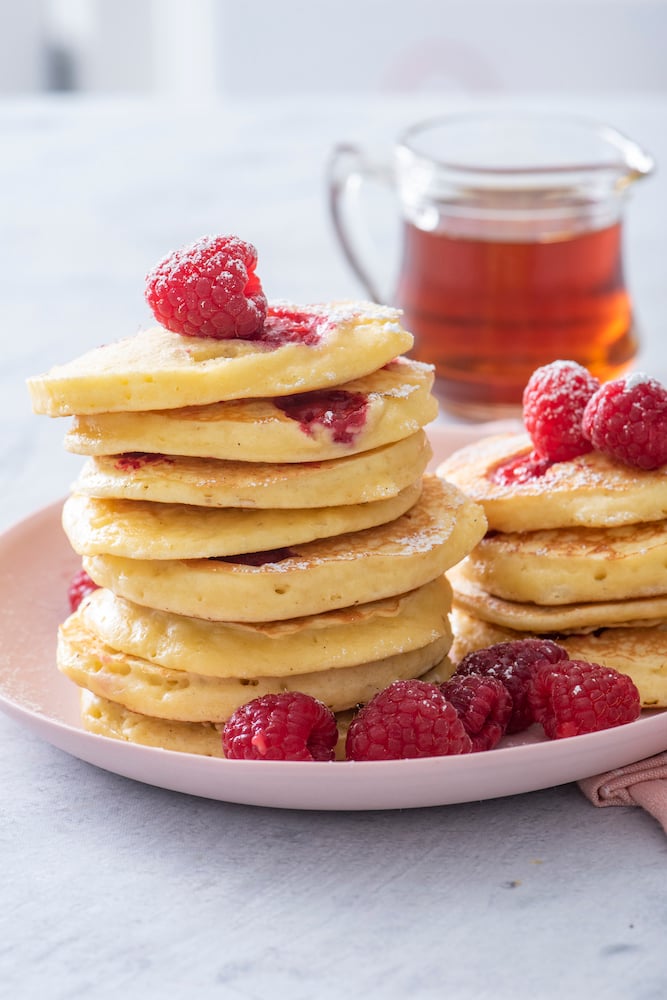 Pancakes are something we make almost every weekend for breakfast. There are so many different ways to enjoy a pancake and we're always coming up with ideas. Some of our favorites besides these Raspberry Pancakes are Chocolate Pancakes, Quick Oatmeal Pancakes, Cottage Cheese Pancakes and Gluten-Free Banana Pancakes to name a few. But there are so many more if you search "pancakes" on weelicious.
I tested out this recipe in our waffle maker too and it came out absolutely delicious! So if you're more of a waffle person than a pancake person, put this batter in your waffle iron and enjoy! Also, you can put the finished pancakes (or waffles) on a baking sheet in a 250 degree oven to keep them warm while you make the rest of the batch.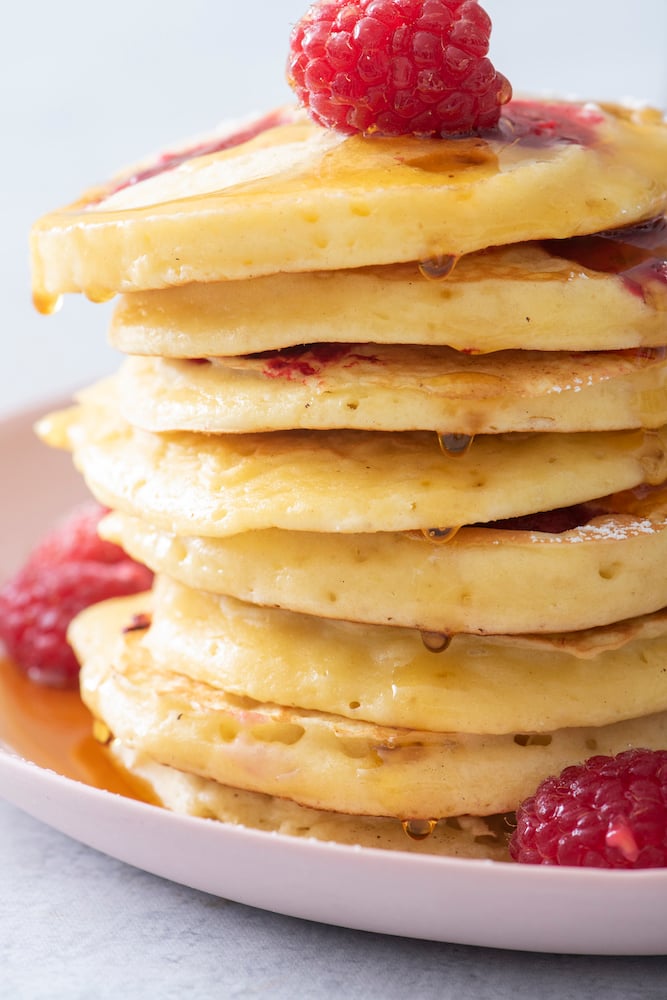 If you make too many pancakes or just want to make some extra to freeze, let the pancakes cool and store them in the freezer in an airtight container or bag for up to 4 months. When you're ready to eat them, place them in a toaster oven or oven at 300 degrees and heat until warmed through, which is usually about 10 minutes.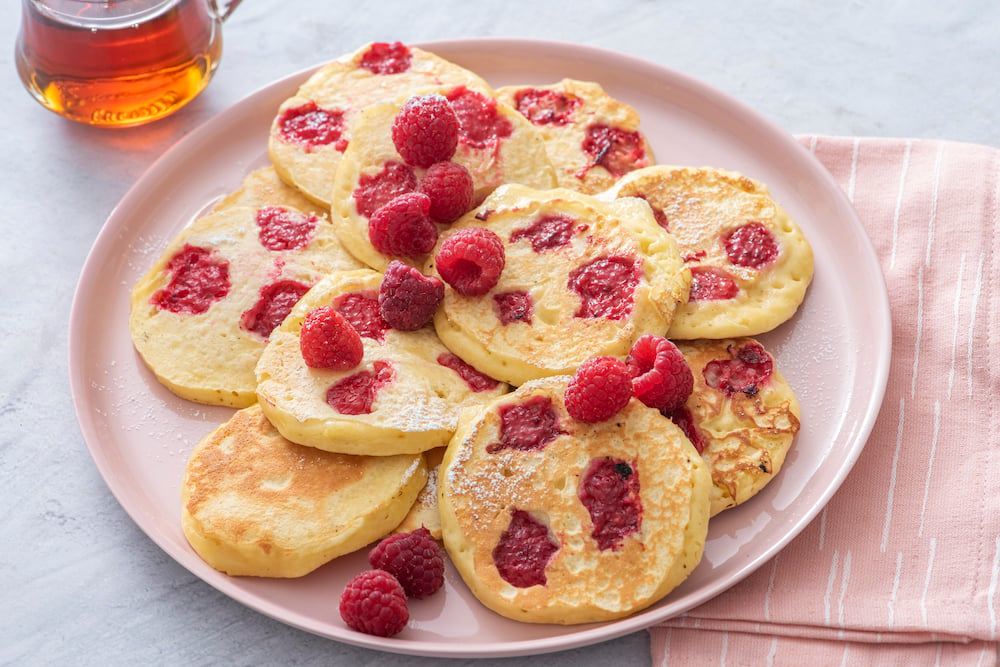 As always, let me know if you make this recipe and what you think by tagging me on social media! I love to see weelicious recipes in the wild.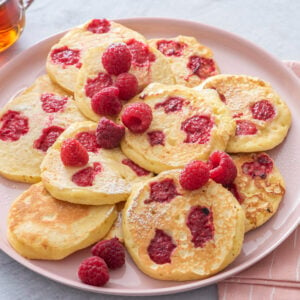 Raspberry Pancakes
Raspberry Pancakes are fluffy and perfectly tart. These pancakes look so beautiful and are great for breakfast, snacks or even in a school lunch.
Ingredients
1 1/3

cup

all purpose flour

2 1/2

teaspoon

baking powder

1/2

teaspoon

kosher salt

2

tablespoon

unsalted butter, melted (plus more for cooking)

1 1/4

cup

buttermilk

2

eggs, whisked

2

tablespoons

agave (or honey)

6

ounces

raspberries (almost 1 cup)
Instructions
Whisk the first 3 ingredients in a bowl.

In a separate bowl combine the butter, buttermilk, eggs and agave until combined.

Whisk the wet ingredients into the dry ingredients until just combined (it's ok if there are a few lumps).

Heat a large pan or griddle on medium heat and grease with butter.

Pour about 1/4 cup of the pancake mixture onto the griddle and top with 3-4 raspberries (if using cookie cutters, place the cookie cutter in the pan after step 4, pour in several tablespoons of batter, add the raspberries and cook as directed in step 6).

Cook for 2-3 minutes on each side.

* You can keep pancakes warm on a sheet tray in a 250 degree oven until all the pancakes are cooked.

* I also tested this batter in a waffle iron and they came out gorgeous, crispy and fluffy!

**Allow to cool and place in a ziploc bag, label and freeze up to 4 months. When ready, place in toaster oven or oven at 300 for 10 minutes or until heated through.
Nutrition
Calories:
240
kcal
|
Carbohydrates:
38
g
|
Protein:
7
g
|
Fat:
7
g
|
Cholesterol:
75
mg
|
Sodium:
470
mg
|
Fiber:
2
g
|
Sugar:
15
g