Summertime means fresh, beautiful berries which means strawberries! These Strawberry Muffins use the season's freshest fruit to make an easy, delectable treat perfect for breakfast and snack or dessert!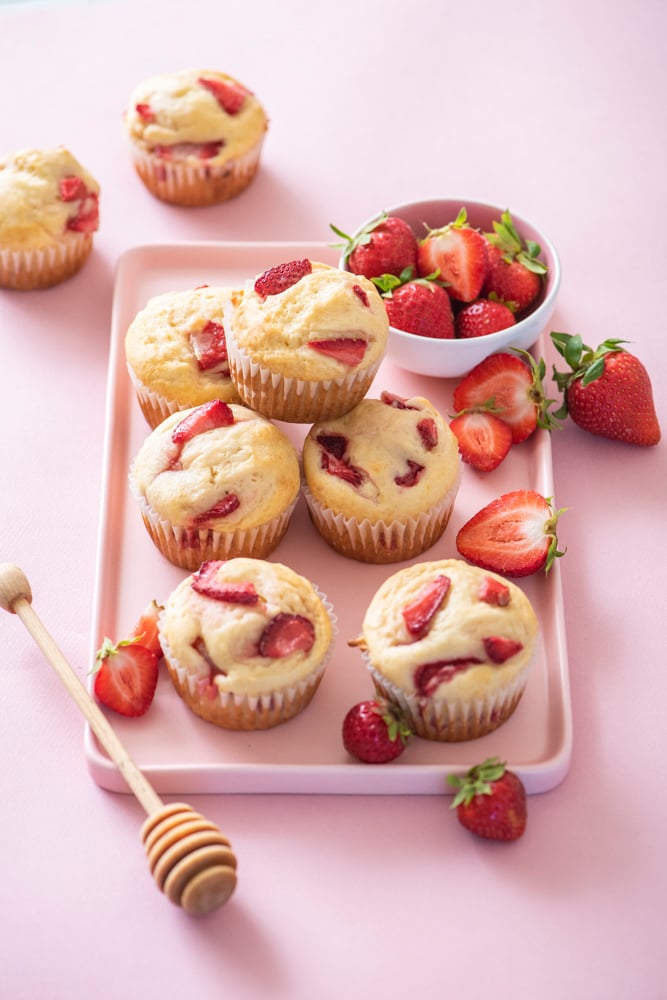 When the seasons change and all the new crops of fruits and vegetables return to our farmer's market, I get totally excited — and when strawberries start showing their face again, I feel like I've gone to heaven. There's nothing better than that bright red berry staring back at you ready to be devoured!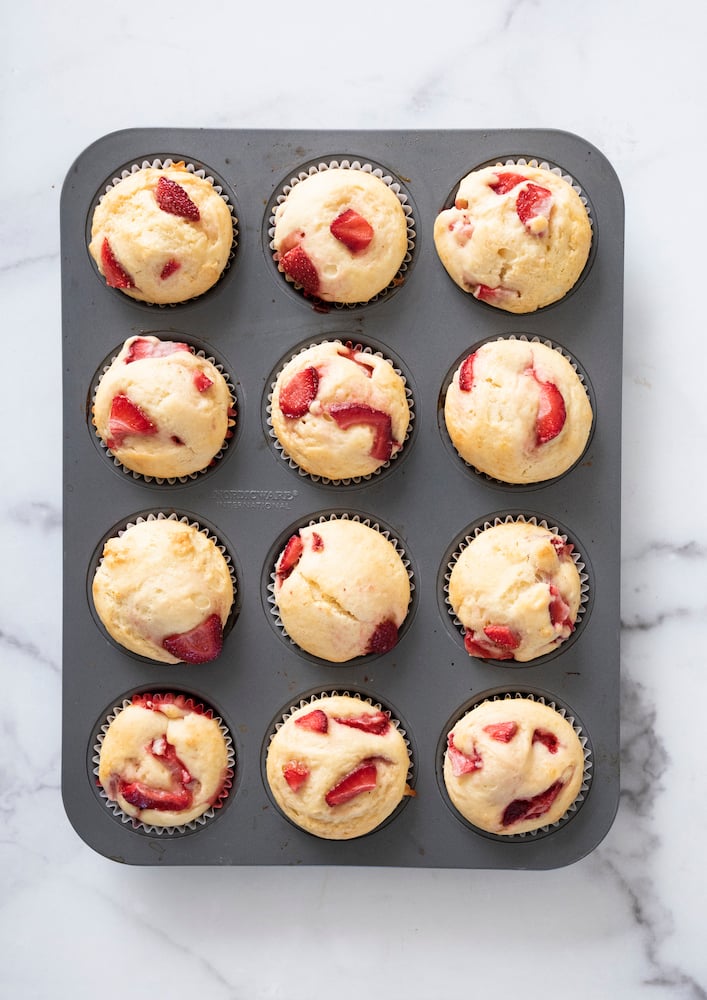 Yes, beautiful strawberries are back and they're tasting sweet, juicy and delicious (and getting better week after week). When strawberries are in season, I love making the family Strawberr-wee Popsicles, Strawberry Preserves or even Strawberry Fruit Leather, but this year I wanted to add a new strawberry recipe to my repertoire. When I suggested to Kenya the idea of making Strawberry Muffins for breakfast the other morning, he begged me to do it.‬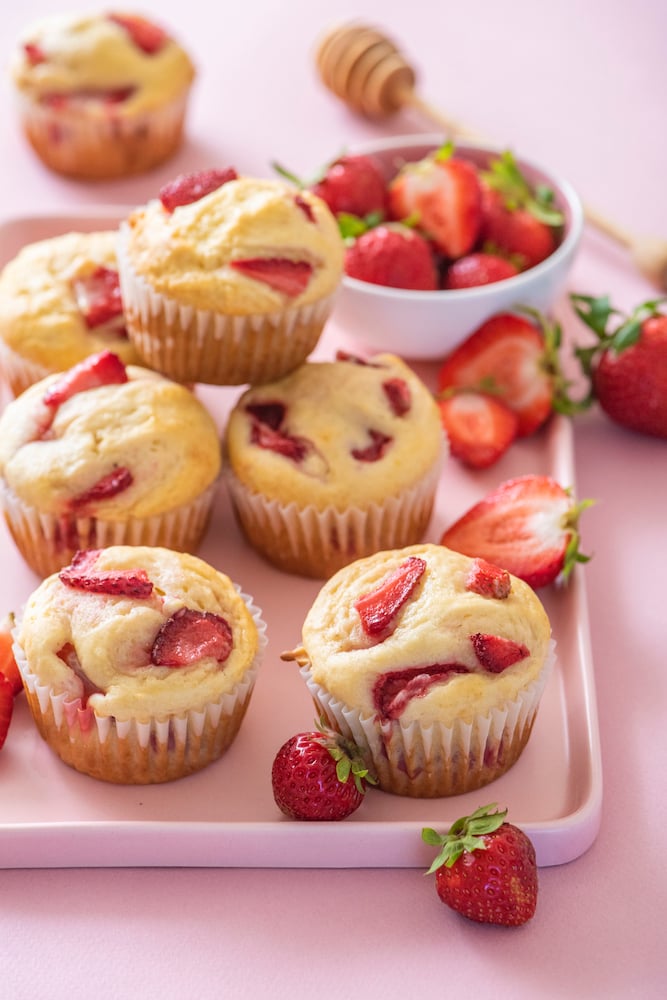 When I decided to make these muffins I wanted to use as many good-for-you ingredients as possible. Instead of a lot of added sugar which muffins typically have, I went for honey (you could also use agave), which is a great natural sweetener. They're just as delicious as the sugar packed ones you get from the store, but you can feel a little bit better about feeding them to your little ones!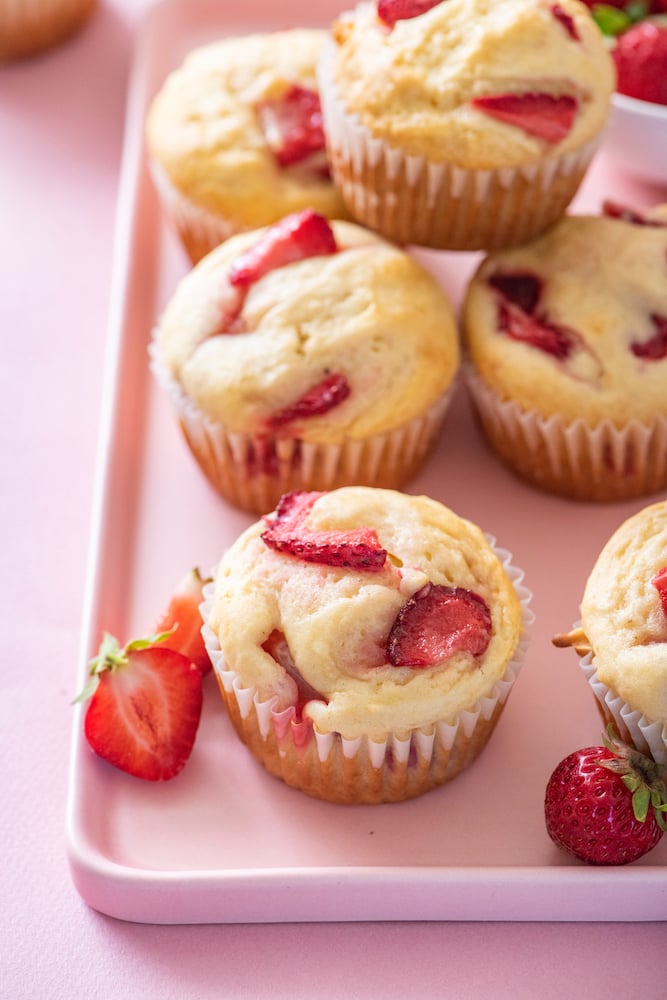 You may be pleasantly surprised to hear that these big red berries contain more Vitamin C than some citrus fruits as well as being high in fiber, folate and potassium. A 1 cup serving provides kids with a whopping 140% of their recommended daily dose of Vitamin C! Now, I'm not suggesting that you let your little one scarf down half of this recipe in order for that to happen, but in the event they do love these muffins that much, at least you'll know that what's baked inside these sweet little gems is doing their bodies good!‬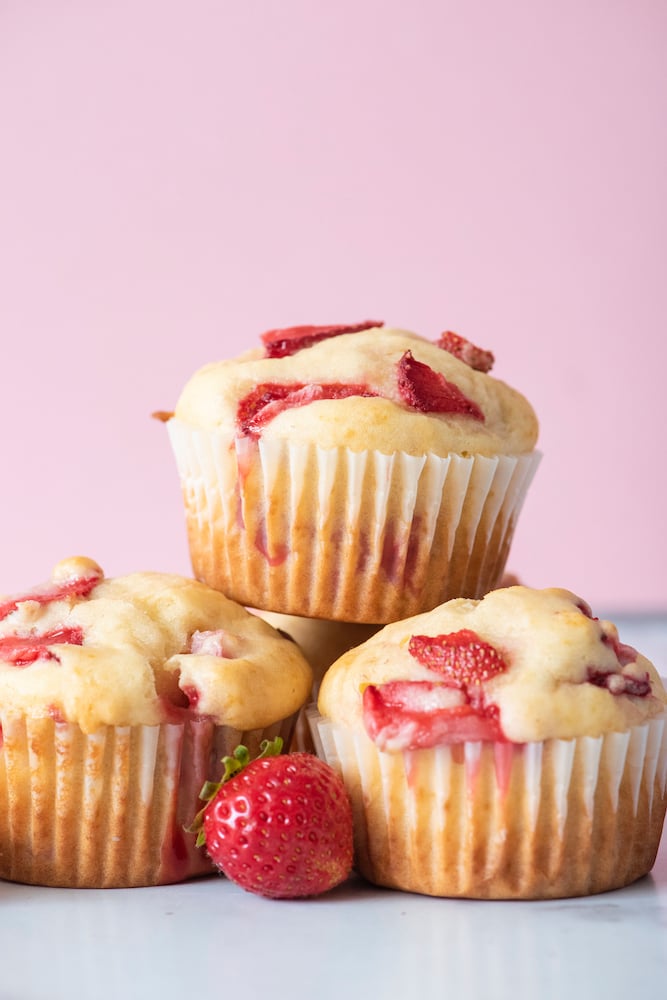 Let me know what you think of these Strawberry Muffins! I know you're going to love them!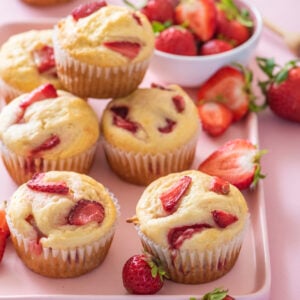 Strawberry Muffins
Ingredients
2

cups

all purpose flour

3

teaspoons

baking powder

1/2

teaspoon

kosher salt

1

large egg

3/4

cup

milk (low fat or whole cow's milk, almond, rice or soy milk will work)

1/4

cup

vegetable or canola oil

1/2

cup

honey or agave nectar

1

teaspoon

vanilla extract

1

teaspoon

lemon zest

1

1/2 cups

strawberries, chopped
Instructions
Preheat oven to 375 degrees.

In a bowl, combine the first 3 ingredients.‬

In a separate bowl, whisk egg and add milk, oil, honey, vanilla, and lemon zest and stir.‬

Using a standing mixer or hand mixer, slowly combine the dry ingredients with the wet until incorporated (try not to over mix the batter).‬

Add the strawberries to the batter and slowly combine.‬

Line or grease muffin tins and fill 2/3 of the way with batter.‬

Bake for 20 minutes or until toothpick tester comes out clean.‬

* If you want to make mini muffins, fill 36 muffin cups and bake for 18 minutes or until a toothpick comes out clean.
Nutrition
Calories:
120
kcal
|
Carbohydrates:
20
g
|
Protein:
2
g
|
Fat:
3
g
|
Sodium:
160
mg
|
Fiber:
1
g
|
Sugar:
9
g