Naturally sweetened, bright red Strawberry Popsicles are sure to make your family's eyes light right up!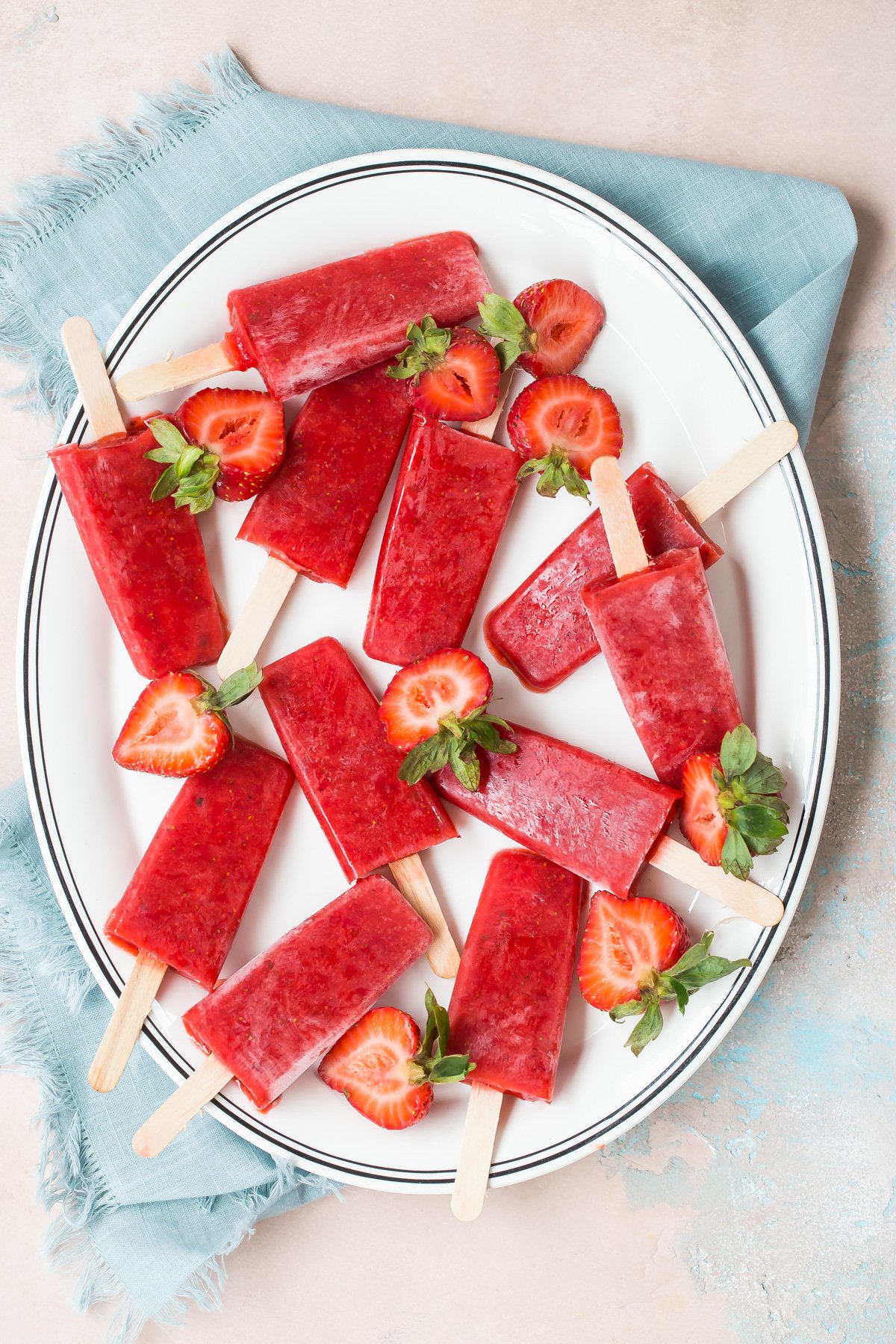 I scream, you scream, we all scream for…popsicles! OK, fine, I know 
that's not how the song goes, but I promise you'll have some seriously happy little ones after serving this treat (The picture of Kenya, above, gleefully holding his 2 popsicles was so much better then the actual shot of the finished product).
Why do all popsicle recipes have to have so much sugar in them? Not only is it bad for you, but you lose all the great, sweet natural taste of the fruit. I got the most 
heavenly strawberries from Harry's Berries at the farmers market and decided to see if I could make popsicles (heaven forbid) without sugar. Not only was the end result delicious, I felt like they were totally superior to brands that I bought at the grocery with added sugar. Who knew?!
This recipe makes 12 popsicles for a fraction of the price you'd pay for a box of "healthy" or organic pops. In those, you only get 6 and spend more for the privilege. So these are tasty and a good deal too.
Strawberries are packed full of vitamin C and ellagic acid, believed 
to be help prevent cancer. The allergic potential for strawberries is high, though, so make sure to only give these to kids over the age of one without a history of food sensitivities. As always, ask your doctor first if you have any concerns.
I served these to kids at a swim party this week and you should have 
seen their eyes light up when I pulled them out. The best part was 
after they ate them, the little ones weren't jacked up on sugar which 
made all the mommies and daddies VERY happy!
Strawberry Popsicles
Ingredients
2

1/4 cups

strawberries, stems removed

1

tablespoon

lemon juice

1

tablespoon

honey or agave
Instructions
Place the strawberries, lemon juice and honey in a food processor or blender and puree.

Pour several tablespoons into the individual molds. (Follow the manufacturers directions for your mold).

Freeze overnight (or a minimum of 4-5 hours).

* If your strawberries aren't very sweet you can add honey, agave or sugar to brighten the flavor (if you're making these for babies until 12 months, do not use honey)
Nutrition
Calories:
30
kcal
|
Carbohydrates:
7
g
|
Fiber:
1
g
|
Sugar:
6
g