Strawberry Rhubarb Crumble is the perfect treat. Not too sweet, with a crumbly oat topping, and the season's freshest produce.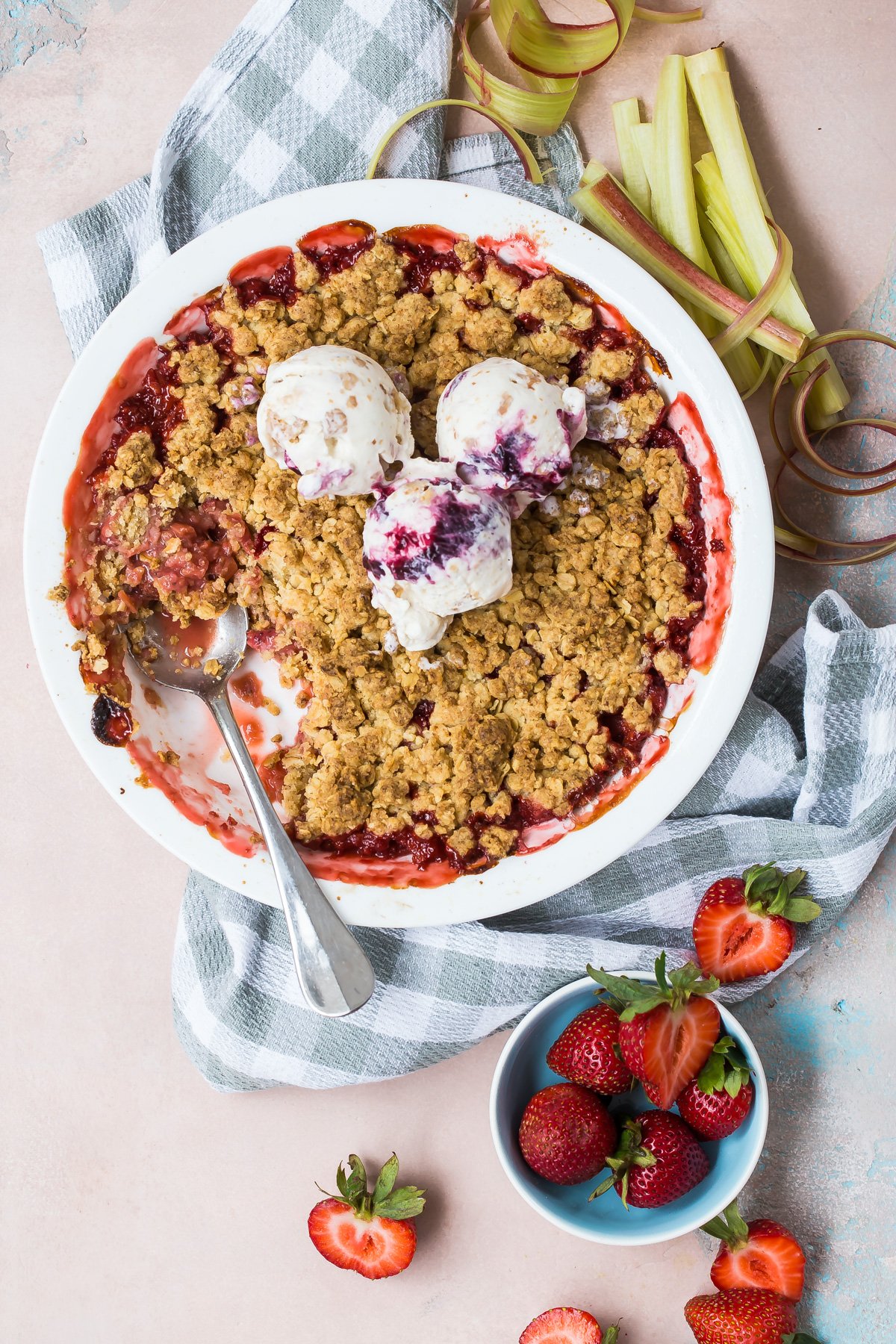 Lately, I've been surprised. For whatever reason, a lot of weelicious moms have been demanding a recipe for rhubarb. With all this sudden reader interest in rhubarb, how is it possible that I never created a recipe using it? Maybe I kept away from it because many rhubarb recipes call for a a good deal of sugar to off set it's mildly tart taste.
Once I came across some beautiful rhubarb at our Farmers' Market last weekend, I decided to take it home and eat some raw to see how it tasted on it's own. In it's natural state, rhubarb actually has an apple-y taste, not too sweet, but oh so good. When paired with fresh sweet strawberries, the need to use so much sugar disappears. Add a crumbly topping of oats, some lemon zest and a touch of brown sugar and rhubarb finds its perfect home.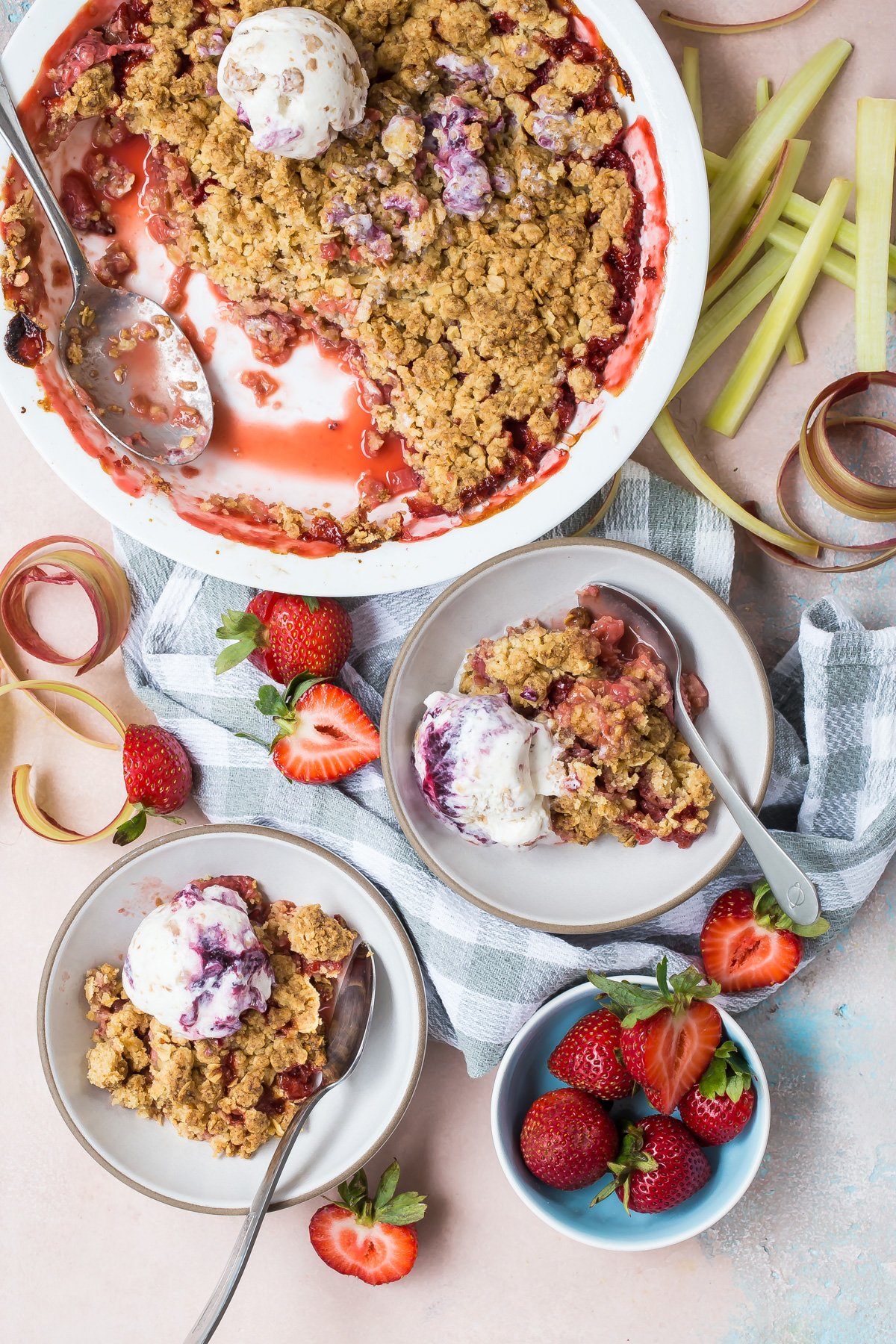 This Strawberry Rhubarb Crumble came out of my oven around 3pm, just in time for the kids to get their midday munch on. I brought it outside for them in little bowls and they sat quietly eating it under the trees on what was a perfect spring day.
When my kids are silent it's a good sign they are utterly satisfied, so I knew I hit the jackpot. Of course it wasn't long before they were both screaming for more. If my husband comes through with Mother's Day breakfast this Sunday, I will definitely be making this again for dessert that night so we can enjoy this special treat together (along with, hopefully, a moment of peace and quiet).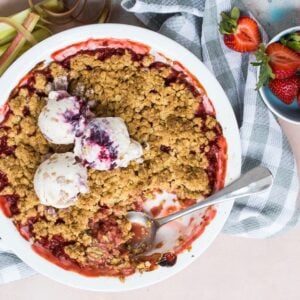 Strawberry Rhubarb Crumble
Ingredients
topping:

1

Cup

all purpose flour

1/2

Cup

old fashioned oats

1/2

Tsp

baking powder

1/4

Cup

brown sugar

1

Tsp

lemon zest

1/2

Cup

chilled unsalted butter, cut into cubes

Filling:

1

cup

chopped rhubarb

2

cups

hulled and quartered strawberries

1

tablespoon

lemon juice

1/4

cup

brown sugar
Instructions
Place the first 5 ingredients into a bowl and combine.

Add the butter to the dry ingredients and crumble with your hands to form small pea-size clumps.

To prepare the filling, toss all the ingredients in a bowl and then place in an oil sprayed 9-inch pie dish or an 8×8 baking dish.

Crumble the topping on top of the filling, place dish on a foil lined baking sheet and bake for 40-45 minutes until golden.
Nutrition
Calories:
350
kcal
|
Carbohydrates:
48
g
|
Protein:
5
g
|
Fat:
17
g
|
Cholesterol:
40
mg
|
Sodium:
50
mg
|
Fiber:
3
g
|
Sugar:
21
g