My love of passionfruit knows no bounds! These Passionfruit Pound Cake Muffins are my new favorite recipe using one of the best fruits around!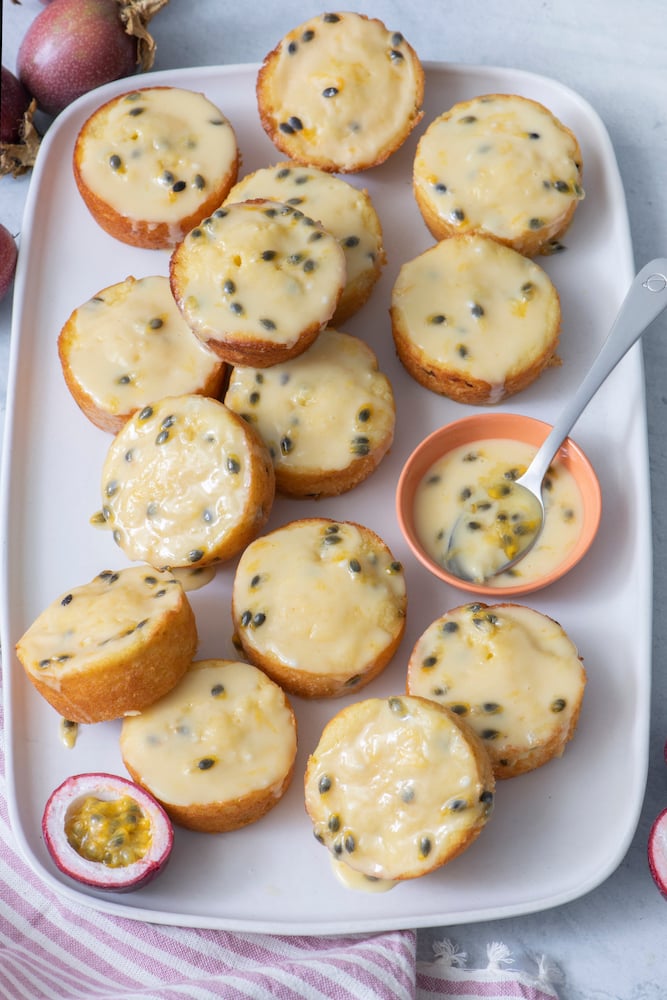 Our passionfruit vine this summer has been going crazy! We have to watch our heads on our walk from the car to our house because these beautiful fruits have been dropping like grenades the past few months. We have so many every day, I knew I had to come up with more passionfruit recipes to keep up with my vine and these Passionfruit Pound Cake Muffins are my current go-to.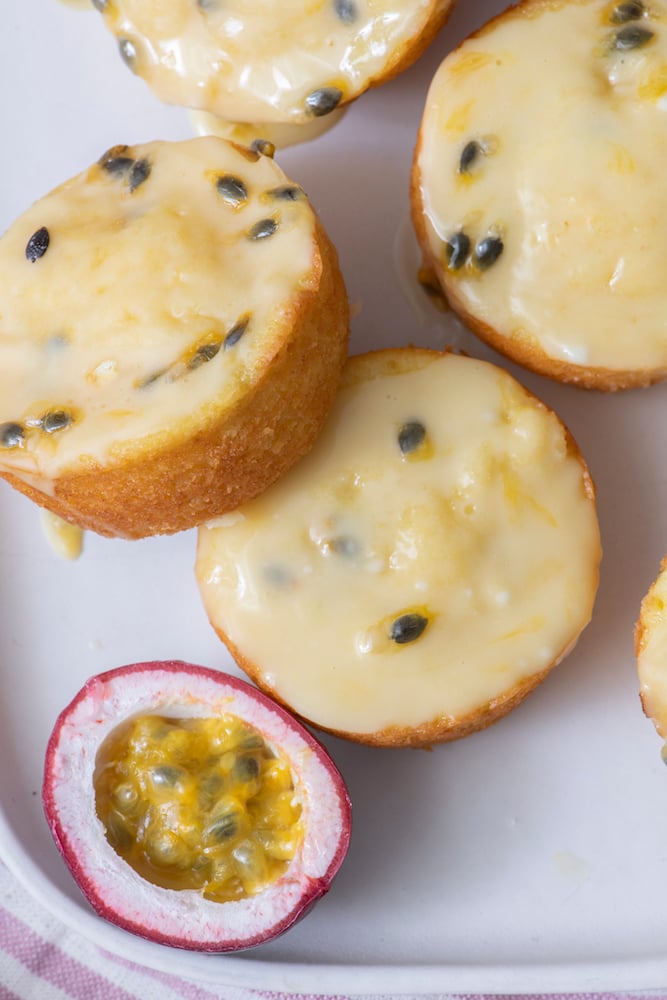 I made a batch of these for my ultimate taste tester (and fellow passionfruit lover), my daughter Chloe, and she was immediately obsessed! Our family went through the first batch pretty quickly and couldn't wait for me to make more! I was really stoked everyone enjoyed them so I could have another recipe in my arsenal for passionfruit.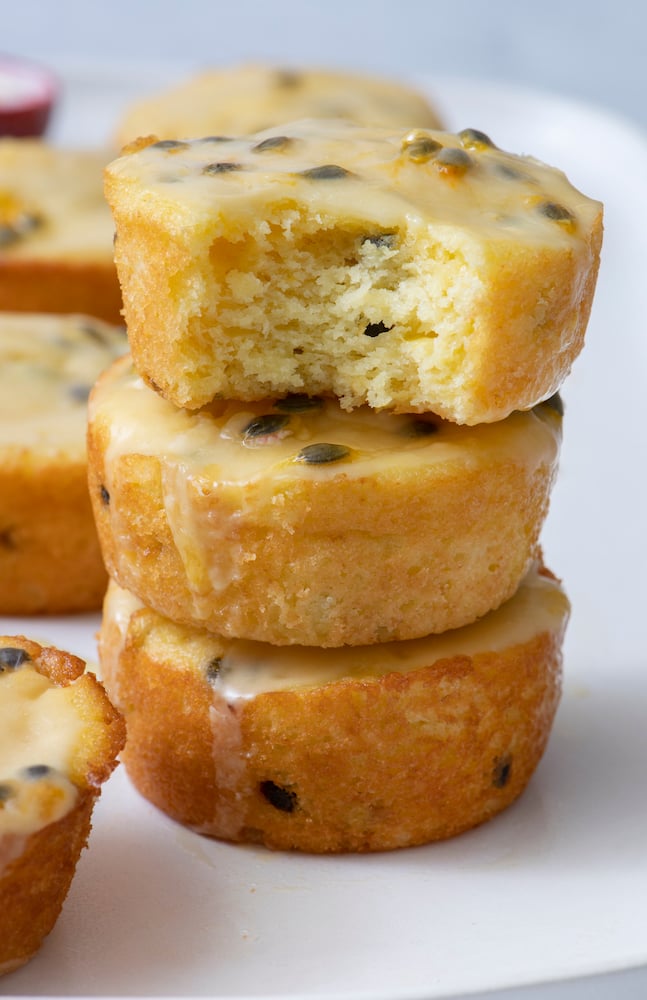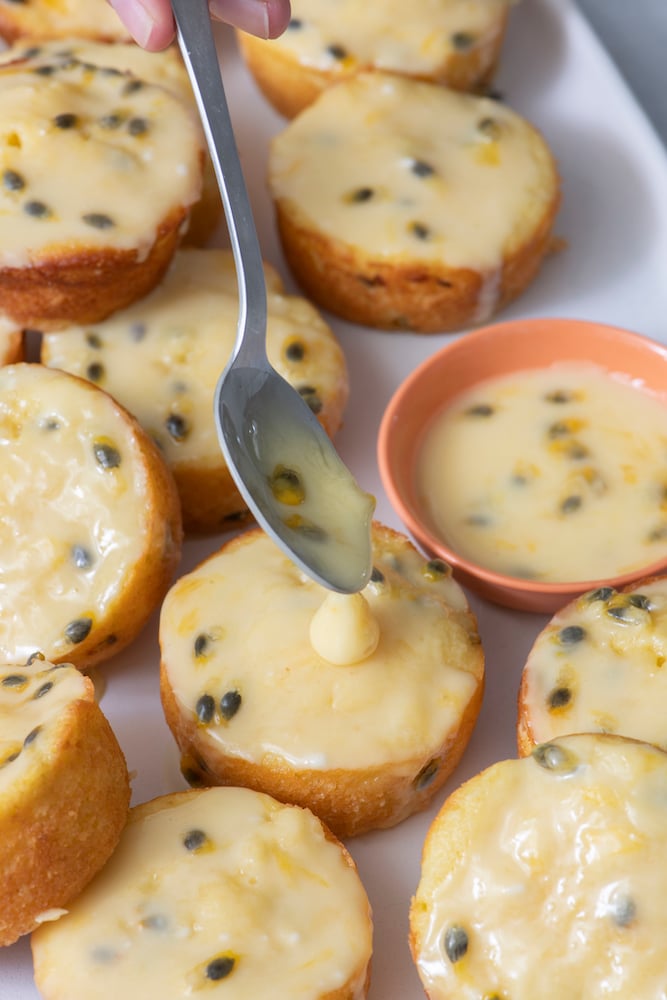 Now, back to these pound cake muffins, and why I'm obsessed with these little guys. They're sweet, but not too sweet, so they make a great dessert and snack, but also work for a breakfast treat. The texture is like a light fluffy pound cake, and you can even make this recipe into a traditional pound cake loaf. And after much deliberation, I decided to keep the seeds in the mix, and they honestly make the whole recipe in my opinion. They add a perfect light crunch that is absolutely addicting.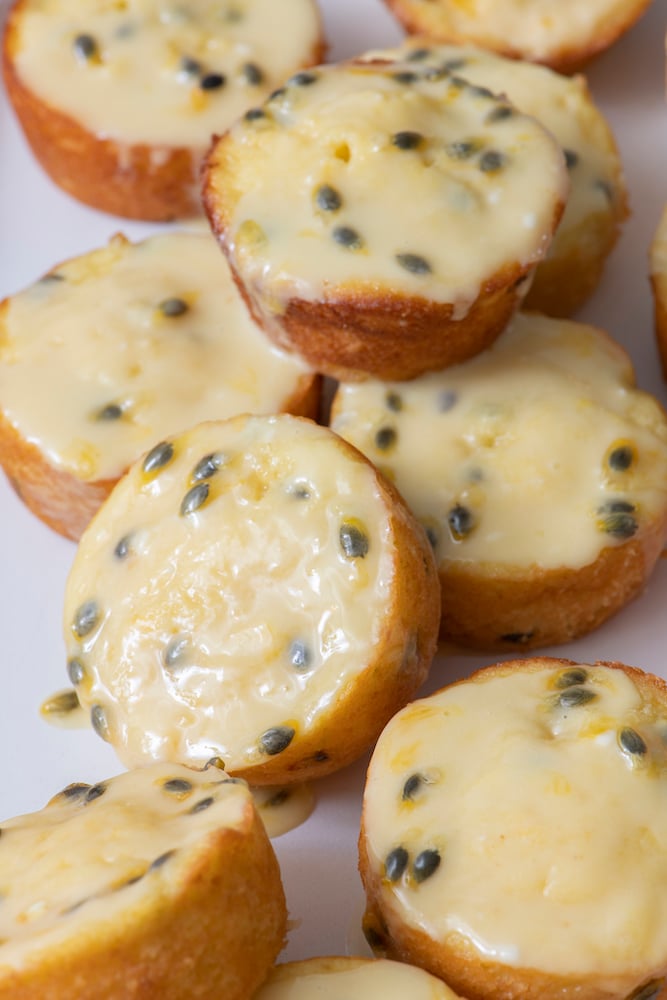 Next time you're at the store and see passionfruit, go ahead and grab a whole bunch to make these Passionfruit Pound Cake Muffins and have some extra to scoop out and eat while they bake.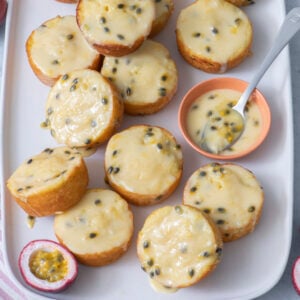 Passionfruit Pound Cake Muffins
These treats are sweet, but not too sweet, so they make a great dessert and snack, but also work for a breakfast treat.
Ingredients
For the Pound Cake Muffins:
For the Glaze:
3

tablespoons (about 2)

passionfruit, cut in half using the pulp and seeds

1

cup

powdered sugar

milk of choice (as needed to get desired consistency)
Instructions
Preheat oven to 350 degrees. Grease a muffin pan (or grease 9 x 5 inch loaf pan and line lengthwise with parchment paper). 

In a medium bowl whisk the first 4 ingredients.

In a standing mixer or in a bowl with a hand mixer, beat the butter until light and creamy, about 60 seconds. Add the sugar and continue to beat 2 minutes or until light and fluffy. Add the eggs and vanilla and beat for 1 minute or until combined. 

Add the flour mixture alternating with the passionfruit pulp and yogurt. 

Pour batter into the muffin cups loaf pan and bake 14-15 mins. For loaf pan bake for 45 minutes or until a toothpick comes out clean. 

Allow to cool for 1 hour and then remove to a wire rack to cool completely.

For the glaze, combine passionfruit juice and seeds with powdered sugar. To thin out the glaze, add a tablespoon at a time of water or milk.

Top muffins or loaf with glaze. Serve.