Looking for the perfect snack that's both delicious and healthy? This scrumptious granola is jam-packed with nutritionally dense ingredients that will fill you up and do your body good. And it's so economical and easy to make, you'll never buy from the store again.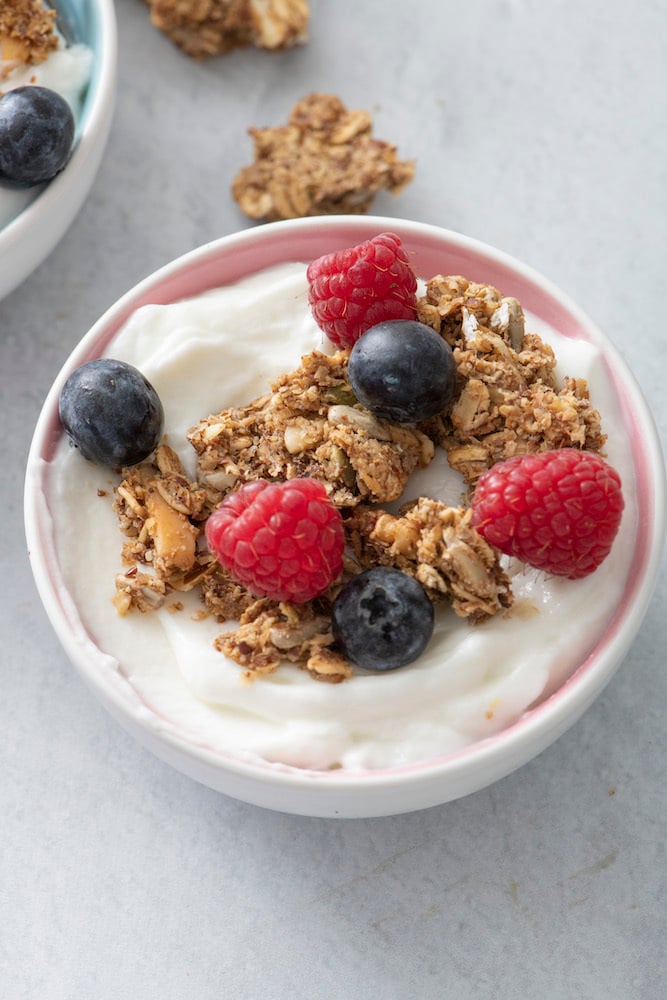 Why Make Your Own Granola?
It's healthier- Some people consider granola to be somewhat indulgent. That makes sense when you look at the ingredients in most store-bought brands. Sure, some are healthier than others, but many of them contain sugars and other ingredients I want to avoid.
It's economical- Even the healthiest brands are pricey, especially considering the amount you get for your money. You likely already have most of the ingredients in your pantry. Or, you can buy in bulk, so the savings add up.
It's customizable- Add your favorite nuts and dried fruits. Make it extra crunchy. Make it sweet or savory. It's up to you.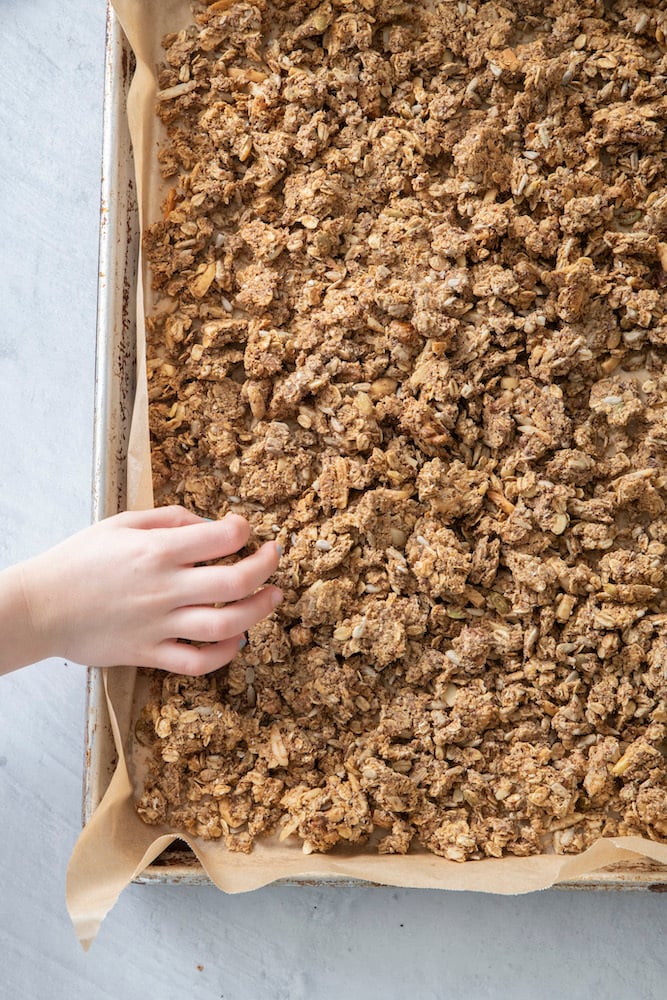 What Makes This Recipe Healthy
Feel free to customize with your favorite ingredients. Here are some health benefits for a few of the ones in this recipe:
Bran

– helps lower cholesterol and keep your system regular.
Wheat Germ- excellent source of vegetable protein and vitamin E.
Flax Seed Meal- good source of omega-3 fatty acid, thiamine, magnesium, and copper.
Pumpkin Seeds- rich in antioxidants, magnesium, and phosphorus, they're also a good source of protein, iron, and zinc.
Sunflower Seeds- rich in healthy fats and anti-inflammatory properties.
Almonds- monounsaturated fatty acids, dietary fiber, and antioxidants.
Walnuts- high in omega-3s, fiber, minerals, essential vitamins and fats, and vitamin E.
Cinnamon- antioxidant-rich; anti-inflammatory.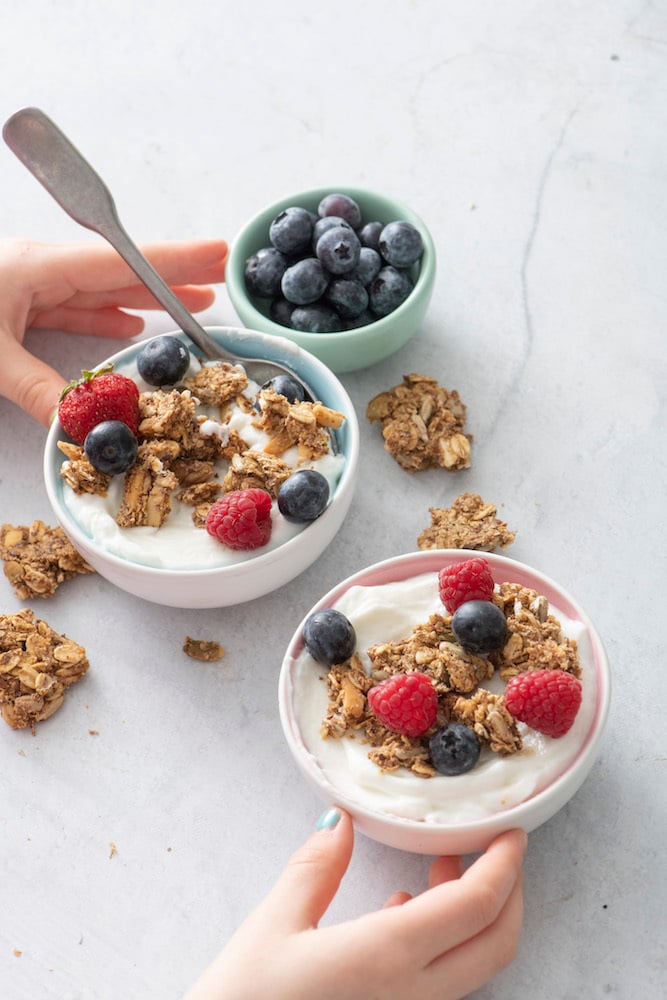 Ways To Enjoy Granola
Some of my favorite ways to serve it are:
with milk and a handful of fresh berries on top
sprinkled on top of yogurt
in parfaits
as a topping for ice cream
straight out of the jar
as a grab-and-go snack or to tide you over till the next meal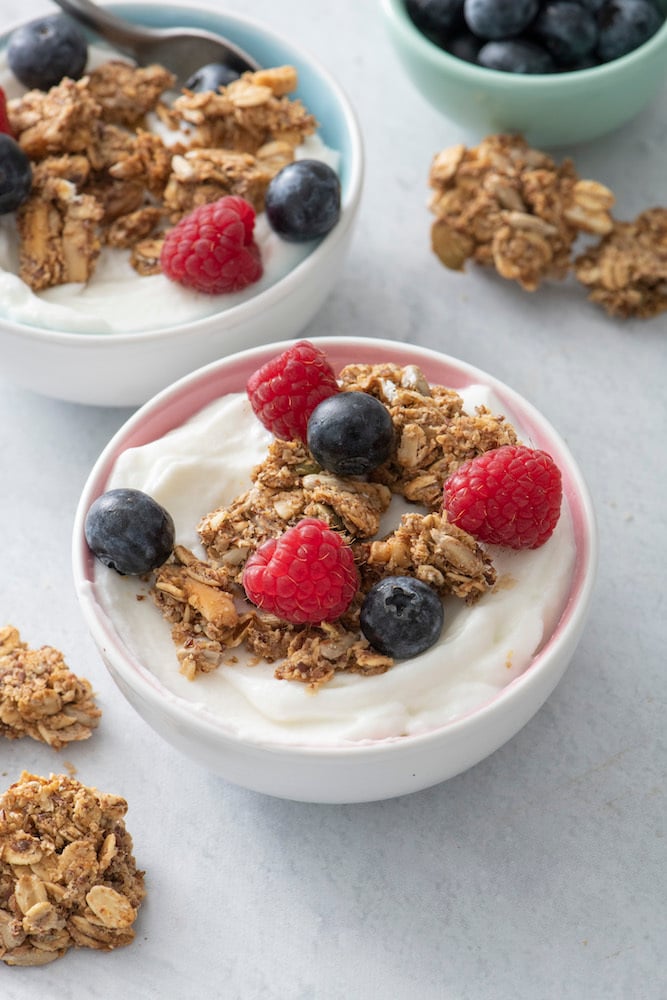 This recipe has been a family favorite for years. You can eat it right out of the oven, but my secret trick is to first let it sit out for an hour or so after baking until it's totally cool, then break it up by hand into big crunchy chunks (personally I prefer my granola chunky). Every bite has a deep nutty taste with a touch of sweetness and just enough spice to make it addictive to adults and kids alike. I like to make a big batch and store it in glass jars so that we always have some in the pantry.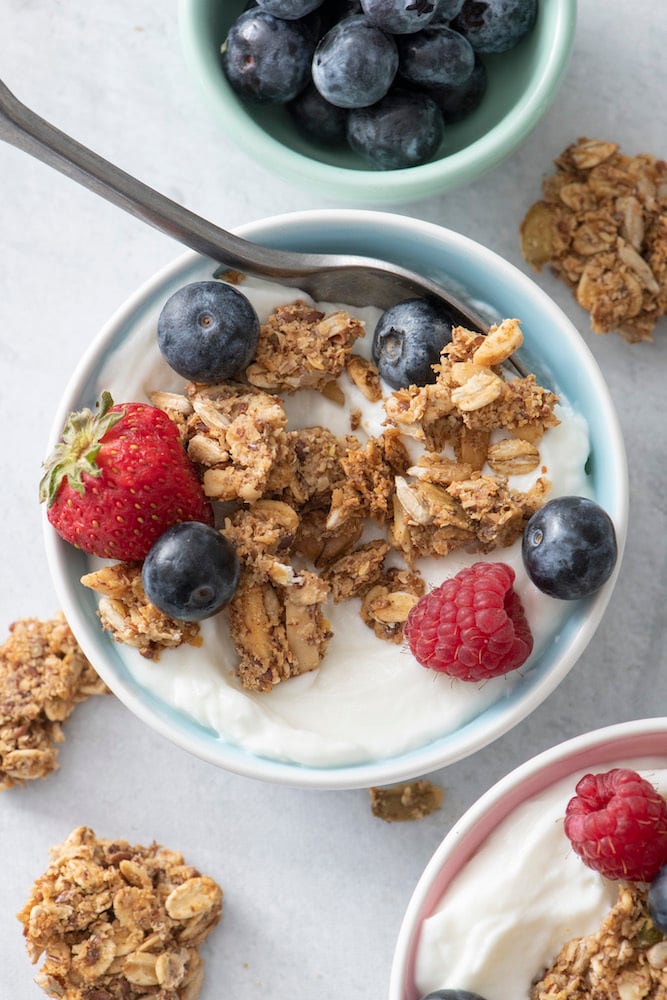 If you're trying to figure out what to make to get you eating on your path to health, you'll be glad you made a big sheet pan of this Super Healthy Granola!
Photography by Ivan Solis.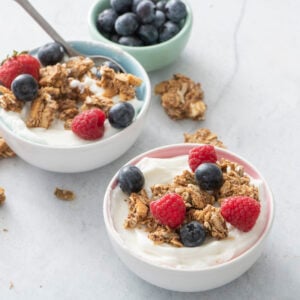 Super Healthy Granola
Instructions
Place all of the ingredients in a large bowl and stir well to combine.

Spread onto one large (or 2 small) cookie sheets lined with parchment paper and bake for about 1 hour and 15 minutes or until golden brown. Allow to fully cool before stirring and transfer to a storage container.
Video