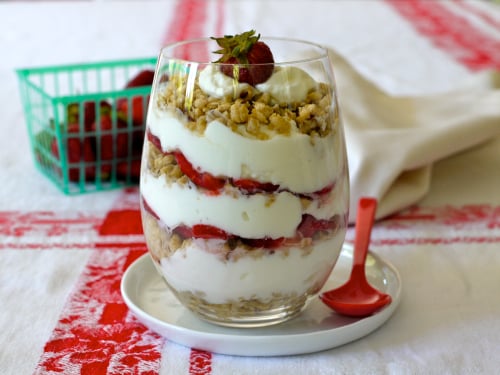 Forward this email to your husband, partner or child right away. O.K., Kenya and Chloe don't have email — most 5 and 3 year-olds (thankfully) don't — but you get my drift. You want this Strawberry Parfaits recipe in the hands of the people you love. You can leave them notes on their pillows, mention it in casual conversation at the dinner table, write a song about it or, just come right out and fess up to the fact that this is what you really want to have on Mother's Day morning — something fresh, simple, healthy and tasty…which is also a recipe everyone can make together.
And, it couldn't be easier, so there should be no excuse from your peanut gallery that they can't figure it out! If they have the ability to get to the market, take a glass out of the cupboard and layer juicy strawberries, tangy Greek yogurt and crunchy granola, then they can put this spectacular dish together. And if they forget it for breakfast, no worries. Just make sure it ends up being delivered to you in the afternoon (on a tray as you're lounging on the couch reading a good book) or maybe after dinner while they're all doing the dishes and you're chilling out on the side lines!
Doesn't that just sound lovely, moms? Well, a girl can always dream.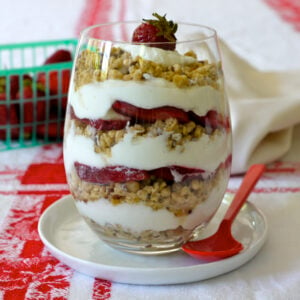 Strawberry Parfaits
Layers of juicy strawberries, tangy Greek yogurt and crunchy granola create a simple yet spectacular dish that anyone can make.
Instructions
Layer 1-2 tablespoons granola, then 2-3 tablespoons of greek yogurt followed by a layer of sliced strawberries. Repeat layering until glass or container is filled.