If you're not making Acai Bowls for your family, now is the time to start! What is an acai bowl? To me, it's basically a smoothie bowl, and to my kids it's one of their favorite nutritious breakfast recipes. In Los Angeles there are restaurants that serve only acai bowls with all of the accompaniments. They're that good!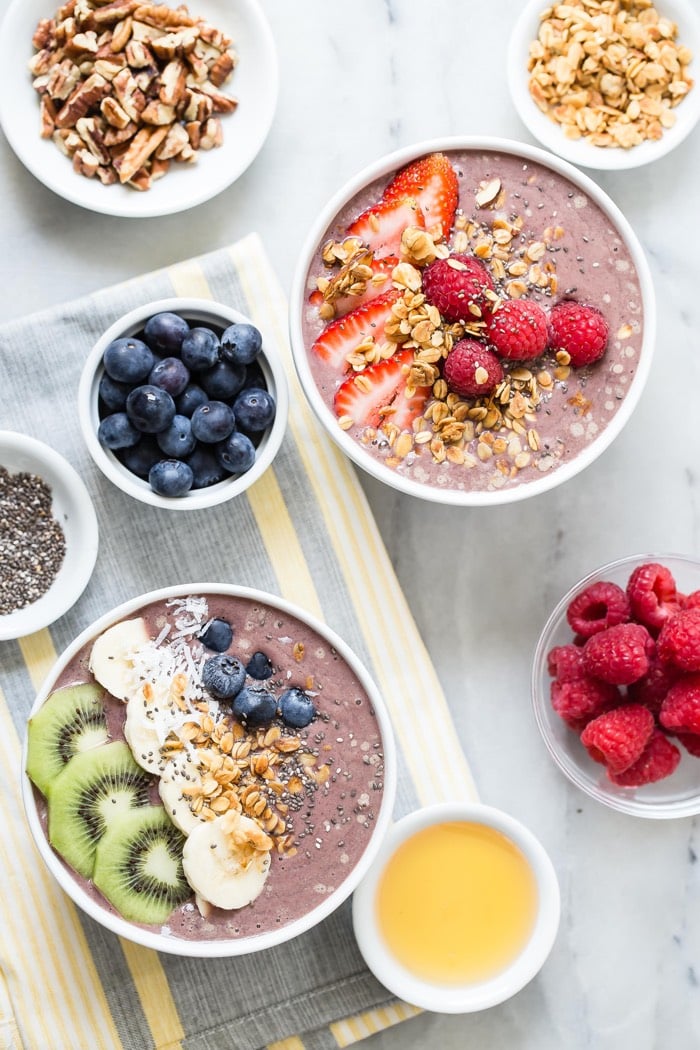 We know that berries are good for you, but acai berries are one of the healthiest you'll find. Acai is a cross between a blueberry and a grape, indigenous to rain forests in the Amazon and packed with antioxidants as well as being an immune and energy booster. The best part is that you buy it in the freezer section of your grocery, so you can get it year round.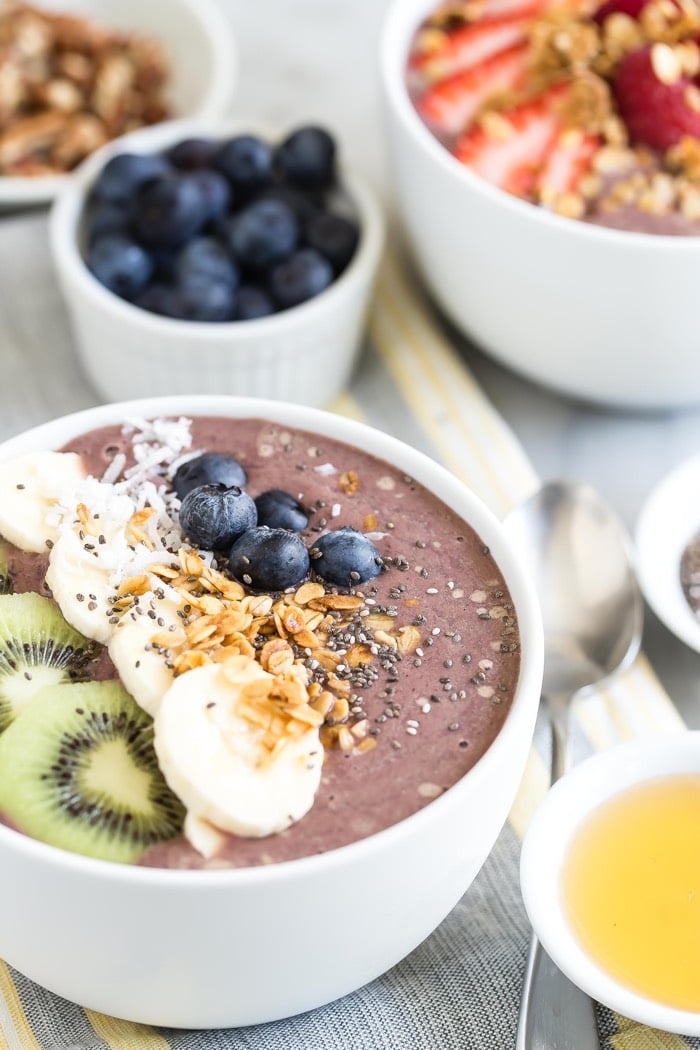 This recipe is super simple! Just crack a few packets of acai on your counter which makes it easier to remove the outside wrapping and popping it into the blender and toss it in with some milk and frozen banana to make a creamy mixture you pour in a bowl and then top with anything from a variety of fresh fruits, to coconut, granola and more. I offer you a ton of suggestions below, but I would love to hear your ideas as well in the comments.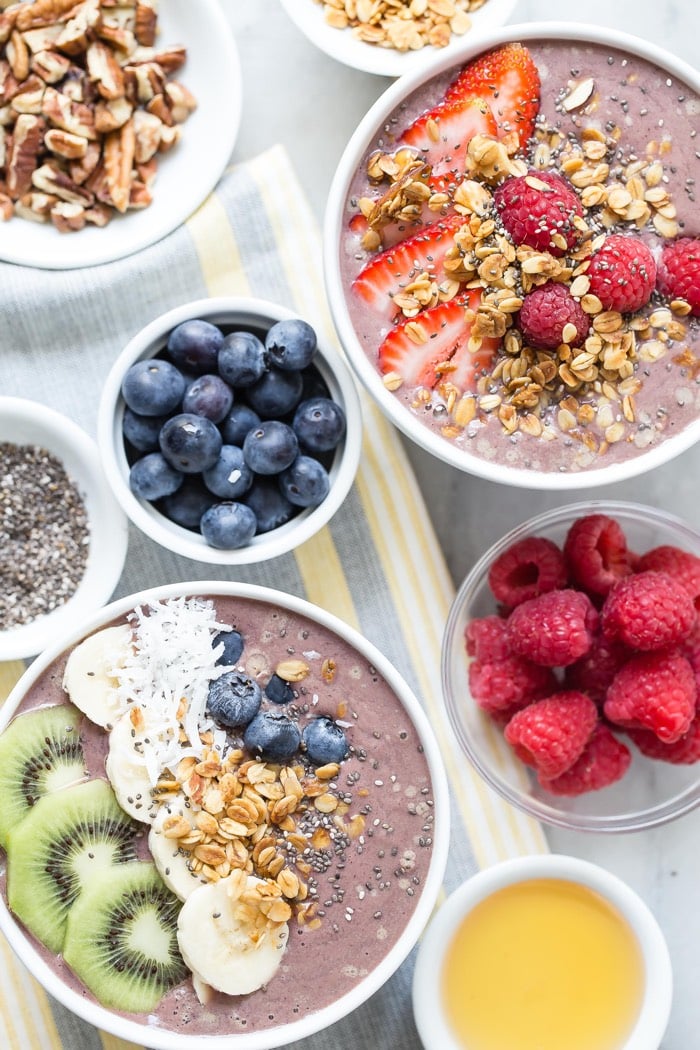 Want a new breakfast recipe that works as well for your baby as it does for your big kid? Acai bowls are a total win!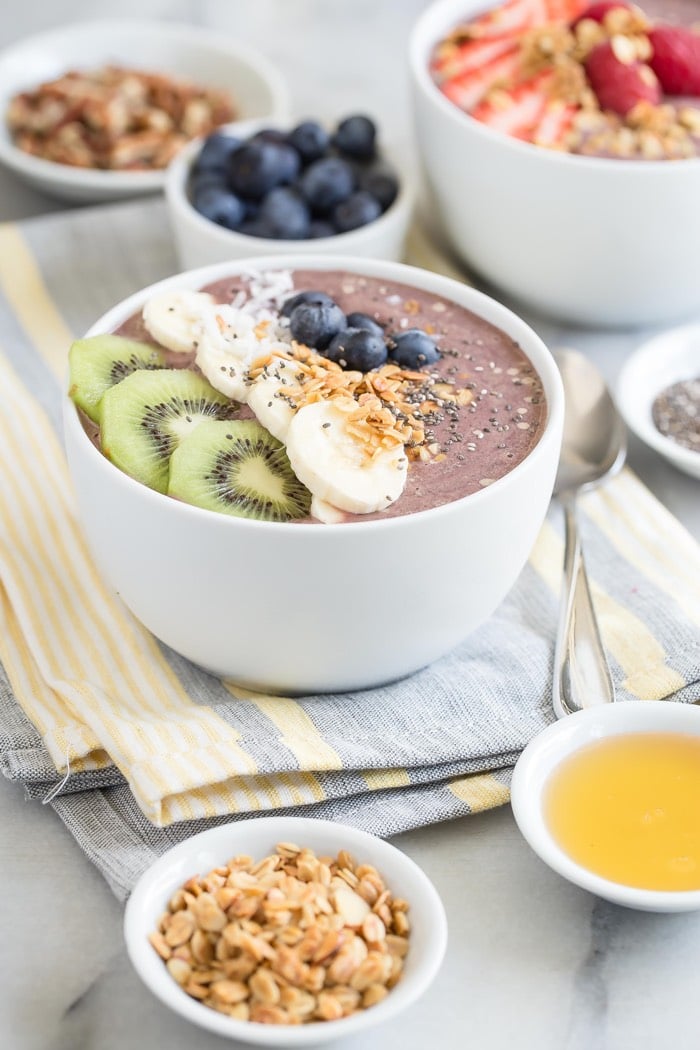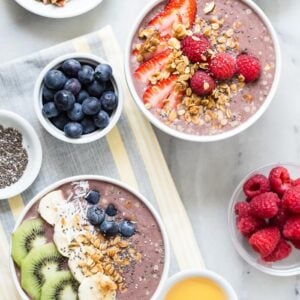 Acai Bowls
Acai Bowls are more simple to make at home than you might think. Plus they're super healthy, customizable to your tastes and 100% delicious!
Ingredients
2

packets

frozen, unsweetened acai

1

large

frozen sliced banana

1/3 – 1/2

cup

almond, rice, or cow's milk, or coconut water

toppings of choice: strawberries, blueberries, bananas, granola, shredded coconut, nuts and seeds
Instructions
Rinse Acai packets under cold water for 10 seconds. Cut open, remove plastic and place in a blender.

Add frozen bananas and milk and blend until smooth. Stop and scrape down sides if necessary.

Place in a bowl and top with any of your favorite toppings.
Video