Strawberry Lemon Hand Pies are a perfect hand-held treat! Filled with juicy strawberries and just a touch of lemon juice, this easy to make dessert is a satisfying treat any time of day.
I love making these Strawberry Lemon Hand Pies because they're so simple and fun to make with my kids, not to mention super delicious! Gemma loves helping me cut out the shapes from the pie dough and filling them up with the tasty strawberry mixture. All of my kids' eyes light up any time they hear I'm making this recipe.
Strawberry Lemon Hand Pies have everything you love about pie – delicious fruit filling and golden brown crust – in a hand held version, which is great for little ones! I love the ease of not having to slice a piece of pie and just being able to grab one of these for a quick mid-day treat. Anytime you're trying to figure out what to do with extra strawberries, this recipe should definitely be on your list!
Another fun thing I like to do when I'm making hand pies – whether it's this recipe, Apple Pie Turnovers or Raspberry Cream Cheese Heart Tarts – is use different shaped cookie cutters. I have a drawer full of them so I get super excited when I get to use them for a recipe! Yes, the top of a glass will work if you don't have any cookie cutters, but how cute are these heart, flower or animal shaped ones?!
This recipe is great for a crowd too. If you're planning on having a big backyard BBQ anytime soon you should 100% make these! They're great because they can be made ahead of time and frozen so when everyone is headed over all you have to do it pop them straight from the freezer into the oven and enjoy the party!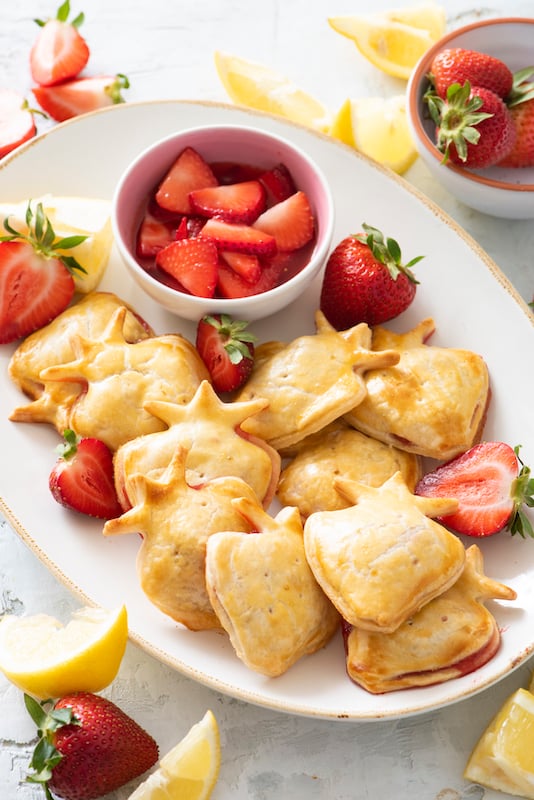 Let me know in the comments what you think! And as always, tag me on social media so I can see all of your creations.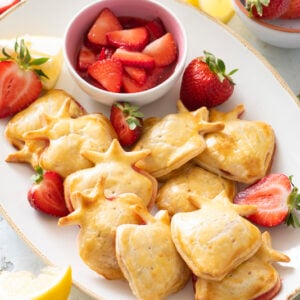 Strawberry Lemon Hand Pies
Ingredients
3/4

cup

fresh strawberries, tops removed and sliced

1/4

cup

strawberry preserves

1

tablespoon

lemon juice

1

package

pie dough or homemade dough (recipe linked below)

1

large egg, whisked (for egg wash)
Instructions
Preheat oven to 425°F. Line a rimmed baking sheet with parchment or a silicone baking mat.


Toss the first 3 ingredients in a bowl and set aside.

Roll pie crust on a parchment-lined or floured surface.

Take one 4-inch round cookie cutter (or the top of a drinking glass) and cut out circles out of the pie crust.

Place 1 heaping tablespoon of the strawberry mixture in the center of half of the cut outs. To prevent the juice from seeping out the sides of the pastries add less of the juice and more of the pieces of strawberry.

Dip your finger in a bowl of water and brush just the outside border of each cut out. Place a cut out of dough over the strawberry mixture and press to adhere or use the tines of a fork to press and seal the dough to each other.

Transfer the hand pies to the prepared baking sheet.

Continue to make the remaining hand pies.

Use a toothpick to poke 3-4 holes in the top of each turnover and brush with the yolk wash.*

Bake for 15 minutes, until crust is golden brown. Allow to cool on baking sheet for 10 minutes and then serve.

*If anyone in your home has an egg allergy you can skip this step.

Note: Strawberry Lemon Hand Pies can be placed on baking sheets in the freezer for one hour and then placed in labeled containers for freezing up to 3 months. When ready to bake, bake for 20 minutes in oven at 425° F.