Apple Pie Turnovers are fall perfection. Easy to make, fun to hold for little kids hands or big adult paws and a great use for all those apples you've been picking
Winter doesn't offer the same kind of variety of fruit to choose from that other seasons do, but one thing that most people can get their hands on locally in the cooler months are a wide array of apples. One can often find my kids munching away on an apple or two at breakfast time or as their dessert after dinner, but they also get super excited about these delectable Apple Pie Turnovers. Get ready for a life changing family recipe!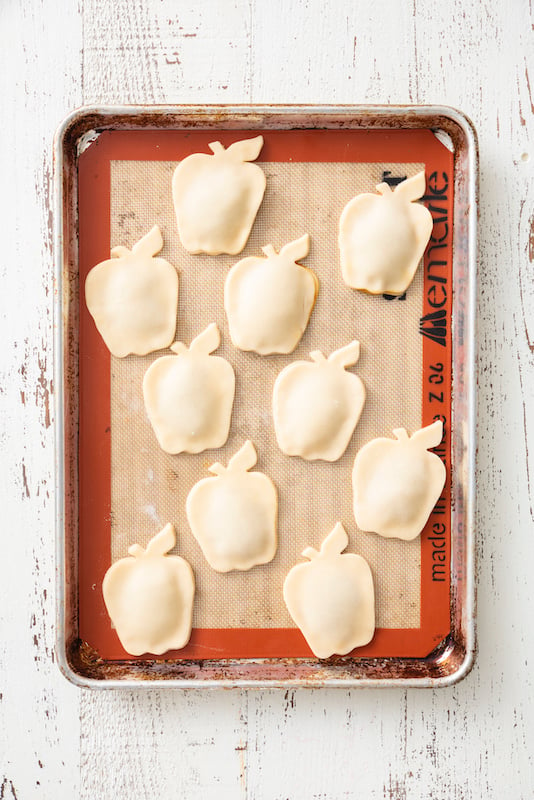 These handheld turnovers aren't anything like the baked apple pies made with stuff like palm oil and high fructose corn syrup that you got as a kid from at McDonald's (and probably loved in spite of what they put in them). These Apple Pie Turnovers are made with cubes of fresh apples, ground cinnamon and a touch of brown sugar which gives them a yummy caramel flavor. You can even freeze a few so that all you have to do whenever you are craving one (or two) is pop them in the oven and within 20 minutes you'll have an apple-icious treat to warm you up in winter or make everyone jealous come spring!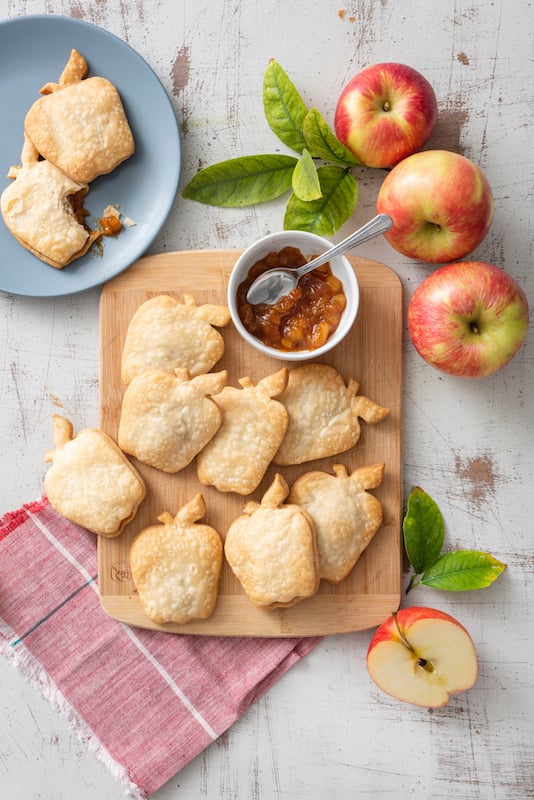 Whenever I need to make something special for a pot luck, school event or even something special to add to the kids lunchbox this is my go to. You can use any type of cookie cutter, but this apple shape makes them even more special with a dose of whimsy.
Don't have time to make homemade pie dough? You can 100% use store bought dough with amazing results. I use it in a pinch all the time.
Now the big question: what type of apple to use. The best part about these Apple Pie Turnovers is the flexibility in types of apples that work. I've used Fuji, Pippin, Gala and even Granny Smith and they were all a winner. It just depends on your preference. Are you more of a sweet or tart apple lover?
If you picked too many apples at the orchard and you're still looking for more apple desserts check out this Gluten Free Apple Pie, Apple Pie Cups or my hubby's favorite Apple Almond Cake.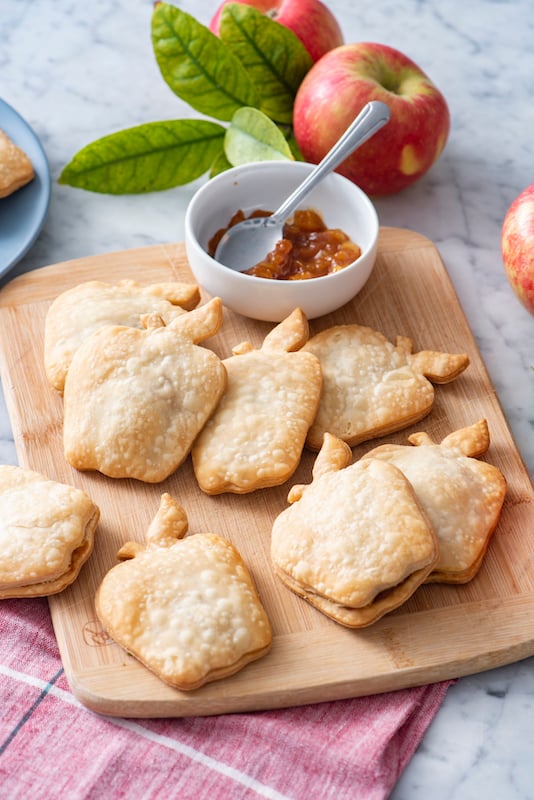 If you make them let me know in the comments below!
Apple Pie Turnovers
Ingredients
1

large

apple, peeled, cored & diced (about 1 cup)

1

teaspoon

ground cinnamon

3

tablespoons

light or dark brown sugar

1

14 ounce box refrigerated pie dough

1

egg yolk for wash
Instructions
Preheat oven to 425° F. Line a rimmed baking sheet with parchment or a silicone baking mat.

Toss the first 3 ingredients in a bowl and set aside.

Unroll your pie crust on a parchment-lined or floured surface.

Take one 4-inch round cookie cutter (or the top of a drinking glass) and cut out circles out of the pie crust.

Place 2 teaspoons of the apple mixture in the center of the circle.

Brush half of the border on each round with some of the beaten egg yolk*. Fold each round over to make a half-moon shape and then crimp the edges shut with the tines of a fork.

Transfer the turnovers to the prepared baking sheet.


8. Continue to make the remaining turnovers.

Use a toothpick to poke 3-4 holes in the top of each turnover and brush with the yolk wash.**

Bake for 18 minutes, until crust is golden brown. Allow to cool on baking sheet for 10 minutes and then serve.

* If anyone in your home has an egg allergy you can skip this step.


**Apple Pie Turnovers can be placed on baking sheets in the freezer for one hour and then placed in labeled containers for freezing up to 3 months. When ready to bake, bake for 20 minutes in oven at 425° F.
Nutrition
Calories:
80
kcal
|
Carbohydrates:
11
g
|
Protein:
1
g
|
Fat:
3
g
|
Cholesterol:
15
mg
|
Sodium:
50
mg
|
Fiber:
1
g
|
Sugar:
5
g