Apple Almond Cake is one of those recipes that just makes me cherish this time of year. The sweetness of the apples, combined with the crunch of the almonds provide for a cake that your entire family is sure to enjoy.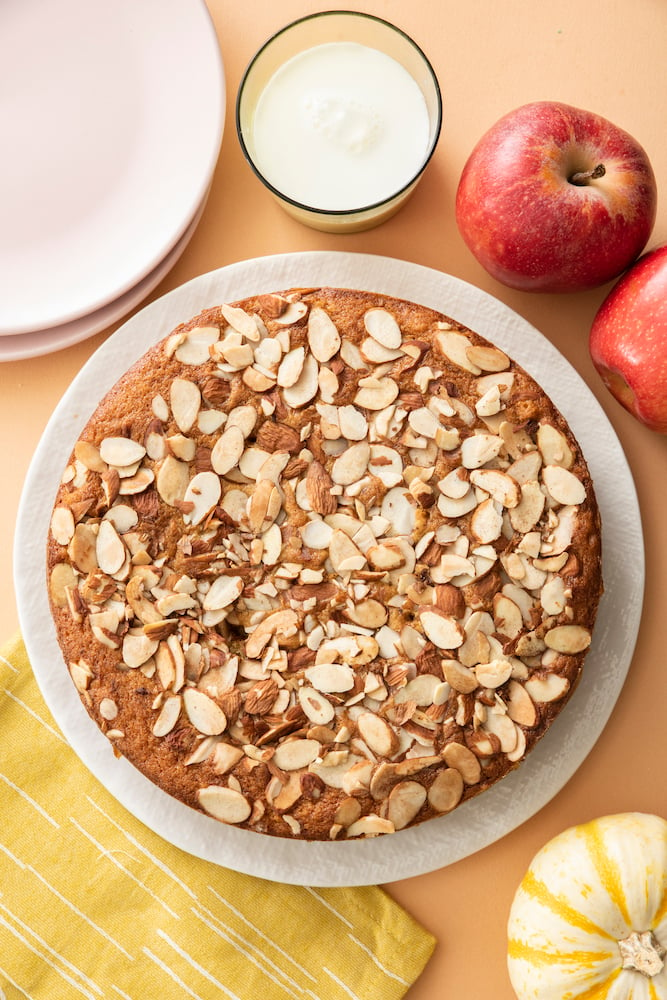 This year has felt like an exceptionally rough one. I think I can confidently say that's probably the case for a lot of you out there, too. In the midst of so much uncertainty, the added pressure of now taking on more roles around the house while trying to keep up with work has felt quite heavy at times. However, for the first time in many years our family is not getting on a plane during the holidays and, for better or worse, it feels like this year's break will feature just a bit more of that all too rare freedom I vaguely remember having before I had kids.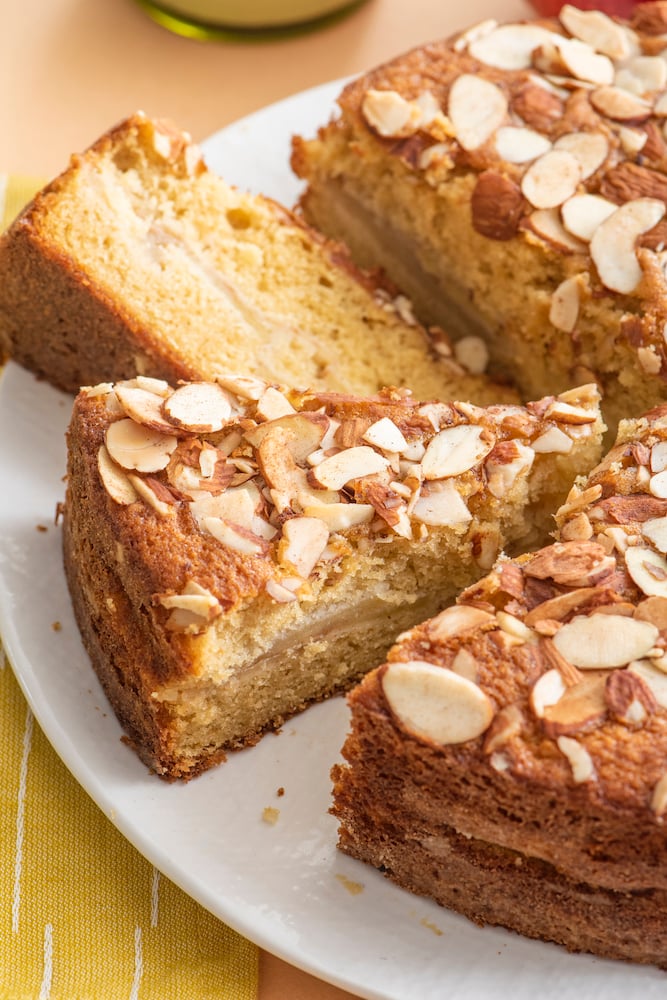 Even in the midst of this year, I'm looking forward to the certain kind of calm that autumn brings. Maybe it's the winding down of the year, but I find myself trying to really take in the moments. Everything moves a bit slower and there seems to be more hours in the day to relax and actually enjoy making meals. Instead of chopping and stirring as fast as possible to get a meal done as I normally do, I try to be mindful and appreciate all the many pleasures of cooking.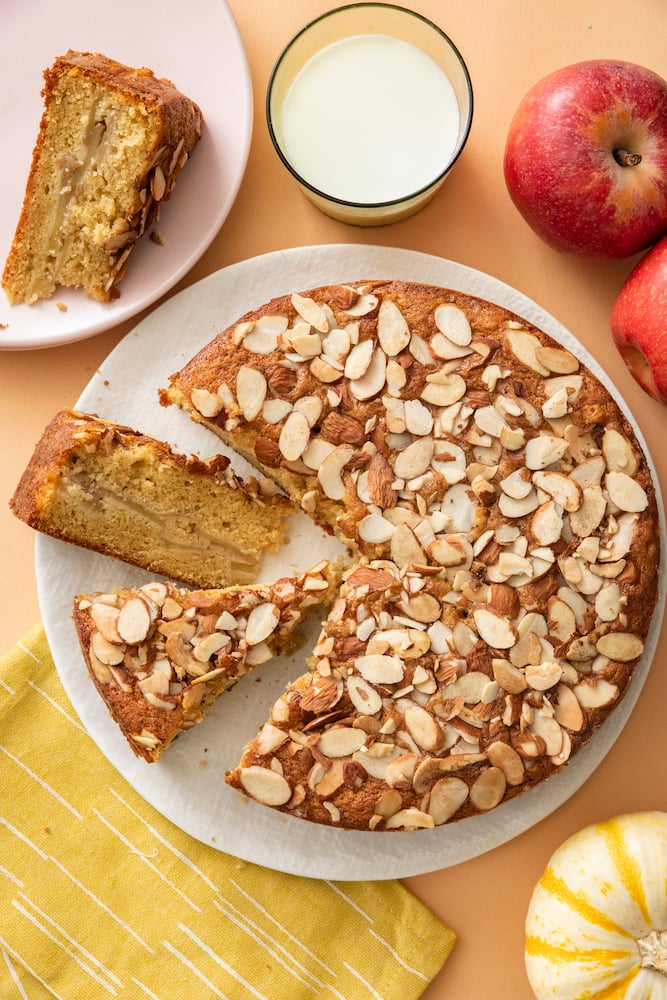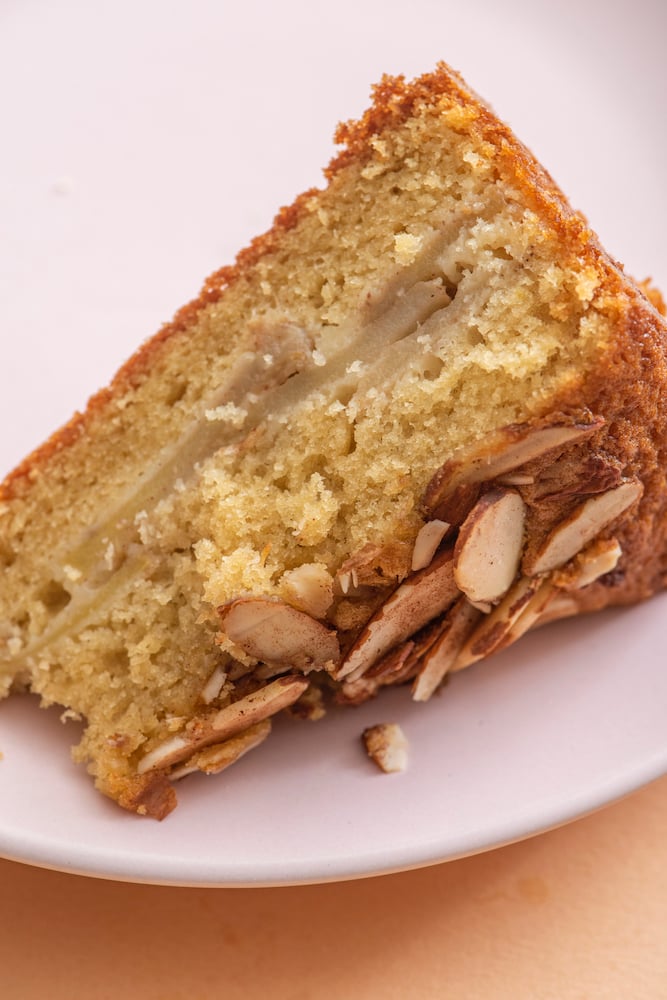 This past Sunday I bought a variety of apples at the farmers' market to bake a simple apple cake. Nothing fancy, just a heartwarming cake to make the house smell of fragrant apples, spicy cinnamon and toasty almonds. It's a treat everyone can enjoy during this time of year when we can all reflect on those things we are thankful for and take advantage of the fact that, at least for a bit, things finally move…just…a bit…slower.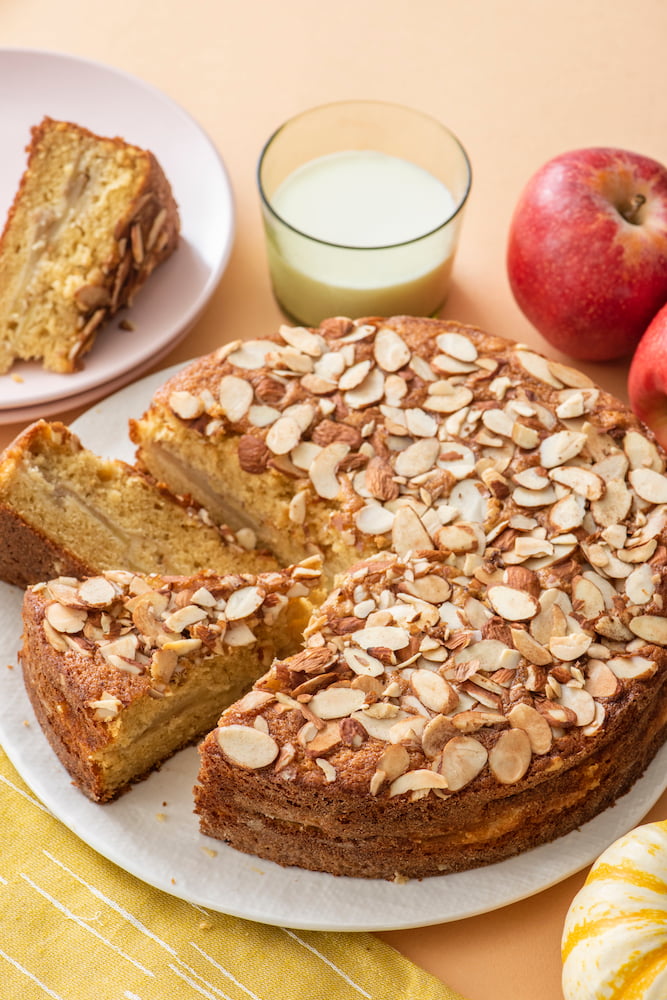 Sending you so much love and warmth this holiday season.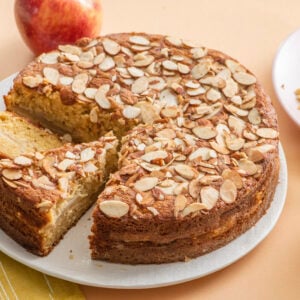 Apple Almond Cake
Instructions
Preheat oven to 350ºF. Toss the sliced apples with the 2 teaspoons cinnamon and set aside.

In a medium bowl, sift together the flour, baking powder and salt.

In a separate bowl, cream together the butter and brown sugar until light and fluffy, about 3 minutes.

Add the eggs, one at a time, beating after each addition. Gradually add in half the flour, then the milk, then the remaining flour.

Butter and flour a 9 inch springform pan. Pour half the batter in the prepared pan, layer all the apples evenly over the batter, and top with the remaining batter.

In a small bowl, combine the slivered almonds and the remaining ground cinnamon. Sprinkle this mixture over the top of the cake.

Bake for 35-45 minutes, or until the cake is golden and a wooden pick inserted in the center comes out clean.
Nutrition
Calories:
330
kcal
|
Carbohydrates:
52
g
|
Protein:
5
g
|
Fat:
12
g
|
Cholesterol:
25
mg
|
Sodium:
300
mg
|
Fiber:
2
g
|
Sugar:
34
g