Ever get a hankering for apple pie but don't have hours to spend making one? These Apple Pie Cups are perfect for you! And really anyone, because who doesn't love apple pie?!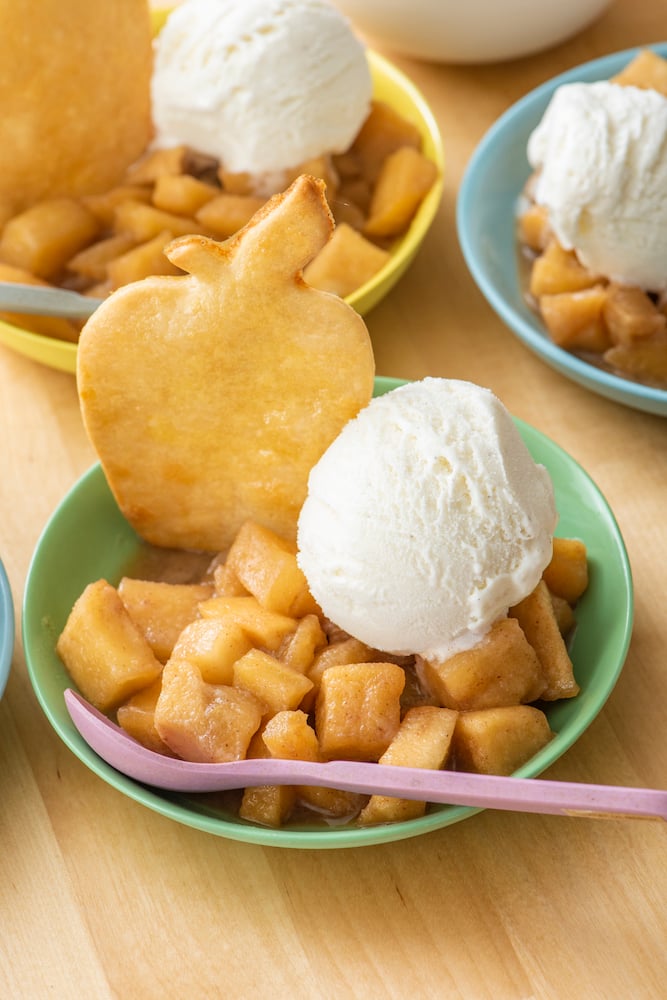 Wonder what happens when I go apple picking? I tend to get a just a wee bit over zealous and bring home bushels and bushels of apples. I pick everything from Galas to Granny Smiths to Arkansas Blacks and more. Some of the apples I give away to friends, some I'll cut up for my kids to have as a snack and the rest I used to make a bunch of apple recipes like Apple Pie Turnovers, Apple Chips, Fruit and Oat Crumble Bars, Apple Applesauce Muffins, Chocolate Covered Apple Lollipops and these Apple Pie Cups.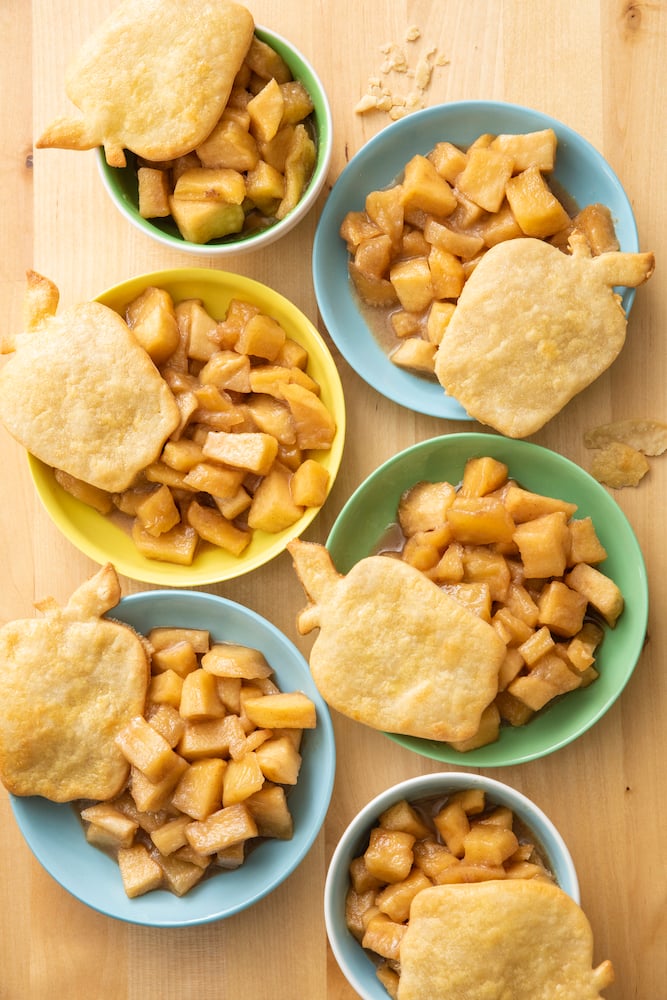 I really enjoy making a homemade apple pie, but it takes some time and I wanted to come up with a version that was a bit less labor intensive. My thought was to deconstruct the traditional apple pie and make something whimsical and less formal than what we're used to eating.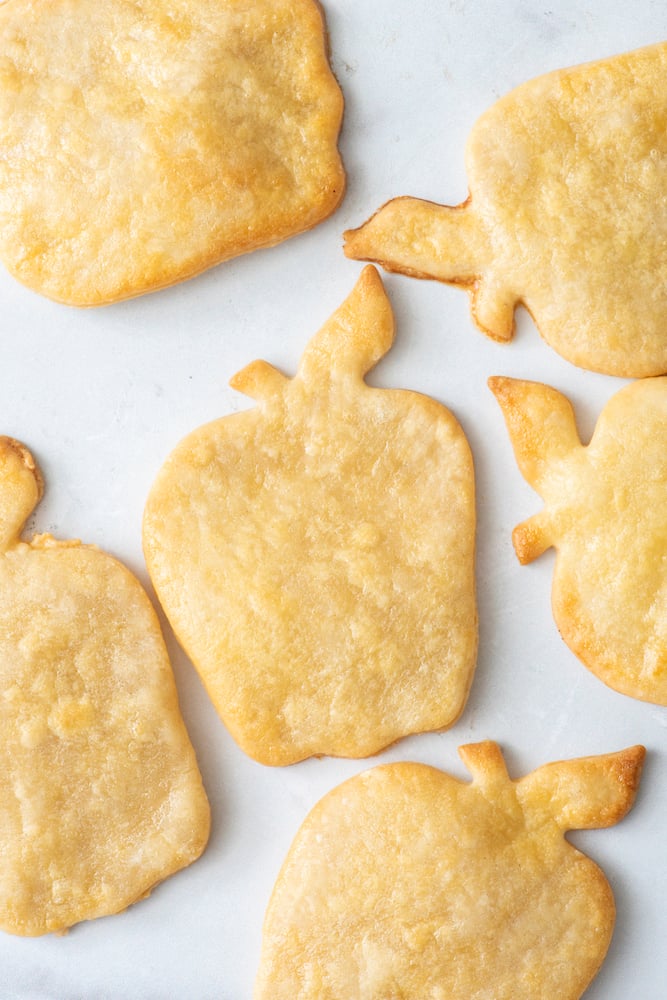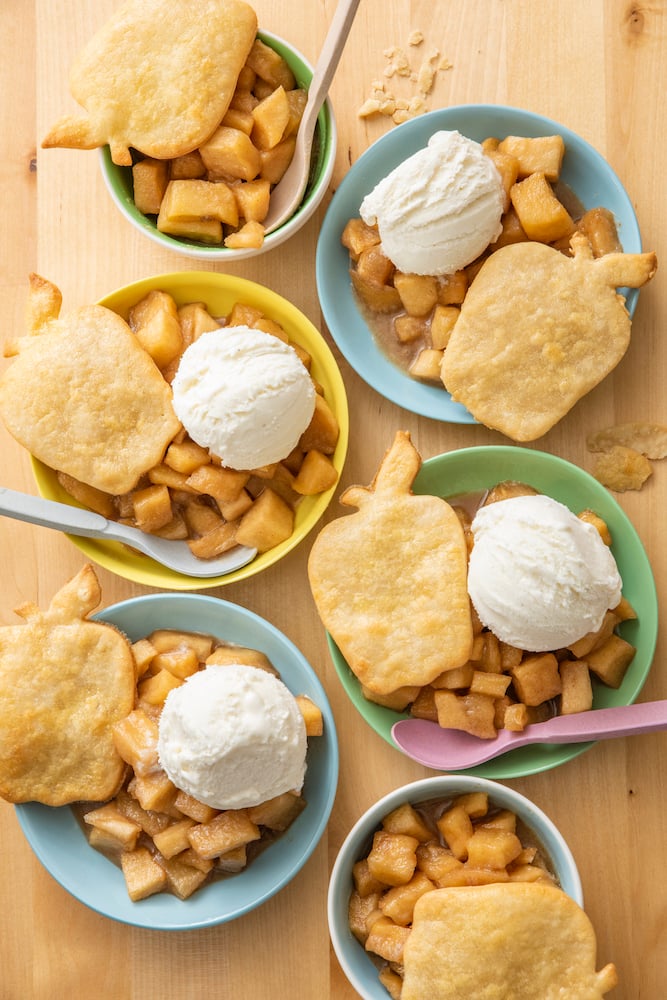 These Apple Pie Cups not only deliver as a serious treat, but they're also incredibly simple to prepare. I started by sautéing the apples and baking the apple cutouts in the afternoon and then assembling the dessert that night after dinner. You could certainly serve the sweet buttery apples warm, but at room temperature the ice cream doesn't melt as fast.
Luckily I had so many apples leftover from apple picking that I made double the amount of apple mixture to add to my kids' lunches and spoiled them by giving it to them after dinner several times in one week! Why? I'm just a sucker for being told after I make anything, "this is the best thing I've ever had." It works every single time. Flattery will get my kids everything.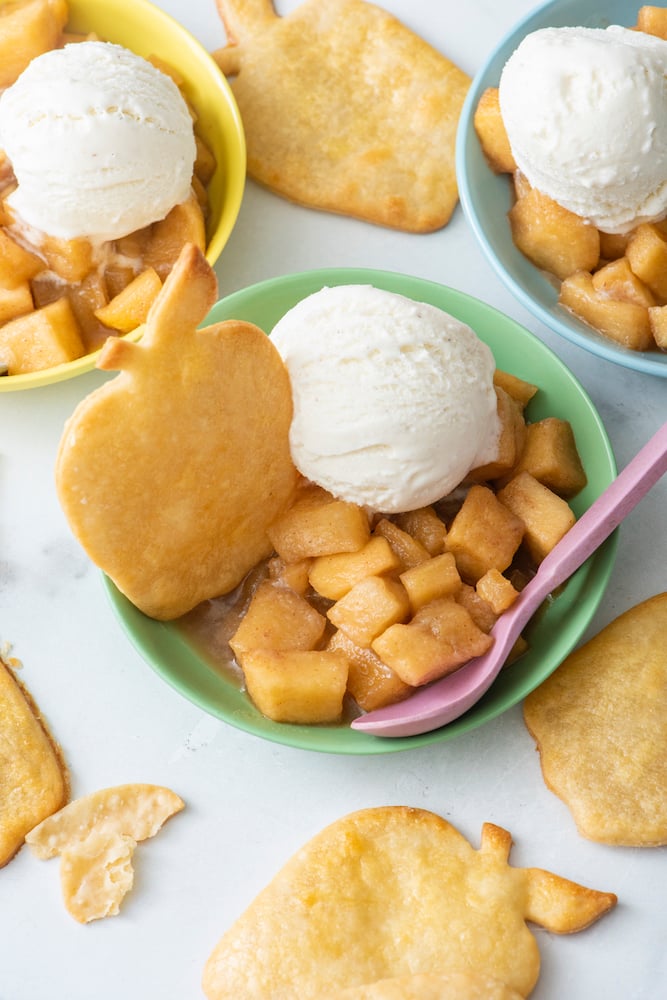 What are some of your favorite recipes to make with apples? Let me know in the comments what you think of this delicious treat!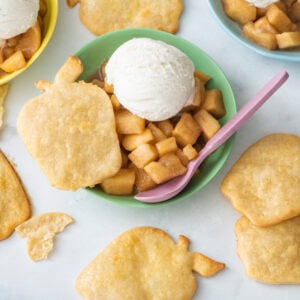 Apple Pie Cups
Ingredients
6

tablespoons

unsalted butter, softened

10

apples, peeled, cored and cut into 1-inch pieces (Jonathan, Honey Crisp, Red Rome, Gala)

1

cup

packed brown sugar

1

teaspoon

ground cinnamon

1

teaspoon

vanilla extract

1/4

teaspoon

kosher salt

1

recipe

pie dough, see below for recipe link

1

large

egg, beaten

vanilla ice cream
Instructions
Preheat the oven to 375F degrees. Line a baking sheet with a Silpat or parchment paper.

Place the butter in a large sauté pan over medium heat until fully melted.

Add the apples, sugar, cinnamon, vanilla extract and salt and stir occasionally for 10-12 minutes or until apples are fork tender. Remove from heat and allow to cool for about 15 minutes.

Meanwhile roll out pastry dough to about 1/4 inch thick. Using a cookie cutter ( preferably an apple shape, but any shape will work) cut out pastry and place onto baking sheet. Brush the pastry with the beaten egg.

Bake pastry for 10-12 minutes or until golden brown. Remove and let cool for 5 minutes

Divide the apple mixture into 8 bowls or glasses, top with one scoop of vanilla ice cream and place 1 pastry apple on top.