Fruit and Oat Crumble Bars are a delicious, healthy snack for when that midday hunger that hits. They're also a great addition to your kids' school lunch boxes!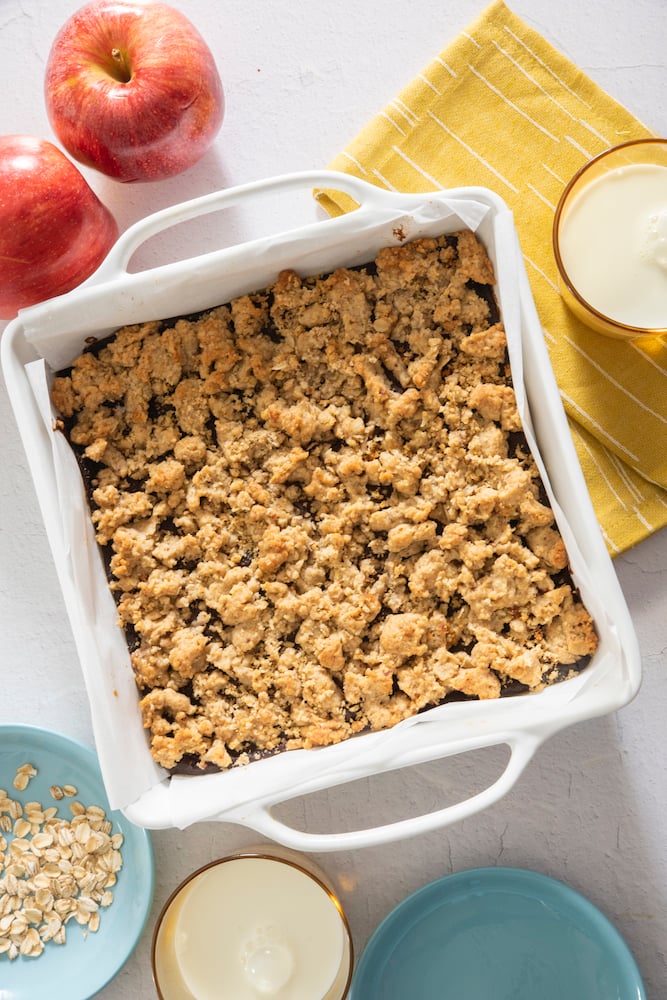 When I set out to create this recipe, I wanted to make fruit bars that were more on the soft, chewy side than crunchy and dry. I knew this would be a challenge, but I think I nailed it after a couple tries! The first go, with a slightly different recipe and cooking time, the crust came out too dry, BUT on the second try, with a few tweaks, I came up with this version. These Fruit and Oat Crumble Bars are so yummy and the perfect breakfast, lunch or snack.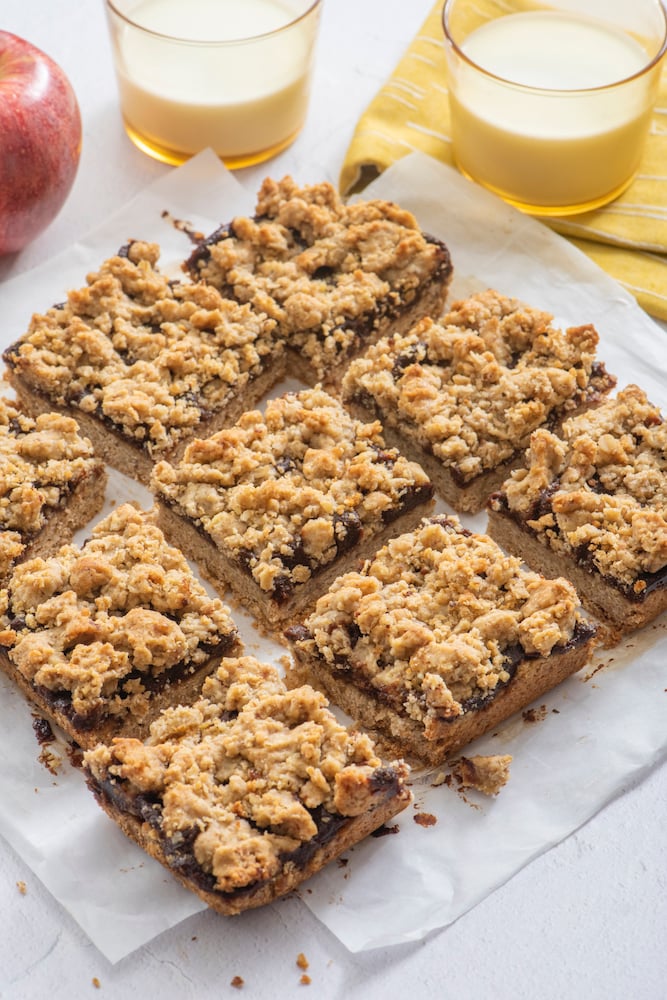 When I was pretty sure I perfected these bars, I tested them out on the kids and rejoiced as they dug into square after square of this treat. I have to say, these go down as one of our family's favorite recipes because they're healthy and packed with fiber and other nutrients, as well as being sweet but not loaded with sugar and the other junk you'll find in a store bought-equivalent.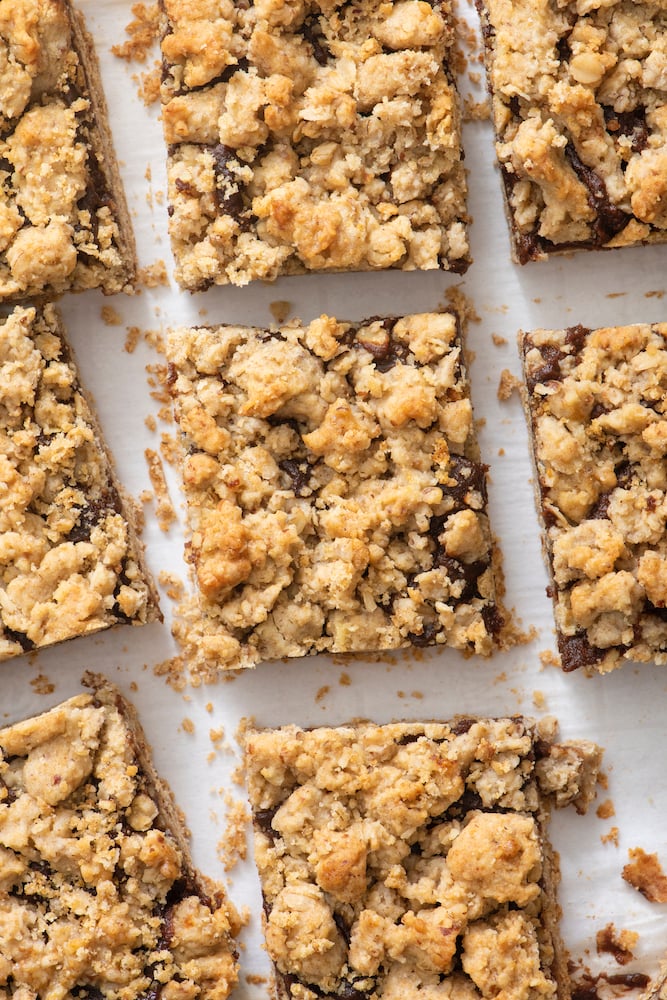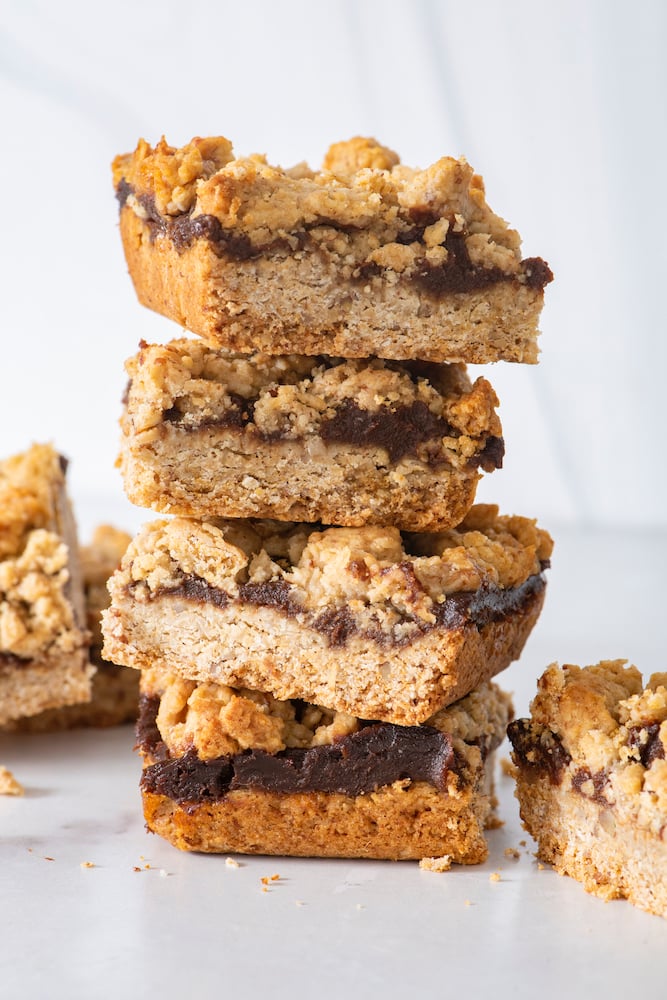 Fruit and Oat Crumble Bars were such a big hit, I guarantee you I'll be coaxed into making them every week by one of my kids (or my husband!). I love creating bar recipes because they're easy to make and great for on the go. If I don't make the Crumble Bars I'll probably making Protein Cereal Bars, Chocolate Chip Granola Bars or Fruit and Seed Bars to name a few.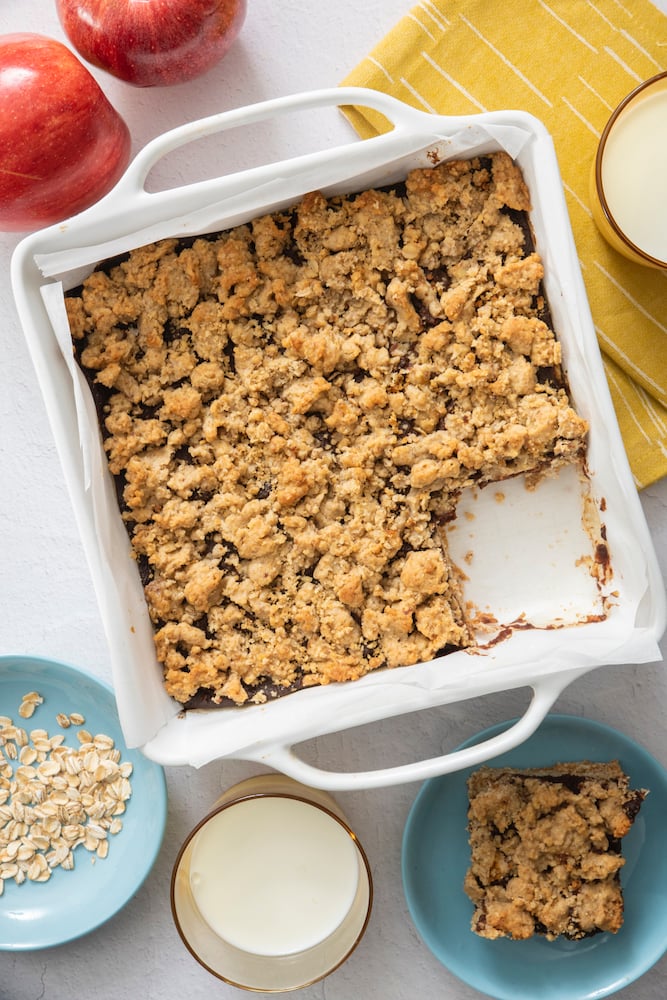 Give these a try and let me know what you think! I bet you'll be making them as much as I will be this winter. Tag me on social media so I can see your creations!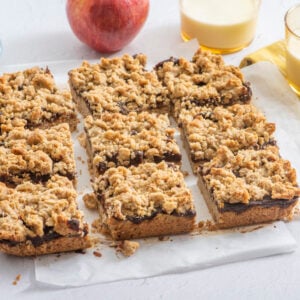 Fruit and Oat Crumble Bars
Ingredients
2

cups

old fashioned oats

1

cup

all purpose flour

2

tablespoons

wheat germ

1/2

teaspoon

baking soda

10

tablespoons

butter

1/3

cup

chopped nuts (I used almonds)

1/4

cup

honey

2

cups

apple butter or preserves
Instructions
Preheat oven to 350 degrees.

Place all the ingredients except the apple butter or preserves in a food processor.

Pulse until the ingredients are combined and oats and nuts are in small pieces.

Press all but 1 cup of the mixture into the bottom of a greased 9 x 9 inch pan lined with parchment paper.

Cover the oat mixture with apple butter or preserves.

Crumble the remaining 1 cup of oat mixture over the apple butter or preserves.

Cool, use parchment paper to move bars to a cutting board and cut into bars.*

*For perfectly cut bars, refrigerate for an hour before cutting into squares.

Nutrition
Calories:
220
kcal
|
Carbohydrates:
32
g
|
Protein:
4
g
|
Fat:
9
g
|
Cholesterol:
15
mg
|
Sodium:
40
mg
|
Fiber:
3
g
|
Sugar:
12
g