These Strawberry Yogurt Ice Pops are a super simple, healthy treat and the perfect way to beat the summertime heat!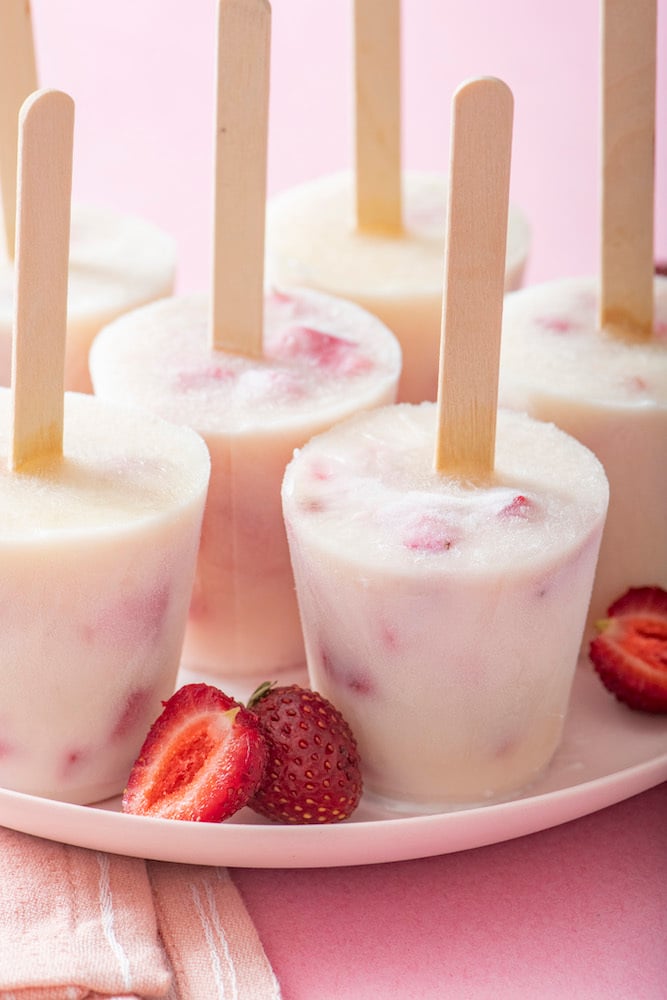 This time of year nothing is more refreshing than a popsicle, especially when it's one of these naturally sweet Strawberry Yogurt Ice Pops. These little frozen treats have been stocked in our freezer all summer long. I love making them for the kids because I know they're getting a healthy treat that's not packed full of added sugar. Plus they love them so it's a win-win!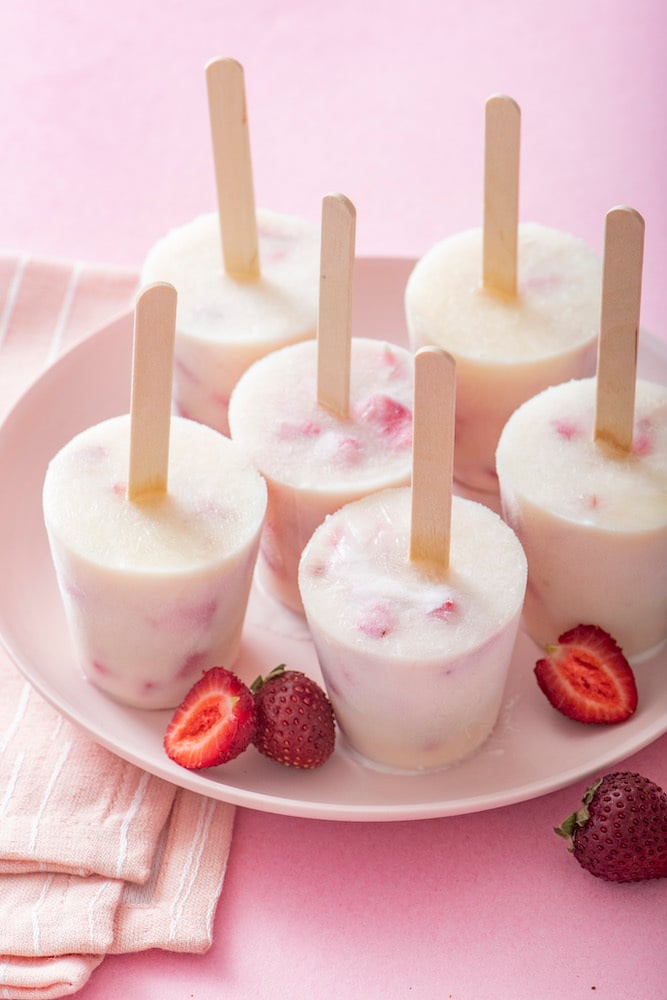 I made these using paper cups and some popsicle sticks for ease, but you can absolutely use any of your popsicle molds if you have them. I feel like our freezer is full of different homemade popsicle variations because they're so easy to make and so much healthier than store bought ones. Right now we've got Strawberry Popsicles, Coconut Fruit Popsicles and Melon Popsicles in our freezer and they're going fast!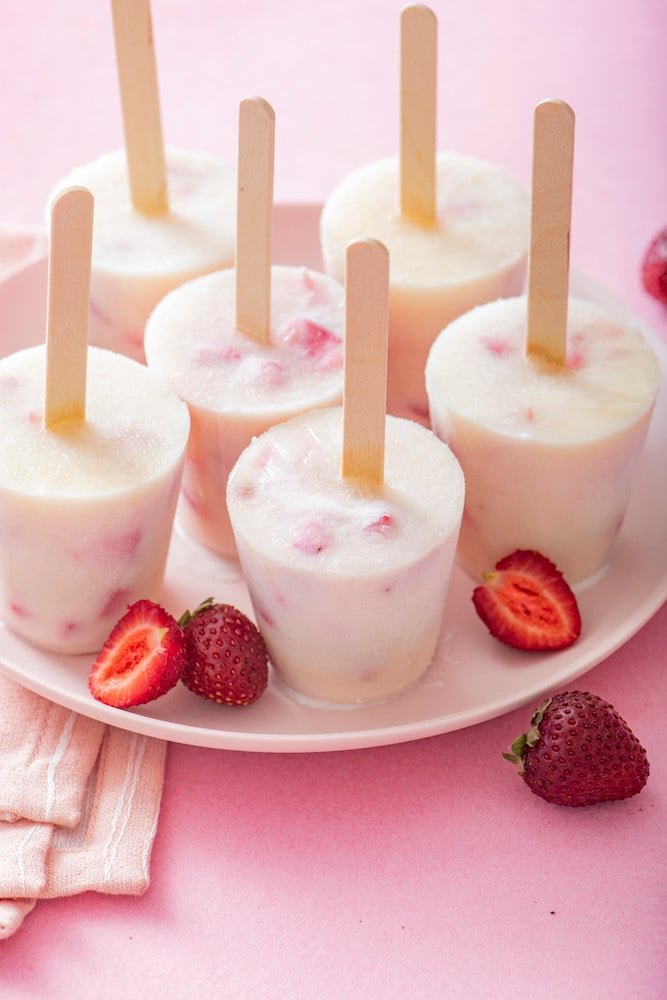 Next time you're wanting to give your kids a treat that isn't going to put them in a sugar coma, try out these Strawberry Yogurt Ice Pops. I promise you won't be disappointed. They're the best homemade popsicle that's only a few ingredients that most likely you already have on hand.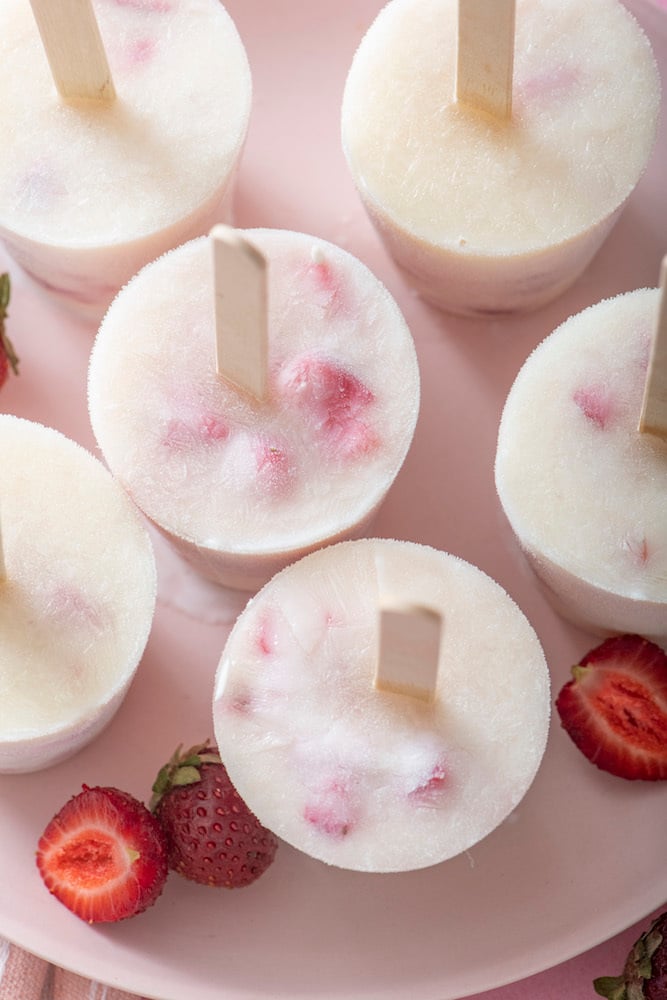 Every week at the farmers market I buy tons and tons of berries. Usually they get gobbled up in a few days, but every so often I find myself with some strawberries that are about to have seen better days. This recipe is a great way to use up the strawberries that are on the verge of going bad. Pop them into these popsicles and enjoy them in the coming weeks! If you're looking for more recipes to use your strawberries in, try out Strawberry Muffins, Strawberry Peach Smoothie or Strawberry Fruit Leather.
Are you making homemade popsicles this summer? Let me know what you think of these by tagging me on social media!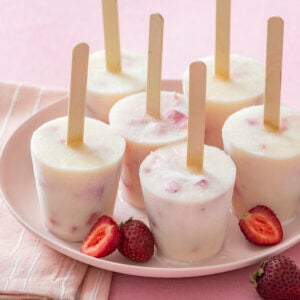 Strawberry Yogurt Ice Pops
These Strawberry Yogurt Ice Pops are a super simple, healthy treat and the perfect way to beat the summertime heat!
Instructions
In a blender place 1 cup strawberries, milk, yogurt and honey and blend for 1 minute until smooth.

Place a strawberry slice in the bottom of a 3 ounce dixie cup. Repeat with the other cups.

Fill each cup 3/4 of the way full with the strawberry yogurt mixture and place them in the freezer.

Remove cups from the freezer after 1 hour and stick a popsicle stick into the center of each cup.

Place cups back in the freezer and let freeze for an additional 4-6 hours.

Remove cups from freezer, peel off the paper and serve immediately!