Packed with fresh fruits or vegetables these Rainbow Fruit Popsicles will brighten your day from the moment you see them. Plus they're super nutritious and delicious in every lick.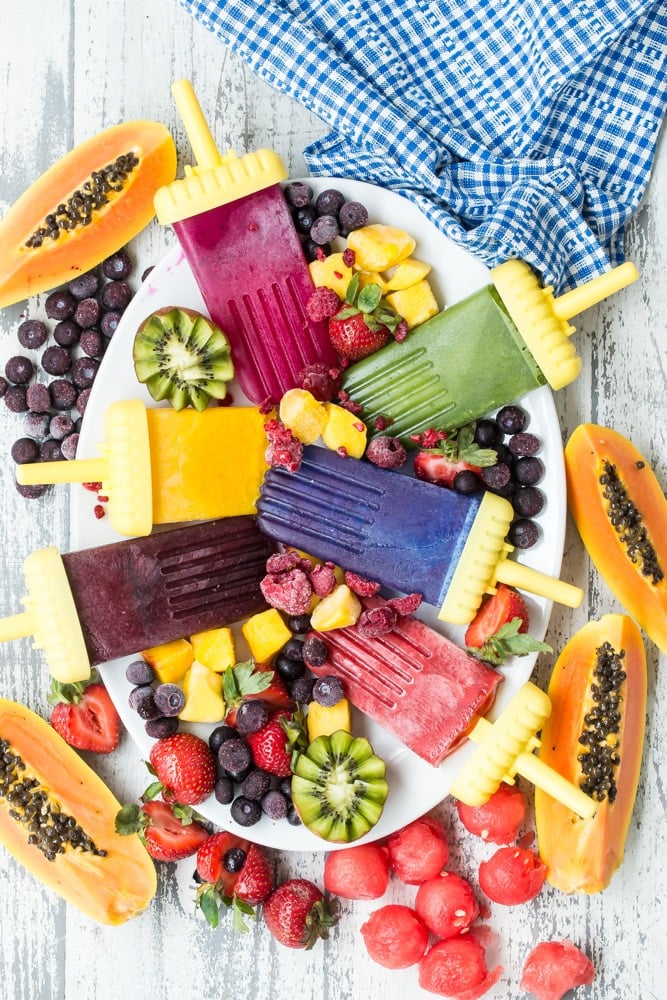 My kids would eat popsicles 24/7 if I let them and especially in summertime when it's warm outside Even though it's easy to grab for a box at the grocery store homemade popsicles like Pea Pops, Rainbow Yogurt Popsicles and Green Ice Pops only take minutes to make and are made with only real food, no added sugar or fake colors you wouldn't want your family eating.
What I love most about these Rainbow Fruit Popsicles is that they're only made with two simple ingredients.
Coconut water is incredibly hydrating and packed with electrolytes especially when kids are running around and need to be ingesting plenty of liquids.
Vibrant fruits and vegetables make these popsicles super colorful. You can get as creative as you want depending on what you have on hand. The more fruit or vegetables you add the more intense the color and sweetness will be, but I generally add around 1/2 cup of produce for 6 popsicles. Mentioning, you can even find some of my favorite popsicle molds here.
Here are the fruits and vegetables to use to achieve certain colors of popsicles. The more ripe your produce is, the sweeter the popsicle will be. If you need things a little sweeter, try adding just a touch of maple syrup, agave, or sugar to your blender along with the other ingredients.
Red/Pink Popsicles – raspberries, strawberries, watermelon, pink dragon fruit (pitaya), cherries.
Orange/Yellow – papaya, mango, pineapple, peaches, nectarines, bananas.
Green – kiwi, spinach, peas, avocados, kale, spiriulina, matcha.
Blue/Purple – blueberries, blackberries, plums.
For even more rainbow fruit popsicles inspiration, make some of our nutrient packed smoothies and pour the mixture into popsicle molds!
What other fruits or vegetables do you think would be a good combo that I might have missed? Leave me a comment with your suggestion!
Rainbow Fruit Popsicles
Ingredients
16

ounces

coconut water

1/2

cup

fresh or frozen fruit (list of ideas below)
Instructions
Place the coconut water and one of the fruits and vegetables in the list into blender and puree until smooth.
2. Divide between popsicle molds and freeze for at least 4 hours to overnight.

Fruit and Vegetable ideas:
blueberries
strawberries
mango
pitaya/dragon fruit
pineapple
peach
banana
papaya
spinach