Even for the most persnickety of kids these Green Ice Pops are a super-sweet, bright green treat!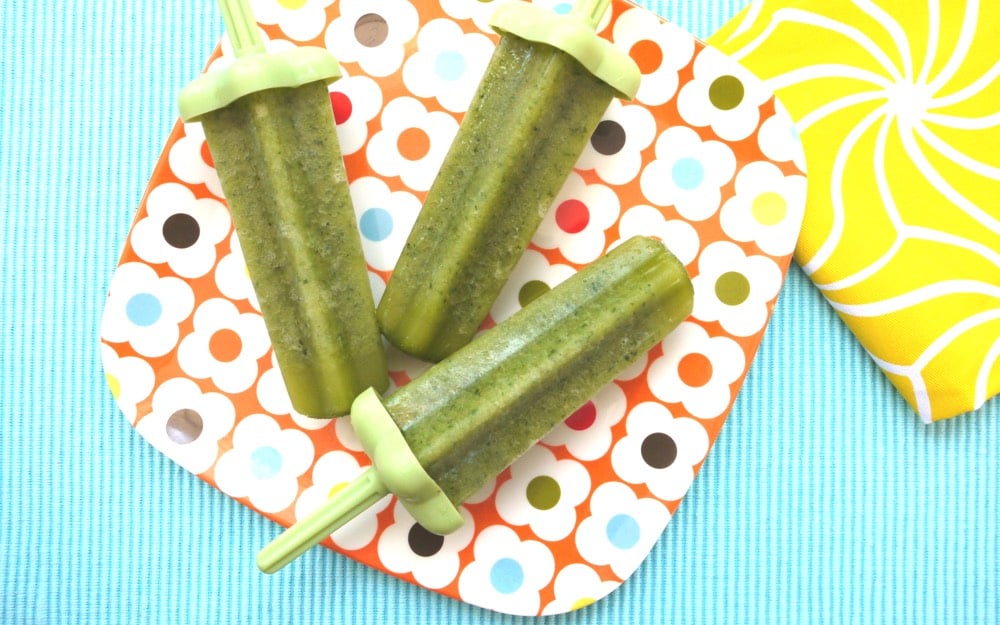 A complaint I frequently hear from moms is that they can't get their kids to eat their greens — especially leafy greens. I totally get it. I've got one kid who will happily eat steamed beet greens or sautéed spinach and another one who has recently begun saying "BLECH!" right to my face when I offer it to her (I wonder who that little three year-old could be?!). And while Chloe can occasionally act persnickety about certain foods, I've discovered ways to encourage her to eat her greens without resorting to trickery.
Cooked greens can be a challenging sell, but maybe it's a texture thing — not a color thing — because I have surprisingly found raw to be much less of an issue with both of my kids. Whether tossed in a kale salad, blended into a green smoothie, green juice or frozen in these green ice pops, my kids love raw greens. And I let Kenya and Chloe make these pops with me so they know exactly what's going in them. I want them to know that green food can be scrumptious and getting them involved in the preparation is one of the best ways to do that.
On warm summer afternoons when my kids need a pick me up, these ice pops are the way to go. Made with coconut water which has dehydration-fighting electrolytes, pineapple with all it's digestive enzymes, and of course tons of nutrient-rich kale, you know your little whippersnapper is going to get their greens and then some. There's no better way to "lick" a greens aversion than through these pops!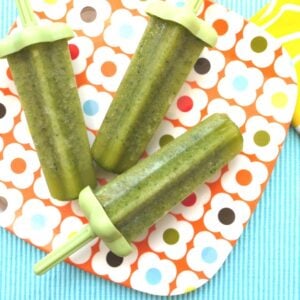 Green Ice Pops, Yes Green
Ingredients
1

cup

packed kale leaves

1

1/2 cups

chopped pineapple

1

small banana

1

cup

coconut water
Instructions
Combine all the ingredients in a blender or food processor and puree. The kale will remain in tiny pieces -- that is okay.

Pour the mixture into ice pop molds and freeze for at least 6 hours and up to 4 months.

Note: This also makes a great smoothie if you have any puree leftover. Just pour in a glass and drink up!

* Collard green, spinach or other leafy greens work as well
Nutrition
Calories:
290
kcal
|
Carbohydrates:
69
g
|
Protein:
6
g
|
Fat:
1
g
|
Sodium:
280
mg
|
Fiber:
10
g
|
Sugar:
42
g