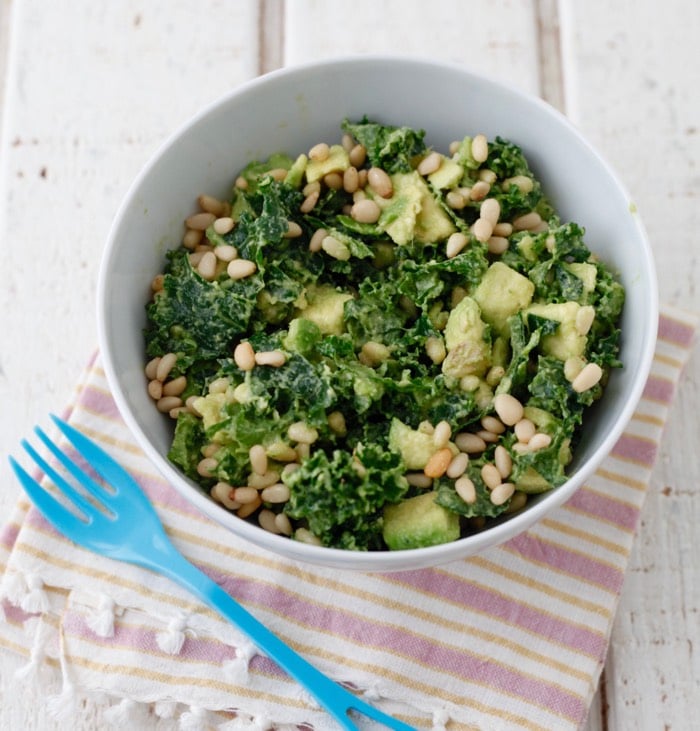 When foods are delicious to eat it's a no brainer that you want to make them, but when you want to eat them and it's fun to make them with your kids it's a bonus. How many recipes can you say you don't need knives or forks to prepare them? Every week I go back into the Weelicious archives to make a recipe that the kids loved as toddlers and try again now that they're older. I remember day after day of the kids pulling kale out of the garden, breaking it into pieces, mashing it up with ripe avocado and lemon and then licking half of it off their hands. For this Rewind Wednesday I'm bringing back an old favorite you might not have tried before. Let me know how your family likes it!

Now that our garden is in full swing and producing all kinds of fruits and veggies, Kenya and Chloe are constantly begging me to let them cut things to make for lunch and dinner. I'm not sure how much kale I was offered as a kid (if any), but as soon as my kids see it blooming in the garden, they want to eat it. Even though I've been blessed with two good eaters, I'm still continually surprised by what they want to eat now. This process of starting an edible garden has been incredible. Without fail, if Kenya and Chloe helped to grow and pick it, they are the ones convincing me to let them eat it — not the other way around.
This Kale Avocado Salad recipe was inspired by my gardening mentor, Lauri, as she makes it all the time for her kids. Coincidently, another mom friend of ours also makes it with her three kids and let's them smash the avocados in with the kale using their hands (Chloe assumed those honors for me). Both moms told me it was their kids' favorite recipe, so with that kind of popularity I had to give it a try.
To make my version even easier for little mouths to chew, I cut the kale into thin ribbons (you can leave it in bigger pieces if you prefer). The kale becomes soft and tender when it's mixed with the lemon and olive oil making it a nutrition-packed side dish that everyone I've served it to has loved. Even if you aren't growing kale in your backyard, you're going to want to after you taste this!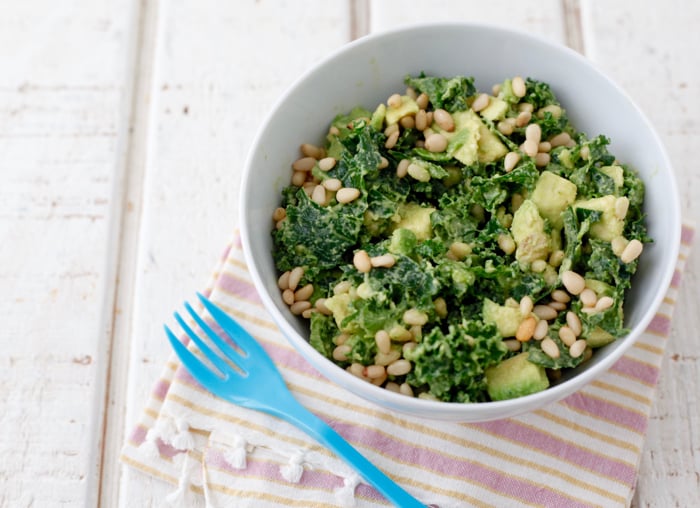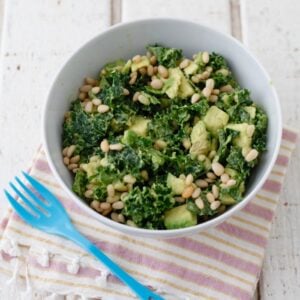 Kale Avocado Salad
Ingredients
2

Cups

Kale, chopped fine

Juice of 1 Small Lemon

1/4

Tsp

kosher salt

1

Tbsp

olive oil

2

Avocados, peeled and pitted

1/4

Cup

Toasted Pine Nuts
Instructions
Place the first 4 ingredients in a bowl and toss to combine.

Add the remaining ingredients and using your hands (or a spoon), stir to combine (it's fun getting your hands in there to mash the avocado into chunks).

Serve.
Nutrition
Calories:
280
kcal
|
Carbohydrates:
16
g
|
Protein:
6
g
|
Fat:
25
g
|
Sodium:
170
mg
|
Fiber:
9
g
|
Sugar:
4
g