Homemade Raspberry Sauce is the perfect addition to any dessert, pancake or waffle recipe.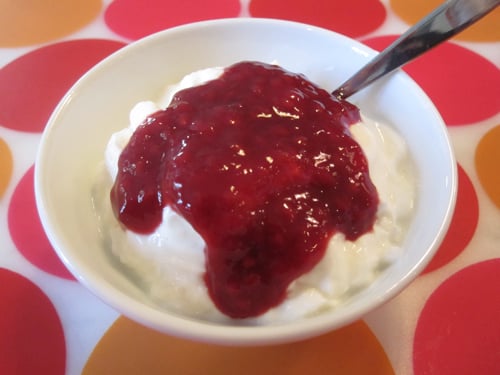 Pin
Having two young kids, I find it kind of funny how one will voraciously eat a certain food without pause and the other turns their nose up at it after the first bite. This happens a lot in our house, specifically when it comes to plain yogurt. My husband, Kenya and I each eat at least one container of Greek yogurt a day — Kenya without any added toppings at all. Chloe, on the other hand, will just flat out say "noooo" when she sees plain yogurt unless there's something to liven it up like a scoop of Apricot, Peach and Golden Raisin Puree.
I like to keep frozen berries on hand, primarily because Kenya thinks they're the best breakfast AND dessert known to man. He loves eating them on their own, but recipes like this Raspberry Sauce is one he always makes an exception for. It only takes me minutes to prepare and it is so unbelievably delicious, it makes an impression on even the littlest of kids.
Raspberries are a powerhouse of nutrition, boasting magnesium, Vitamin C and plenty of dietary fiber. Since they only have 61 calories per cup, this is a perfect sauce for mom to drizzle on her favorite foods too.
When Kenya and Chloe watched me making this the other day they both oohed and ahhed as I poured the finished product into a glass jar. The gorgeous red color is almost hypnotic, and when they tasted it on their yogurt, they both went crazy. Even my husband who, like Kenya, likes his yogurt unadorned has been pouring this on to the point that there's more sauce than yogurt in his bowl. Whether you decide to serve this on some protein-packed yogurt, ice cream, waffles or even on a sandwich with a spread of almond butter or cream cheese, it's a treat that you'll soon want to become a staple in your fridge. That's one thing everyone can probably agree on!
Raspberry Sauce
Ingredients
1

12oz Bag Frozen Raspberries

2

Tbsp

honey or agave

1/4

Cup

water

1

Tbsp

cornstarch
Instructions
Place the raspberries and honey or agave in a saucepan over low to medium heat, stirring to combine and smashing the raspberries with the back of a spoon.

Bring the mixture to a simmer.

Whisk the cornstarch and water in a small bowl.

Add the cornstarch mixture to the raspberries and stir until the sauce thickens (about 2 minutes).

Cool and serve over yogurt, ice cream, pancakes and more!

** Sauce can be refrigerated for up to 2 weeks.
Nutrition
Calories:
60
kcal
|
Carbohydrates:
16
g
|
Fiber:
2
g
|
Sugar:
14
g