Japanese Rice Balls (aka Onigiri) are super easy to make and are so freaking delicious I can't believe it took me this long to learn about them!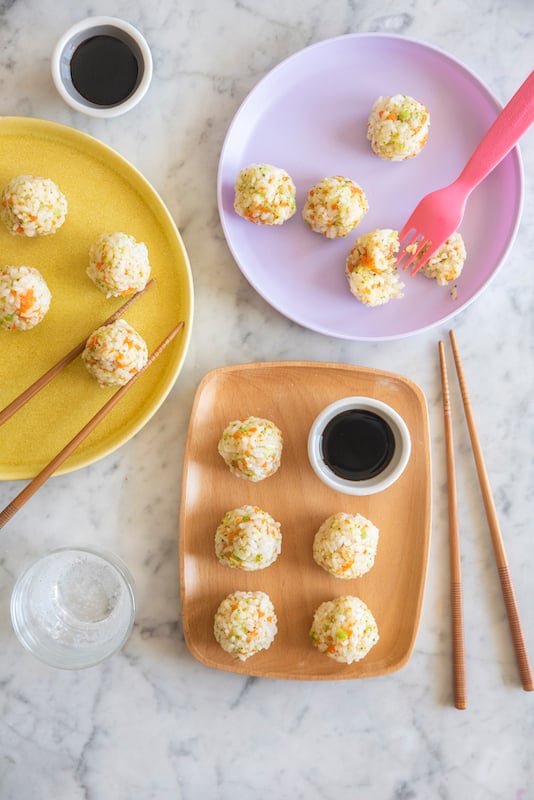 One weekend we found ourselves (grabbing a much-needed bite) at the cafeteria at the incredible Kidspace Museum and munching away at sub-par food. Looking around the tables, all I saw were parents desperately trying to feed their little ones while they simultaneously attempted to shovel food into their own mouths.
Out of the corner of my eye I saw this lovely Japanese woman quietly feeding her baby. For the life of me I couldn't figure out what she was giving him, but it looked like some sort of white ball in Saran wrap. I shyly walked up to her and asked what she was feeding him.
She said, "Oh, it's Onigiri". I was still confused. She told me she takes steamed white rice and adds tiny pieces of vegetables and fish for calcium. What a genius idea. All she had to do after making them was wrap them up and it was the perfect meal to travel with for an outing.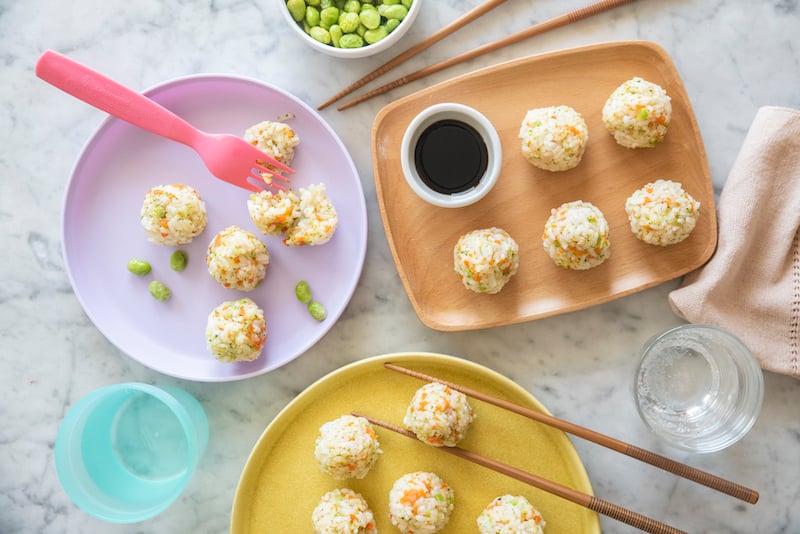 So, I made them for the kids for dinner one night. You should have seen their eyes light up when I put them on their plates. This recipe is great for small children too! By cooking the rice to make it sticky, it makes it super easy for them to hold it, bite into it and eat the little pieces of rice that stick to their fingers. If you have a little leftover fish and vegetables, throw them in the food processor that he wanted to eat off the spoon.
This recipe isn't just for kids, either! After I made these, my husband came down looking for a snack, popped one in his mouth, and grinned from ear to ear. They're awfully delicious. He asked me to make him a batch after he tried them!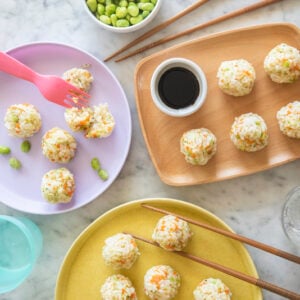 Japanese Rice Balls
Also known as Onigiri, these delicious rice balls are made from steamed rice rolled with small pieces of veggies and fish. The perfect bite size food for toddlers, and adults love them too!
Ingredients
1

cup

short or medium grain white rice

1

1/5 cups

water

8

baby carrots

1

cup

broccoli florets

1

piece

sole, or any mild white fish
Instructions
Wash 1 cup of rice in a bowl and throw the water out ("washing" rice consists of filling a bowl with rice, covering it with water, rubbing the rice and then immediately dumping the water out).

Repeat washing the rice 4 or 5 times throwing the water out.

Put the washed rice in a heavy bottomed pot, add 1 1/5 cups of water. Let rice soak for 30 minutes.

Put the lid on the pot and bring the rice to a boil for 5 minutes. Change the heat to low and simmer for 15 minutes. Turn off the heat and let the rice sit covered for 15 minutes so it can steam.

Stir the rice with a flat spoon so that the rice does not completely stick together.

While the rice is cooking, put the carrots in a steamer pot over boiling water for 3 minutes. Add the broccoli and steam for 2 more minutes. Add the fish and steam for another 3 minutes or until everything is cooked through and fork tender.

Place the fish and vegetables in a food processor and pulse. Do not puree the mixture, though. You want it to have a little texture, but be dry. No not add extra liquid.

Take 1-2 Tablespoons of rice and 1 tsp of the vegetable/fish mixture and combine.

With moistened hands, roll into a ball, about the size of a golf ball. Alternatively, you can add all of the vegetable/fish mixture to the rice, but make sure that the mixture isn't too wet or the balls will fall apart.
Nutrition
Calories:
60
kcal
|
Carbohydrates:
11
g
|
Protein:
2
g
|
Cholesterol:
5
mg
|
Sodium:
40
mg