Pan Seared Beef Tenderloin is packed with iron and tons of flavor. It's a simple recipe that every age will adore.
Since when did my kids become such carnivores? Hubby and I have never been big red meat eaters, but our parents are. So whenever the kids are with their grandparents, they end up having a few bites of bacon or steak — that is until my husband realizes what's happening and puts an end to it! My husband is actually ok with the kids eating beef on occasion, but he prefers that it be grass-fed whenever possible.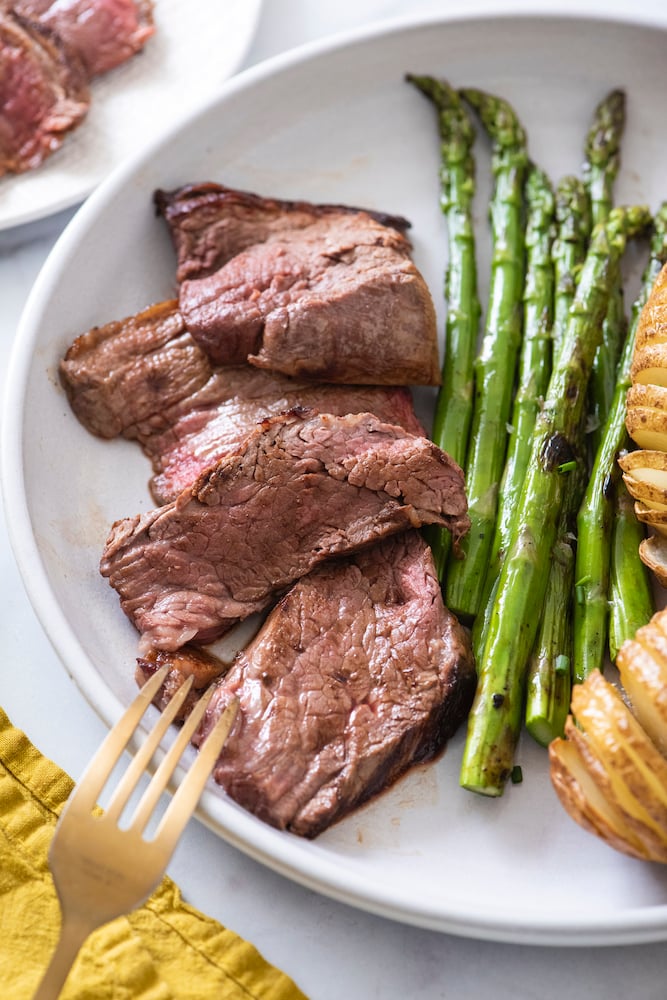 Luckily for us, we have an incredible butcher shop in our neighborhood that almost exclusively sells grass-fed beef. Recently, I bought a nice beef tenderloin from them for our dinner. Have you ever heard a 4 year old scream, "MORE STEAK"!!! Well, that was what Gemma was declaring after she finished her first serving. It's proof to me that just because Mommy and Daddy may not really eat a certain food that the little ones won't enjoy it.
The funniest part of this whole experience for me was watching my hubby, the occasional vegetarian, sharing — and loving — a tender, juicy and flavorful steak with his little girl. It just goes to show that sometimes it's the little ones who are the good influence on their parents and that food, like love, knows no boundaries.
If you're looking for more recipes for your little carnivores, definitely try Southern Style Pork Tenderloin or Moroccan Chicken. But of course, don't forget the sides! There's something about a beef and potatoes pairing. I love serving this tenderloin with Mascarpone Mashed Potatoes or Crispy Smashed Potatoes and some sort of roasted veggie like broccoli or asparagus. It makes for a really nice well rounded meal.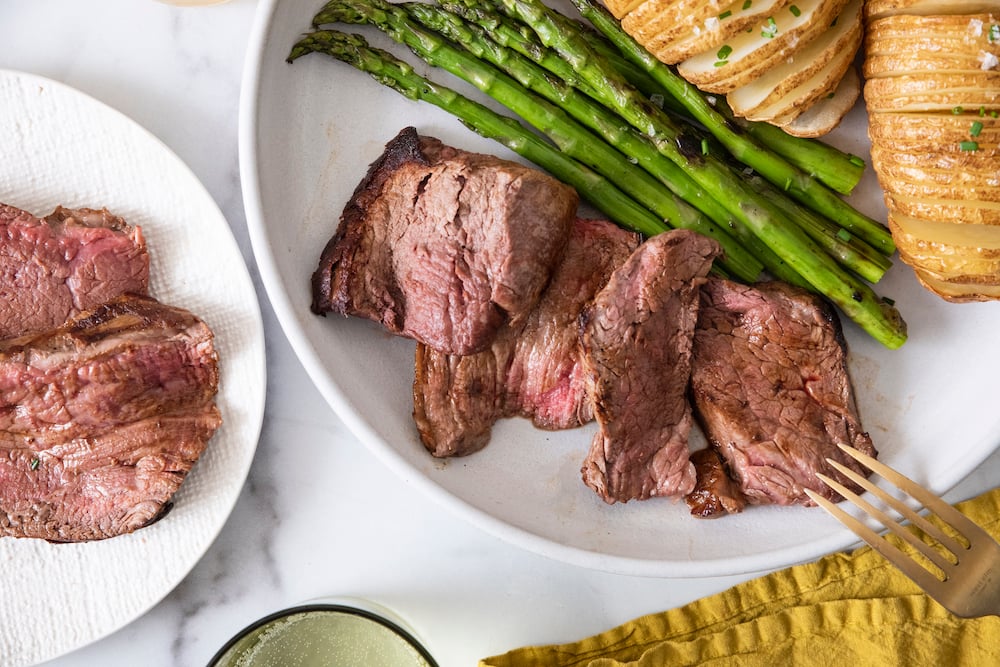 It doesn't get any easier than this recipe! You're going to want to make this one a lot for that reason. Let me know what you think in the comments or on social media.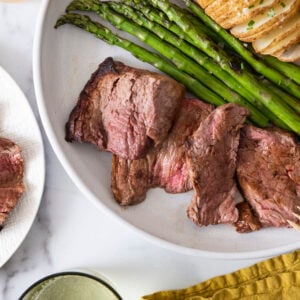 Pan Seared Beef Tenderloin
Ingredients
1

pound

beef tenderloin, cut into 4 filets

1

teaspoon

kosher salt

1

tablespoon

olive oil
Instructions
Preheat the oven to 350F degrees.

Lightly sprinkle each fillet with salt on all sides.

Heat 1 tbsp of oil in a large sauté pan over medium/high heat. Sear each side of the steak for 2 minutes.

Remove pan from the stove, place in the oven and cook for 6-8 minutes for medium rare and 10 minutes for medium.*

Remove fillets from the pan and let rest for 5 minutes before serving.

*Time for steak is approximate, each piece of meat you buy may slightly have a different thickness. Therefore, the cooking time may be a little longer.
Nutrition
Calories:
280
kcal
|
Protein:
31
g
|
Fat:
16
g
|
Cholesterol:
100
mg
|
Sodium:
650
mg